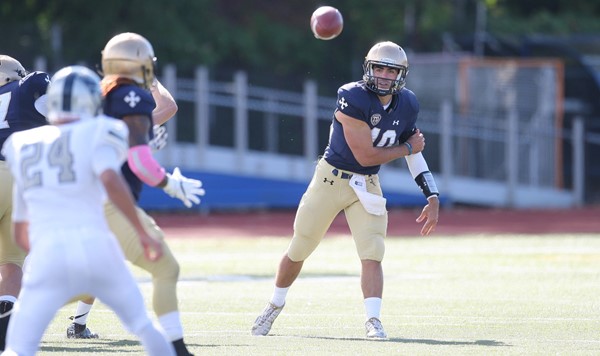 UNIVERSITY HEIGHTS – From backing up Peyton Manning in the NFL to spearheading John Carroll University to four NCAA Tournament appearances in five years, Tom Arth has filled his resume with a never-ending list of accolades.
The JCU graduate is primed for his next opportunity.
Rick Finotti left Jim Harbaugh and the University of Michigan coaching staff to replace Arth – who accepted the head-coaching job at Division I Tennessee-Chattanooga – at the helm for the 2017 campaign, one year after the Blue Streaks came two wins away from their first National Championship.
John Carroll took a step into the spotlight this past season, beating Mount Union to win the Ohio Athletic Conference for the first time since 1989.
An era came to an end…
The Purple Raiders no longer reigned supreme in the OAC.
—
JCU opens its season on Sept. 2 vs. fourth-ranked Wisconsin-Oshkosh before playing a traditional nine-game slate against the likes of the fast-emerging Ohio Northern Polar Bears (Oct. 14), second-ranked Mount Union (Nov. 11) and others among Ohio's finest Division III programs.
Similar to 2016, all sights will be set on conquering the OAC crown.
The backfield of the offensive juggernaut remains the same, with sophomore quarterback Anthony Moeglin (pictured) rejoining the three-headed monster of veteran running backs, including senior Ro Golphin, junior Sam Kukura and senior Arin Pruitt.
Moeglin started all 14 games in 2016, completing 267-of-434 (61.5 percent) passes for 2,800 yards, 29 touchdowns and a QB rating of 129.9. His 24-yard touchdown strike to William Woods propelled the Blue Streaks over the Purple Raiders, arguably the most iconic moment in school history.
The former St. Thomas Aquinas standout registered a perfect 9-0 record in the conference, developed a rapport with the team as a freshman, and cemented the starting job for the foreseeable future with pocket-presence and poise on the big stage.
Golphin (1,111 rushing yards, 6.8 yards per carry, 11 rushing TDs) and Kukura (821 rushing yards, 5.0 yards per carry, 14 rushing touchdowns) create a formidable one-two punch with complementary skill sets. The senior is agile with bursts of breakaway speed, while the junior is a bruising bulldozer with a knack for the end zone.
Pruitt (294 rushing yards, 4.5 yards per carry, two rushing touchdowns) bolsters the running game in a third-down role, gaining yardage on the ground and through the air to help move the chains.
Finding new receiving targets will be a point of emphasis right from the outset.
With the departures of wideout Marshall Howell – who received an invitation to the Jacksonville Jaguars rookie camp in May – and reliable targets in Nico James and Luke Vadas, JCU will be tasked with finding playmakers capable of extending the field.
Junior Eddie Williamson headlines the unit, with 42 catches for 421 yards and two touchdowns last year. His 5-foot-8 frame gives Finotti versatility, particularly through his prior experience as an elusive kick returner and punt returner.
Other receivers to watch will be Woods (22 catches, 168 yards, one touchdown) in his final year of eligibility, senior Brian Kornowski (one catch), junior Derek Naim (three catchers, 47 yards, one touchdown) and sophomore Darrin Davis (seven catches, 62 yards, one touchdown).
Senior Anthony Leonetti (five catches, 72 yards) and junior Danny Disbrow (seven catches, 66 yards) round out the offense at tight end.
John Carroll's stout defense returns a championship-caliber roster.
Defensive coordinator Kyle Hoke takes over for Brandon Staley – the new outside linebacker coach for the Chicago Bears – and will inject the same brand of aggressiveness that made the Blue Streaks the third best defense in the nation (3.43 yards per play, 218 yards allowed per game).
Some familiar faces makes this an attainable goal.
The pass-rushing tandem comprised of juniors Ray Brown and Jimmy Thomas combined for 21 sacks and 33.5 tackle-for-loss yards on the defensive line, while senior linebacker Mason McKenrick – named the 2016 Gene Slaughter Most Outstanding Linebacker – tallied a team-high 96 tackles (52 solo, 44 assisted) and six sacks this past campaign.
Seniors Ray Brewster (two interceptions, five breakups) and Anthony Christopher (one interception, one breakup) will front a newly structured secondary.
—
Since its inception in the fall of 1920, John Carroll University football has won four OAC titles (1938, 1989, 1994, 2016), groomed 10 players – including four-time Pro Bowler and Super Bowl champion London Fletcher – for NFL experience, and became a pipeline for graduates with aspirations to work in a front office.
Hall of Fame coach Don Shula (class of 1951), Patriots offensive coordinator Josh McDaniels (class of 1999), Jaguars general manager David Caldwell (class of 1996), Chargers general manager Tom Telesco (class of 1995) and Ravens senior offensive assistant Greg Roman (class of 1994) are just a sampling of what the institution has produced on a consistent basis.
Carrying on this tradition is at the forefront of Finotti's priority list, especially in the absence of the Arth, the reigning OAC Coach of the Year.
With five returning All-OAC players, a top 10 preseason rank, and a revamped coaching staff, the Blue Streaks are equipped to pursue the holy grail, a championship in the Stagg Bowl.
John Alfes has covered John Carroll University athletics since September of 2014. Follow him on Twitter 
@JohnAlfes
 for breaking news and in-depth coverage all season long.

NEO Sports Insiders Newsletter
Sign up to receive our NEOSI newsletter, and keep up to date with all the latest Cleveland sports news.