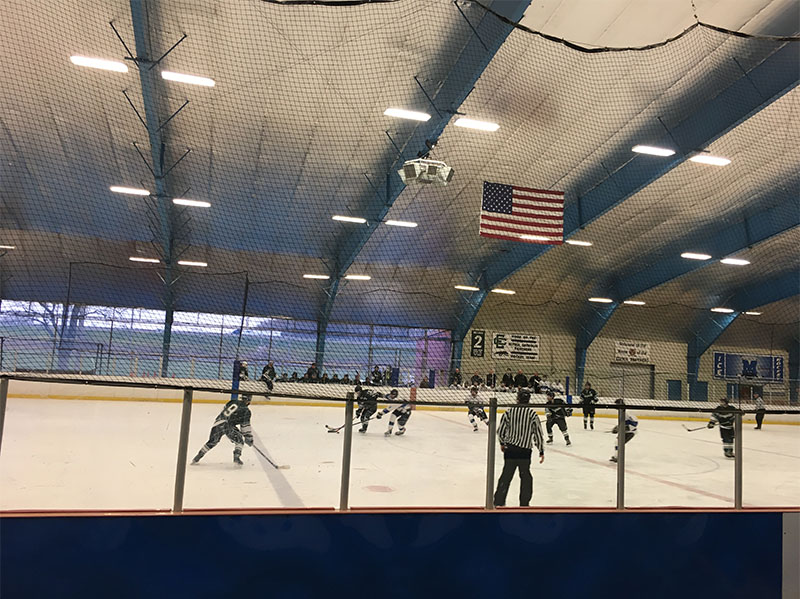 By Jacob Black
ELYRIA, OHIO – This is the Midview Middies first league game of they year, having moved up from the white division from last year to the red division.
The Middies are one of the oldest teams with an average of 17 years old, according to their head coach Rick Verlotti. They defeated Orange yesterday 10-0. The Strongsville Mustangs have already played a division game this season falling to North Olmsted 2-3 in their first league game of the year, yesterday.
After the first period Midview led Strongsville 1-0, from a goal by Brody Rodgers assisted by Jacob Sheets. For the majority of the first period it was a physical battle by both sides, but the bigger, faster, older Middies broke into the scoring column right before intermission.
There was one penalty committed by Strongsville, but the Middies were unable to capitalize off of it. Strongsville was out shot on goal in the first period by Midview 11-3.
After the intermission the physical play continued into the second period and even an ejection for unsportsmanlike conduct on Strongsville's Adam Sartschev. There were seven penalties committed in the period, three by Strongsville and four by Midview in the period.
During the second period Midview tacked on two more goals in the period one by Heath Naso, assist Sheets and the second goal by Jake Behler, assist Jeffery Mullins to make the score 3-0.
Strongsville managed to get on the board in the final minute of the period with a goal by #11 Bryce Born, assist Kyle Mattson to cut the score to 1-3. Strongsville outshot Midview 9-7 in the period, but Midview took advantage of those opportunities they were given.
In the opening seconds of third period Midview scored to make the score 4-1; the goal was scored by Behler, assited by Sheetz. Midview's Behler scored his third goal of the game recording a hat trick, he was unassisted on the play, making the score 5-1.
Strongsville's #11 Bryce Born scored to cut into the lead, he was assisted by #5 Greg Williams to make the score 5-2. Strongsville's Mattson was sent to the penalty box for holding and Midview took advantage scoring their final goal of the game by Jonathan Rodgers, assisted by Sheetz giving him his fourth assist of the game. Midview outshot Strongsville 11-6 in the period.
Midview's Goalie Logan Perkins saved 18 shots on goal and Strongsville's Goalie Zach Maxwell saved 29 shots on goal. In the end, Midview was to physical and to fast, for Strongsville to keep up with them the final score of the game was Midview 6 Strongsville 2.

NEO Sports Insiders Newsletter
Sign up to receive our NEOSI newsletter, and keep up to date with all the latest Cleveland sports news.