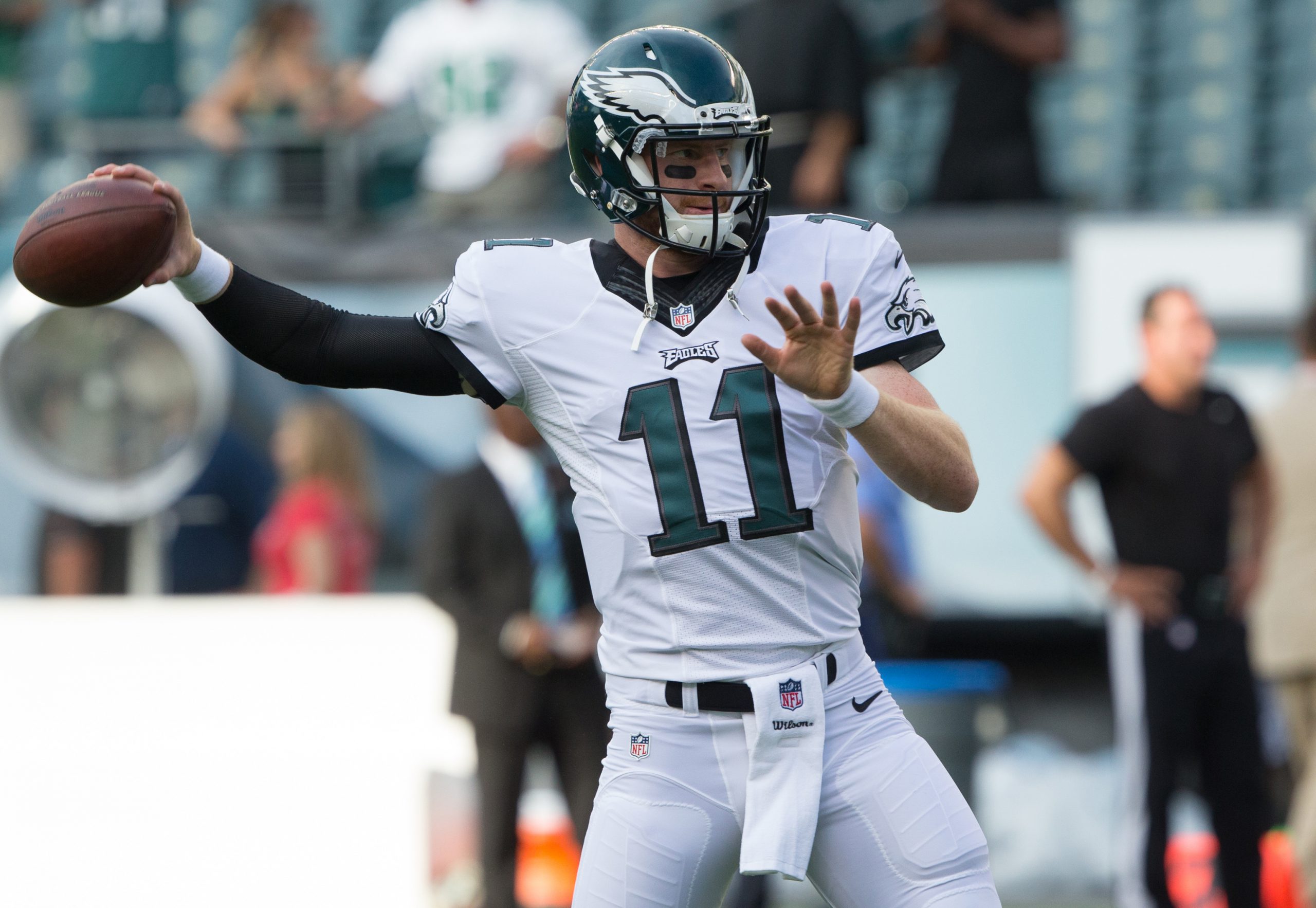 The Browns now know exactly who they will be facing Sunday at quarterback for the Philadelphia Eagles, as rookie QB Carson Wentz will be under center in Sunday's season opener in the city of Brotherly Love.
The Eagles underwent quite a change at quarterback over the weekend, when early on Saturday they agreed with the Minnesota Vikings to deal former starter Sam Bradford for a 2017 first-round pick and a 2018 conditional fourth-round pick.
It was thought at first that backup Chase Daniel would get the start against the Browns, but one-time Browns QB and new Eagles coach Doug Pederson made the news that Wentz would get the start for Philly against the Browns.
"Everybody feels like this kid is ready to go," Pederson said. "We drafted him to take on the reins. It's something now that we're prepared to do. He's such a special guy. This stage is not too big for him."
Browns coach Hue Jackson said when asked by the media about Wentz starting that he was unaware that the announcement had been made, instead keeping the focus on the Browns.
"I didn't even know that," Jackson said.
"Honestly, it is not really about Philadelphia. It is really about our football team. They are going to do what they do and we have to do what we have to do. We are just trying to get better and get ready to play in a big game on Sunday."
Wentz, who was the No. 2 overall draft pick in the NFL Draft, missed the final three preseason games after injuring his ribs in the opener.
"I'm very confident and I'm very excited to get this opportunity," Wentz said on Monday.
Jackson said Monday that the team won't be spending countless hours the next few days watching Wentz's college game film, as with him only playing in one preseason game there's a thought the Browns might not know what to expect from the rookie QB.
"I'm sure me and (defensive coordinator) Ray (Horton) will discuss what we need to do, but at the same time, I'm more worried about our football team." Jackson said.
"I'm not so much worried about Philadelphia. They have a good team. They have a good defense. I know that for sure. They have good players on offense, and Carson is a very talented young man, but at the same time, it is not going to be about them.
"It is going to be about us. It is about our focus and our preparation and how we go through our process during the week to get ready to play."
With Wentz getting the start, the Browns will have not only the opportunity to see the second QB that was drafted in the 2016 NFL Draft, they also have the chance to make a statement against a player they traded out of drafting when they made a deal prior to the draft.
Wentz on the other hand may want to get some revenge on the Browns after getting passed up in the draft. Either way, it will be an interesting start to the season for the brown and orange.
"I feel like I've earned respect just from how I go about my business, how I carry myself," Wentz said.
"There's nothing different that I've got to do now. It's still football. I've got to still be the same guy and just play ball, and I think those guys believe in me and I'm excited for it."
Wentz started just 23 games at North Dakota State where he led the Bison to FCS national championships in both of his seasons. He was 12 of 24 for 89 yards, no touchdowns and one interception in his only preseason action against Tampa Bay back on August 11th.

NEO Sports Insiders Newsletter
Sign up to receive our NEOSI newsletter, and keep up to date with all the latest Cleveland sports news.