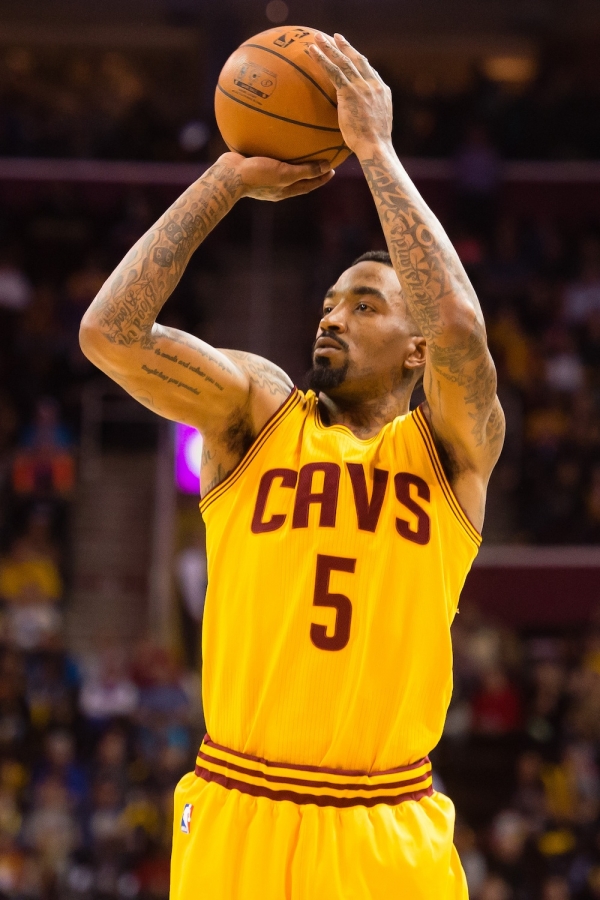 The Cavs continued their road trip, heading to Minnesota to take on Andrew Wiggins, Karl Anthony-Towns, and the Timberwolves. The Cavs' win-streak continued, as well. The Cavs extended their streak to six games, with a 125-99 victory.
The Cavs had their highest scoring quarter of the season in the first, leading 35-27, but the Timberwolves hung with them in the first. After that it was all Cavs.
J.R. Smith was red-hot like he has been in each of the last three games, knocking down five threes in the first half on six attempts, entering halftime with 21 points, and the Cavs led 62-46.
The Cavs would cruise to a 125-99 victory improving to 25-9 on the season, and as importantly 10-8 on the road, winning their fourth straight road game. Road wins were difficult to come by before they had a full arsenal with Kyrie Irving and Iman Shumpert.
J.R. $wish
Smith has been on fire the past three games, scoring 24 or more for the third time. He scored 24 Monday night against Toronto, 25 against the Wizards on Wednesday, and scored 27 on Friday in Minnesota, shooting 10-of-12 from the field.
Smith's hot streak comes at the same time as Irving's return to playing without a minutes restriction. It's no coincidence. When Smith was at his best in the 2014-2015 season the Cavs had a full arsenal and he was expected to be the fourth scoring option. He's back in that role and flourishing.
He has hit 18 threes in the past three games.
Love Returns to the Twin Cities
Kevin Love made his return to the city where he started his career and played six seasons. He put up 20 points and nine rebounds, hitting 10 of 11 free throws. He was 4-of-11 from the field, something that will be interesting to watch going forward, as Love struggled somewhat when Irving was healthy last season. We'll see if Love can find his place in the trio in 2016.
Tristan Undefeated as a Starter
Tristan Thompson had a relatively quiet night, scoring six points and hauling in seven rebounds, but his team got the "W" which has been the case ever since he was inserted in the starting lineup a week and a half ago in Phoenix. The Cavs are 6-0 during that stretch, and Irving has played five of the games, so it can't all be on the return of Kyrie.
Irving Cools Off
Irving has said throughout the time he has been back and healthy that he hopes to improve with every game. It's hard to improve upon his amazing performance from Wednesday night, when he scored 32 points and 14 in the fourth quarter against Washington, but Friday night he was not needed as much. Irving scored 13 points on 5-of-12 shooting, but didn't have to carry the team at any point because of Smith's dominance and the Cavs were in control for three quarters.
Wiggins Shows Cavs What they Traded
Cavs' number one overall draft pick in 2014, Wiggins was on fire against his "old team" that he never played a game for. Wiggins scored 35 points, 21 of which came in the first half. Wiggins made 12-of-19 shots. His sidekick, Towns was great, as well, scoring 22 points, adding to his Rookie of the Year case. Towns shot 11-for-14 from the field. The future for Minnesota looks bright despite their 12-25 record.
LeBron the Facilitator
You know it's a great night when LeBron James only has to score 13 points in a blowout win. James hauled in 12 rebounds and dished out eight assists, only having to take 12 shots. He made five of them and went 3-for-4 from the free throw line.
Shump Explodes off the Bench

Shumpert had his best scoring night of the season, scoring 23 points off the bench, 12 of which came in the fourth quarter. He hit 9-of-19 field goals, but just about anything the Cavs get from the lockdown defender on offense is a bonus. He couldn't quite limit Wiggins, but luckily it wasn't needed.
That's Why They Call 'Em Free Throws
The Cavs hit 26-of-29 free throws. Finally. A great free-throw shooting night for the Wine and Gold. The team has shot 72 percent on the season, which ranks 25th in the NBA.
Keep Cruising
The Cavs have cruised the past five games, winning handily over Denver, Orlando, and Toronto, with a close game in D.C. that was never really in doubt. This is the team we have been hoping to see and now that the team is healthy it appears that was all that was missing. Their road trip continues with a stop in Philadelphia on Sunday. The Sixers have won three of their last seven, which is relatively hot for them, but the Cavs should continue their dominance.
Almost as important as the fact that the Cavs got the win, is that they were able to rest their stars in the fourth quarter. LeBron played three minutes, Love did not play at all, and Irving got some extra work in, playing seven minutes. That will be a key to how the Cavs stay fresh in the postseason. Until this win-streak, LeBron was playing more minutes than he and Head Coach David Blatt would have liked in an ideal situation. Smith and Thompson did not play at all in the fourth quarter either.
The schedule gets a bit tougher when they travel to Texas to take on the Dallas Mavericks, San Antonio Spurs, and Houston Rockets in a four day stretch. Let's see if this is the trip that the team comes together and finds the chemistry they had last season in the second half.

NEO Sports Insiders Newsletter
Sign up to receive our NEOSI newsletter, and keep up to date with all the latest Cleveland sports news.