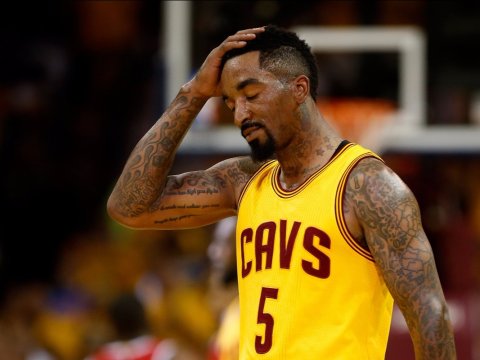 CLEVELAND– J.R. Smith admitted Friday that he was taken aback when he learned Dwyane Wade was starting and he would be relegated to a bench role.
"Honestly, I was hurt, man," Smith said on the Road Trippin' podcast with teammates Richard Jefferson and Channing Frye. "I was really emotionally drained at that point. I got wind of it that it was going to go down, but I didn't know. I was told he's going to be great for the second unit … It would be a great fit for the team, whatever, whatever. I'm like, 'Awesome, let's do it. One hundred percent. Out of all people, another person we're going to just grab for damn-near nothing? For sure. Let's do it.'
"My first initial thought, it wasn't even to be selfish because that's not just who I am as a player and as a person," he continued. "I'm a one-track mind. It's what I've always been. That's just me. So when you tell me something, I look at it as gold. So when you tell me something else, literally a couple of days later, it's like, ah, now I got to change my mind frame from where I was at the last three years to flip it back to me being the sixth man — a successful three years, an extremely successful three years, I mean, we've been to three straight Finals."
At the same time, Smith seemed to express some concern when it comes to the starting lineup and stretching the floor. Wade is a sub-29 percent three-point shooter for his career, and Derrick Rose isn't much better at 29.8 percent. This without a doubt gives LeBron James and company fewer drive and kick options than they have with Smith in the starting lineup.
"So to revert back, and the first thing I thought about was New York, like, 'Damn. I got to go back to being the sixth man and just scoring, scoring, scoring. Being aggressive,'" Smith said. "And at the same time, also, I'm looking at our lineup like, my first thought with the lineup was, 'OK, but who is going to stretch the floor? OK, we got Jae [Crowder], who is a knock-down three-point shooter, Kev [Kevin Love] is a knock-down three-point shooter, but that's two out of the five guys that's got to be on the floor."
According to the podcast discussion, Smith was able to vent to Tristan Thompson, who also lost his starting position, about his new role. He also addressed the team as a group.
From there, the conversation took an ironic turn, as Frye and Jefferson began to discuss their diminished roles on the team with the Cavs' new acquisitions.
"For us, Richard and I, we understand that you got to take a sacrifice," Frye said. "Everybody has to sacrifice something."
"I'm sacrificing my way out of here," Jefferson interjected.
"Oh, God, come on," Frye replied. "Too soon. Too soon."
Just hours later, it was announced that the Cavaliers were trading Jefferson to the Atlanta Hawks in order to help get the roster down to 15 spots.

NEO Sports Insiders Newsletter
Sign up to receive our NEOSI newsletter, and keep up to date with all the latest Cleveland sports news.