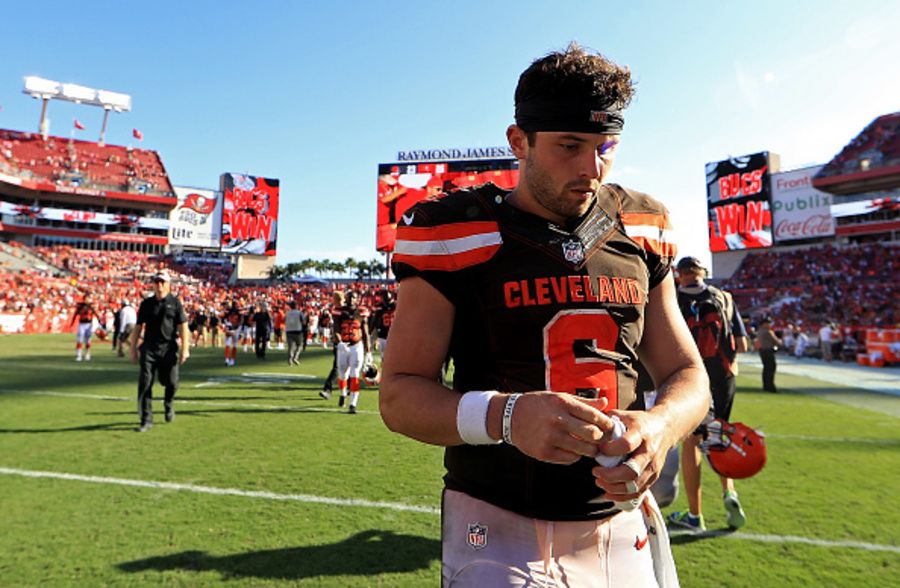 When it comes to Baker Mayfield, what you see is what you get. He's honest, he's brash, he speaks his mind and he's definitely not really sorry about it.
Browns head coach Freddie Kitchens knows that better than anyone. Which is why Mayfield's commentary on Giants rookie quarterback Daniel Jones, published today in a GQ feature, doesn't bother him in the least.
"No. I do not have any comments," Kitchens said on Tuesday. "I think you probably need to go back in look. He has the ability to decide whatever he wants, but that was during the draft when it was going. He is a football fan, also. I really do not have any comment for it, and I am pretty sure he will would not. It is nothing against Daniel Jones. He was talking."
In the interview with GQ, Mayfield caught a glimpse of an ESPN segment about the Giants on the TV and casually shared his thoughts with the article's author about New York's choosing of Daniels.
"I cannot believe the Giants took Daniel Jones,"  Mayfield reportedly said. "Blows my mind."
He went on to suggest that many general managers "overthink it," when it comes to drafting quarterbacks, adding that finding a winner is key.
Mayfield's dig at Jones may be trivial to Kitchens or even his Browns teammates. Publicly though, it hasn't been well received. Tuesday was open season on Mayfield in the media and among other NFL fans. The masses viewed his remarks as unnecessary and ill-advised, from a guy with plenty to still prove in the NFL himself.
Poor timing is another factor here as well, as the Browns already have massive expectations on them for this upcoming season. Teams are gunning for them already. Why add fuel to the fire?
Kitchens downplayed the idea that Mayfield's made the target on their back any bigger.
"We do not care. We do not care. It is already on there so it does not matter," Kitchens asserted." We will be ready to play. I do not know what a 'bullseye' is. I do not know what that is. Does anybody know? Does anybody know what a bullseye is? If they are not trying to beat our ass and we are not trying to beat their ass, I do not know what else you do. That is what we are going to try and do, and hopefully, they try and do the same."
In Kitchen's view, having a bulls-eye on your back simply comes with playing in the NFL.
"Do we not have a bullseye on us because we are in the NFL and we are playing on Sundays?, Kitchens asked. "We are going to get somebody's best effort. What does that tell you about the team? That is like being disrespectful to the team you are playing if you do not think you are getting your best effort from them. What are they going to do? Sit like 10 starters? I do not understand that. We are going to give our best effort every week, and I hope that we get theirs. Then we will see who is best, and that is all.
"The expectations that you guys set does not matter about our expectations. Our expectation is to just perform the best that we can do, and that changes week to week a lot of times. You guys know how the football season goes. That is why we are just worried about tomorrow, and then we will let that take care of itself and get better the next day, and then look up a month from now and see how good we are."
Outside expectations may not matter much in retrospect but there's no denying that the moment the Browns struggle, Mayfield's comments will be the first thing referenced.
The first year head coach also has plenty of egos to manage within the locker room – something critics have said could be the Browns downfall this year. It's obvious Kitchens isn't at all worried about the way Mayfield does things.
"If I ever feel like that [he crossed the line], I will address it at that point," Kitchens said. "Baker and I have a good relationship. I think Baker knows exactly what he is doing. You guys are not giving him enough credit from the standpoint of he is 24 years old.  He is very mature, but again, he is still 24-year old. He is going to have things he learns along the way, in football, in life and everything else. I do not think it matters."

NEO Sports Insiders Newsletter
Sign up to receive our NEOSI newsletter, and keep up to date with all the latest Cleveland sports news.