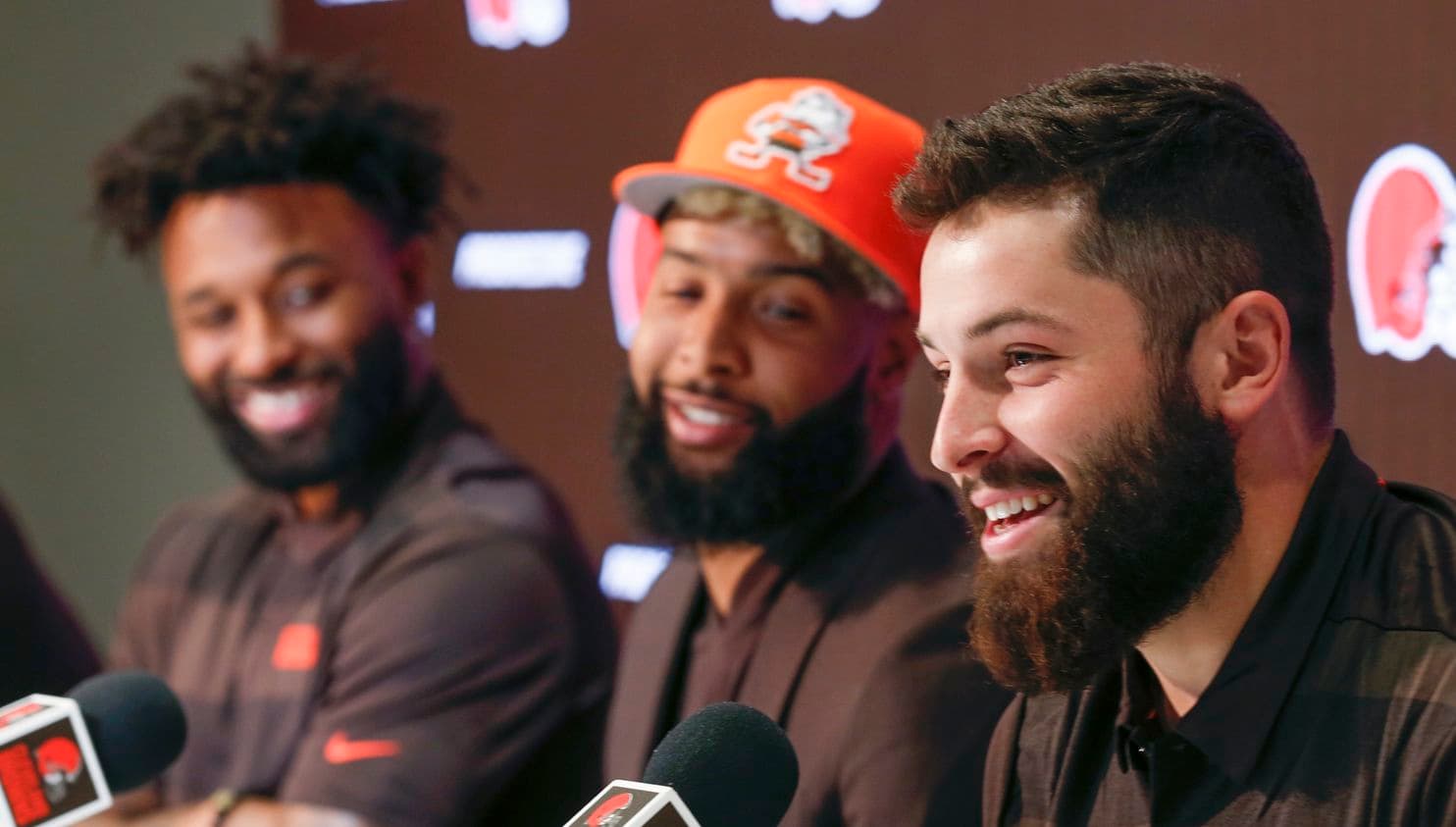 I'd like to think I speak for many when I say I'm growing tired of the feud between Colin Cowherd and the Cleveland Browns.
The routine between these two typically follows the same steps – the Fox Sports 1 host issues out a jab at the Browns, which results in players and fans firing back on Twitter. The cycle has been repeating for well over a year now.
I hate to break it to anyone else who's reached their limit with this clash, but it won't be ending anytime soon. Not if the Browns and their fans keep feeling the urge to respond to Cowherd's shtick.
As a result, I think it's high time everyone just starts tuning this noise out. After all, engaging with it is only going to make it louder.
Yes, suggesting that everyone ignore the constant swipes from media trolls is far easier said than done. It's admittedly even more so when you have Cowherd taking direct shots at quarterback Baker Mayfield or, as he did yesterday, wideout Odell Beckham Jr. It's completely understandable for Mayfield and Beckham to feel the urge to fire back and call these takes out for the shtick that they are.
NOWWWW UVE GONE TOOOO FAR…. bro I understand nobody listens to ur show but stop using my name to get clout bro, I let u say and do whatever u want but uve gone to far now. So heres the attention U wanted and desperately needed i see. I had respect for u after talkin on the ph. https://t.co/410xdI8ua6

— Odell Beckham Jr (@obj) May 16, 2019
That said, I hope they aren't responding with the hope of bringing an end to the constant blabbering from Cowherd. As long as they throw counter-punches in general, this routine will just keep chugging along.
Whenever anyone reacts to this content, whether it be Mayfield or just random Browns fans, it generates exactly the reaction Cowherd is looking for. It drives clicks, traffic and responses, ensuring the commentary reaches a massive audience regardless of whether or not what's being said is off-base.
At this point, it seems the takes are getting to a point where they seem purposefully absurd, dished out solely because they're sure to catch attention. It doesn't matter who flags them as inaccurate, as long as someone's reacting, they're getting the job done.
Are Beckham or Mayfield wrong for pointing out the glaring holes in Cowherd's commentary? Not at all. In fact, more often than not, it's relatively easy to see how flawed these takes really are.
Yet, I doubt Cowherd or anyone else in the media who dishes out stuff like this really cares. After all, as long as it gets plenty of responses, the mission is accomplished.
Which is why Cleveland players and fans need to put more effort into just ignoring all of this.
I'm all for playing with a chip on your shoulder, using detracting comments as fuel on the field. At the same time, it seems players like Mayfield and Beckham are truly annoyed with what's being said, and understandably so.
The problem, of course, is that voicing this displeasure just gives guys like Cowherd the green light to keep the shtick coming. While Mayfield and Beckham see this commentary as a personal attack, Cowherd sees it as content that gets results.
As a result, why wouldn't he keep it coming?
Again, I'm not here to claim it's easy to tune someone out when they're saying laughably false things about you for the sake of getting attention. At the same time, whenever you fire back, you're giving Cowherd exactly what he's seeking. It'll be seen that way regardless of how foolish Beckham or Mayfield make him look.
If those two and the rest of the Browns enjoy this constant sparring, then by all means, keep going punch-for-punch. However, if it's truly seen as crossing the line – with Beckham implying as much yesterday – they should know calling Cowherd out won't make the shtick stop.
As David Letterman once said, "if you turn off the light, the moths will stop coming." The sooner people stop giving attention to all this noise, the faster it'll disappear.

NEO Sports Insiders Newsletter
Sign up to receive our NEOSI newsletter, and keep up to date with all the latest Cleveland sports news.