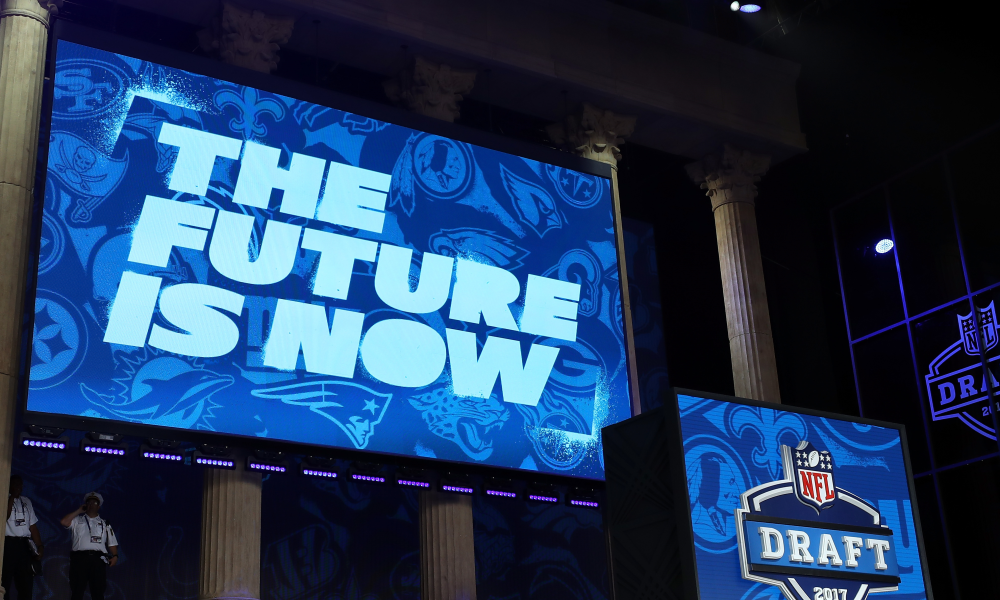 By Mike Holzheimer
Let the debating begin-again!
Tonight, from AT&T Stadium in Arlington, Texas, the 2018 National Football League Draft will take place paving the way for many a team to maintain its consistent winning ways, or in the case of the Cleveland Browns, looking to just find the win column and vastly improve bringing back the good vibrations to what has always been a very proud franchise.
The list outlining what the Browns need is obviously a very long and detailed one. There is no argument that Cleveland MUST find its future quarterback in tonight's draft-and they've got the overall No. 1 pick to accomplish just that.
I hear the cries that Penn State running back Saquon Barkley is the best player, and I wouldn't challenge that. But is that the "top" need for the Browns? My answer is no! If Cleveland doesn't find "their guy" under center this draft, whoever they believe that person is, then when? And how much longer must the fan base of this tradition-rich team wait to finally say every year "we're good, we've got ? at quarterback." The time is now!
Barkley is a tremendous talent to pass up, but the key to truly turn this franchise around, is to fill the needs that will finally produce victories.
Given that, I would grab USC quarterback Sam Darnold with the overall first pick. Darnold has the best "upside" and doesn't have to immediately be thrown into the fire. The acquisition of Tyrod Taylor, a veteran who can lead a team and provide Darnold with the timely learning curve so as to take over as the franchise quarterback sooner than later, makes Darnold the sensible choice at No. 1.
Now things get interesting. With the N.Y. Giants selecting at No. 2, the feeling is they will take Barkley, which ought to make quarterback Eli Manning jump right out of his living room seat given Manning had virtually nobody to turn and hand the ball off to for big rushing plays last year.
The N.Y. Jets traded up to No. 3 for the sole purpose of drafting its future and permanent quarterback. If the Browns do take Darnold, I'm thinking Oklahoma's Baker Mayfield goes to the Big Apple. That will suit me just fine. I'm not a fan of Mayfield simply because I don't believe his style works in the NFL. His off the field "issues" can also be a problem, problems Cleveland should avoid at all costs because this team has had enough negative distractions.
That brings us back to the Browns who will then select at No. 4. Here is where it is a "no brainer." North Carolina State's Bradley Chubb, a solid defensive end, just adds more clarity to a defense that can move up the ladder quickly as far as NFL rankings. If Chubb goes to the Giants at No. 2 and the Jets stay on their quarterback path, Cleveland can take Barkley. I'm more than fine with that.
I do know that with John Dorsey at the helm, I truly believe that the Browns, unlike in recent drafts, cannot mess this up. I also know that the pressure will be on Hue Jackson to get this team to the desired street location known as "Victory Lane." Dorsey is getting him the players, so no excuses. If Jackson can't get things done with these tools provided, the only debate taking place prior to next year's draft will be what new coach will lead these prospects.
Time will tell. Enjoy the draft, and take at look at my projected mock first round.
Cleveland – Sam Darnold – QB – USC
NY Giants – Saquon Barkley – RB – Penn State
NY Jets – Baker Mayfield – QB – Oklahoma
Cleveland – Bradley Chubb – DE – NC State
Denver – Josh Allen – QB – Wyoming
Indianapolis – Quenton Nelson – G – Notre Dame
Tampa Bay – Denzel Ward – CB – Ohio State
Chicago – Harold Landry – DE – Boston College
San Francisco – Derwin James – S – Florida State
Oakland – Roquan Smith – LB – Georgia
Miami – Josh Rosen – QB – UCLA
Buffalo – Lamar Jackson – QB – Louisville
Washington – Vita Vea – DL – Washington
Green Bay – Minkah Fitzpatrick – DB – Alabama
Arizona – Jaire Alexander – CB – Louisville
Baltimore – Leighton Vander Esch – LB – Boise State
LA Chargers – Will Hernandez – G – UTEP
Seattle – Derrius Guice – RB – LSU
Dallas – Calvin Ridley – WR – Alabama
Cincinnati – Mike McGlinchey – OT – Notre Dame
Buffalo – Conor Williams – OT – Texas
New England – Isaiah Wynn – OL – Georgia
Carolina – Justin Reid – S – Stanford
Tennessee – Rashaan Evans – LB – Alabama
Atlanta – Maurice Hurst – DL – Michigan
New Orleans – Christian Kirk – WR – Texas A&M
Pittsburgh – Da'Ron Payne – DL – Alabama
Jacksonville – Hayden Hurst – TE – South Carolina
Minnesota – James Daniels – OL – Iowa
New England – Josh Jackson – CB – Iowa
Philadelphia – Ronald Jones II – RB – USC