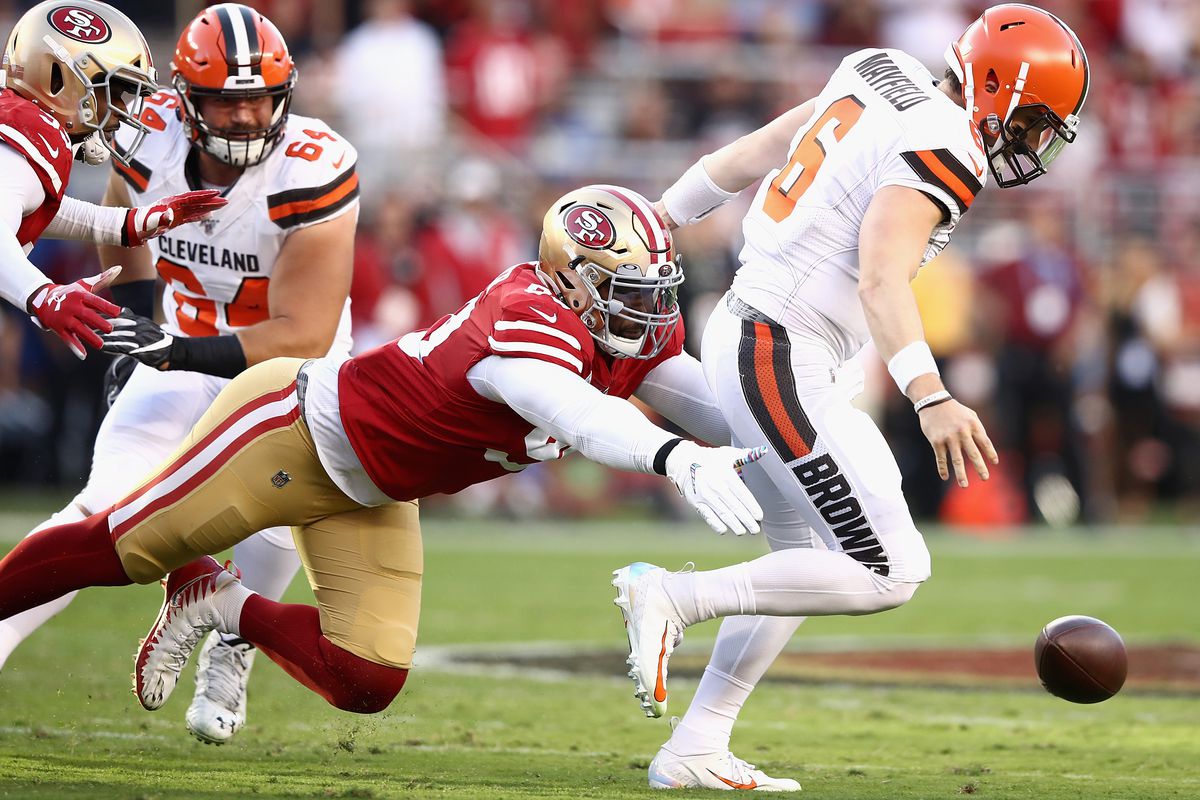 Five weeks into the NFL season about the only thing that has been consistent about the Cleveland Browns is their lack of consistency.
The team sits at 2-3 after Monday night's 31-3 beatdown at the hands of the San Francisco 49'ers, a game that could have been worse if the Niners would have converted a number of missed field goals.
The Browns have to quickly turn the page, as they will host the Seattle Seahawks on Sunday at First Energy Stadium.
For now, the biggest questions seem to be how and why this team still has yet to gel, and how on the national stage the club was so outplayed.
"We just need to find consistency on how we prepare, how we approach the games and how we approach the play," Browns coach Freddie Kitchens said Monday.
"They (San Francisco) did everything last night better than we did. They ran the ball on us. That is what they wanted to do. We did not protect the passer like we wanted to protect him. When you have those things, that is a recipe for disaster. We have to play better. We have to coach better."
While the 28-point loss is sure to sting all week while the team gets ready for Seattle, there's going to be a lot about the way things have been going five weeks into 2019 about the way second-year quarterback Baker Mayfield has played.
A week after having a solid game on the road against the Ravens, Mayfield was battered at beaten by the Niners, throwing for just 100 yards with two interceptions, while also not throwing a touchdown pass for the first time in a game in his short NFL career.
Kitchens didn't give Mayfield a pass on Tuesday, but also pointed out that the Niners front line battered the Browns offensive line, which didn't help Mayfield in the least.
"Some of it has to do with the lack of protection. Some if it had to do with a couple bad throws, a couple bad decisions," Kitchens said.
"Overall, we had some drops. You can't do those things and play the quarterback position at an elite level. If you just want the honest answer, you have to have consistency around you, you have to be consistent yourself and none of that happened last night."
Another story line out of the Monday night loss was the actions by former Ohio State and now 49ers DE Nick Bosa, who harassed Mayfield all night, and at one point mocked Mayfield's 'flag plant' at midfield at Ohio State after Oklahoma upset the Buckeyes during his senior season.
Kitchens said that he's not concerned about those types of things from Mayfield, and that he feels the quarterback 'firing up' an opponent with words of his personality prior to a game is more to do about nothing.
"I think different people find motivation from different things. I think ultimately, it is what we do on the field not off the field in that type of setting that matters," Kitchens said.
"Ultimately, we go to the game with the plan, and if we execute the plan, we are usually successful. If it is a good plan and we execute it, we are usually successful with it. It has nothing to do with things off the field like that. It is all about how you play the game."

NEO Sports Insiders Newsletter
Sign up to receive our NEOSI newsletter, and keep up to date with all the latest Cleveland sports news.