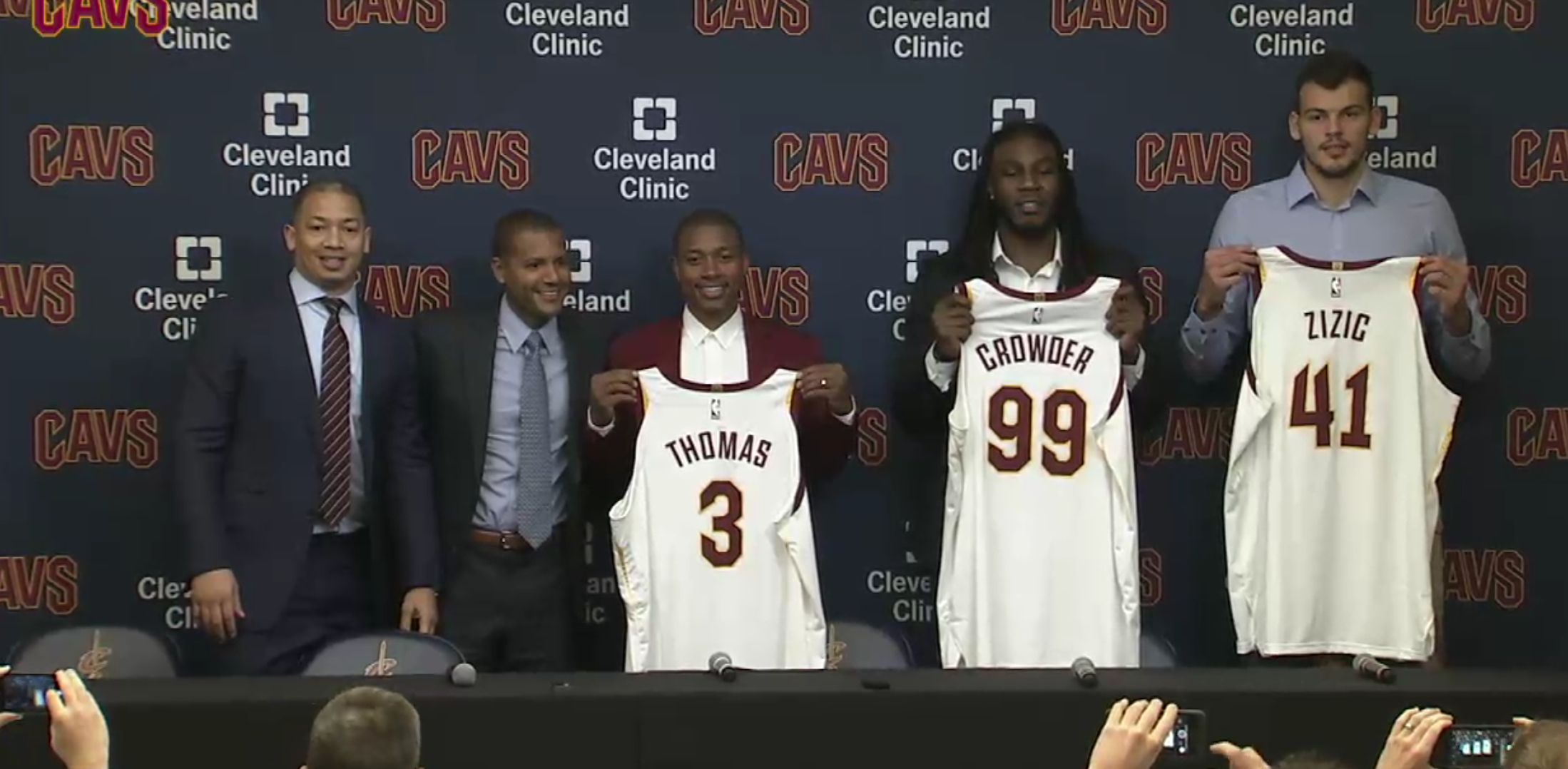 INDEPENDENCE, OHIO– When it comes to the health of Isaiah Thomas' hip, Cavs general manager Koby Altman says surgery is not currently in the cards.
"Our plan is a non-surgical plan," Altman said when asked about the labrum tear the point guard suffered last year.
"Y'all hear that?," Thomas quipped immediately after. "Everybody wants to be doctors now."
Other than that, however, the Cavs are staying quiet about Thomas' hip injury.
During an introductory press conference for Isaiah Thomas, Jae Crowder and Ante Zizic on Thursday afternoon,  Altman shut down nearly every question about Thomas' hip and his status for the upcoming season.
"I don't want this to be the Isaiah Thomas hip press conference," Alman said. "And so I'm just going to, with all due respect, shut down the hip questions. If we want to talk about Isaiah, let's talk about Isaiah the All-Star. Let's talk about Isaiah the guy who averaged 29 points a game last year. Let's talk about him as a leader, and what he's going to bring to the franchise as far as his performance on the floor when we get him back."
Altman said the Cavs would not comment on a timetable for Thomas' return. It was unclear whether the Cavs even have a timetable yet, with Altman saying the organization's responsibility is to get Thomas "back to 100 percent," and that the Cavs performance team has mapped out a non-surgical plan for Thomas going forward.
Thomas briefly addressed his progress so far, but like Altman, wouldn't really go into detail.
"I'm just getting treatment each and everyday, working out in the weight room," Thomas said. "And that's the most that I'm doing right now. Like Koby said, we have a plan set and we're just going to attack that plan."
Considering the fact that Thomas has essentially been a perennial underdog throughout his NBA career, there is no doubt that these questions about his hip have fueled his motivation this offseason.
"It's just been my story, I'm fine with it," Thomas said. "I averaged 29 a game and they're still gonna talk. I could be MVP someday and they're still going to say something's wrong with my game and that's fine, I accept that."
Regardless of whether the Cavs will answer these questions, they remain important, especially because it is still unclear who the Cavs starting point guard will be. When asked about Thomas' hip from that angle, both Altman and head coach Tyronn Lue brought up Derrick Rose and Jose Calderon.
No matter when Thomas can return to action, however, the Cavs will have to deal with the team adapting as a whole to his inclusion. Lue said that even with Thomas currently out, he doesn't think there will be a problem with the team clicking before Playoffs. He also stressed that he isn't trying to alter Thomas' game.
"Talking to Isaiah yesterday, I want him to be Isaiah," Lue said. "Don't come in and defer and look and try to fit in. LeBron [James] and Kevin [Love] those guys don't want that. Come in and play his game, be aggressive, be the scorer that he is, we know he can score the basketball, and we're just very excited."
But, the new additions as a whole are really going to alter the makeup of this Cavs team, especially when compared to the franchise over the last three seasons. While Lue said he didn't think there would be too many offensive changes, it is pretty obvious that the Cavs defense has been upgraded with the addition of Jae Crowder.
Lue said that he has thought about playing Crowder and James together at the three and four positions, and that Crowder essentially allows James to do what he does best on defense.
"Jae can always guard the tougher opponent, which allows Bron to roam, which he loves to do on defense and pick off steals and passes and anchor our defense," Lue said.
For Crowder, these last few weeks have been a whirlwind to say the least. On the day he was traded to Cleveland, he also lost his mom to a battle with cancer, saying he was able to tell her he was going to the Cavs about five minutes before she died.
"So yeah, that day was tough, but it was a good day for myself, for my basketball career, to be able to move to an organization like this," Crowder said.
For fans in Cleveland who may not have been as familiar with Boston over the last few seasons, it's clear the kind of relationship Crowder and Thomas have. Both were traded to the Celtics around the same time, and worked to bring what was at one point a struggling franchise back to relevance, ultimately culminating with the Celtics earning the No. 1 seed in the Eastern Conference Playoffs this past season.
It's almost fitting in a way then, that both were traded to Cleveland at the same time.
"I got the phone call, I immediately called [Thomas], he said, 'good thing I'm going with you,'" Crowder said. "I was like yeah, that makes it a lot easier."
The biggest news of the day, and of the trade, however, still remains Thomas' hip and a potential timetable for his return.
The one thing we do know for sure? Lue did say that Thomas will not be ready to start the season.