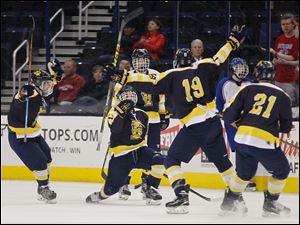 The Saint Ignatius Wildcats and University School Preppers faced off for the Ohio High School Hockey State Championship Game on Saturday afternoon at Nationwide Arena in Columbus.
It was an exciting contest all the way through, which included an even start, a second period dominated by Ignatius, and a valiant effort by University School to try and come back, but the Wildcats would win 4-3, capturing their fourth Hockey State Championship in school history.
All four of their goals were scored by seniors. Every assist was made by a senior, as well.
The two teams had already met three times this season and Ignatius won all three matches.
Ignatius came into the game riding a 25-game win-streak, most recently defeating Toledo St. Francis 5-1 in the State Semi-Final.
University School pulled off a 3-2 win in double overtime of the State Semi-Final matchup against Dublin Coffman.
The last time Ignatius played for a State Championship was 2014, when the Wildcats lasted seven overtimes with Sylvania Northview. The game was called after the seventh OT and the Wildcats were named Co-Champions, something that still has motivated the team to this day.
Ignatius Goaltender Dylan McKeon played in that game in his sophomore year, and now as a senior, there was a sense of unfinished business on his mind along with all the Wildcats.
The Preppers were looking to add some hardware to their trophy case as well, having won two state championships (2003, 2009) in school history.
Ignatius wasted no time getting on the board, as Senior Forward Cam Gerard scored 14 seconds into the game, assisted by fellow seniors Aidan Spellacy and Jared Stepka.
St. Ignatius' Camden Gerard scored a goal 14 seconds into the game to give Iggy a 1-0 lead. pic.twitter.com/raRglm6oZo

— Ari Wasserman (@AriWasserman) March 12, 2016
University School went on the power play 7:08 into the game and although the Preppers had a few good chances, Ignatius would kill the penalty.
Aside from that early goal, the next 14:46 were scoreless and the Wildcats would lead 1-0 after one period of play.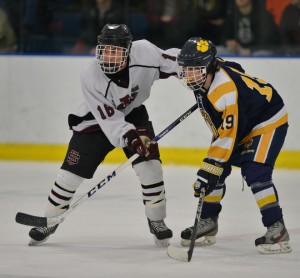 Momentum shifted in the second period.
Ignatius was called for a penalty just under two minutes into the frame, and University School took advantage, as Senior Forward James Koch tied the game with a power play goal. Junior JD Clemens and Senior Robby Engoglia assisted on the goal.
University School ties game up at 1 on power play goal by James Koch pic.twitter.com/A9AMF9Y8vc

— Ari Wasserman (@AriWasserman) March 12, 2016
Ignatius would not let momentum stay on University School's side much longer, as the Wildcats reclaimed the lead at the 5:01 mark of the period, thanks to a go-ahead goal from Senior Forward Zack Kisel. Gerard and Spellacy assisted.
St. Ignatius back on top 2-1 after scrappy goal by Zack Kisel around the net. pic.twitter.com/5nPB1scZIP

— Ari Wasserman (@AriWasserman) March 12, 2016
49 seconds later, Kisel scored yet again to make it 3-1. The Senior Captain, Spellacy, added his third assist of the game.
Kisel just scored again to put Ignatius up 3-1 pic.twitter.com/25SQ6WLbvj

— Ari Wasserman (@AriWasserman) March 12, 2016
Seven minutes later, Ignatius increased their lead to 4-1, thanks again to the senior trio. Spellacy scored his first goal of the game, assisted by Kisel and Gerard.
Ignatius running away with this one after a goal by Aidan Spellacy, up 4-0 pic.twitter.com/nhs9IBPro0

— Ari Wasserman (@AriWasserman) March 12, 2016
Ignatius would lead 4-1 after two periods of play.
University School would not go quietly, however, as Engoglia scored 1:03 into the third period on an assist from Clemens to cut into the deficit and make it a 4-2 game.
Robby Engoglia brings University School back within 4-2 early in the 3rd pic.twitter.com/zBz3el9zEv

— Ari Wasserman (@AriWasserman) March 12, 2016
Engoglia was the hero in the Semi-Final game against Dublin Coffman, scoring the game-winner in double overtime.
University School would need some more heroics if they were going to overcome a three-goal deficit against the powerhouse St. Ignatius Wildcats.
McKeon held off the Preppers for 13 minutes before University School would strike again with 39 seconds left to make it 4-3. The clutch goal was scored by Clemens, assisted by Engoglia and Junior Forward Tommy Nook.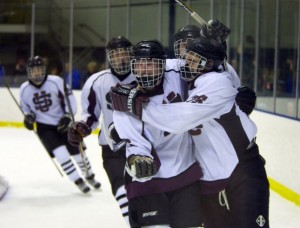 The late rally would not be enough, as Ignatius held on to emerge victorious by a score of 4-3.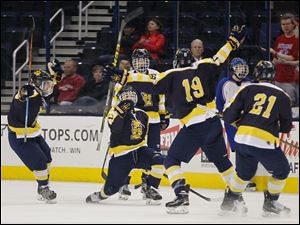 University School's season ends with a record of 26-12-2. Koch scored one goal, Clemens contributed a goal and two assists, Engoglia scored one goal and two assists, and Nook added an assist in the valiant effort.
Ignatius's amazing season comes to an end with their best record in school history, 38-2-1.
Ignatius Captain Spellacy scored one goal and dished out three assists. Gerard scored one goal, contributing two assists. Stepka added an assist. Keisel scored two goals and dished out one assist.
The highlights from @SIHSSports' championship win over @UnivSchoolSport!@OHSAASports #CBJhttps://t.co/qmkupg68XW

— NHL Blue Jackets (@BlueJacketsNHL) March 12, 2016

NEO Sports Insiders Newsletter
Sign up to receive our NEOSI newsletter, and keep up to date with all the latest Cleveland sports news.