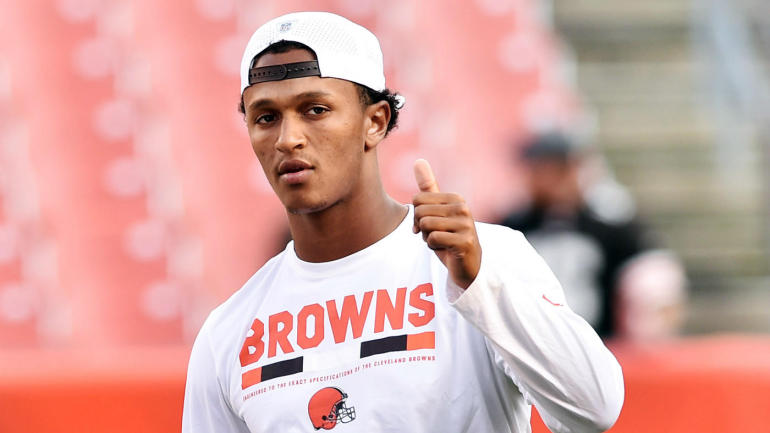 Hue Jackson spoke about the Browns quarterback's today as the team is getting set to play the Ravens Sunday.
When Coach Jackson was asked on what he, quarterbacks coach David Lee, and DeShone Kizer were doing at the facility at 5 a.m. each morning he said, "We are not eating breakfast, that is for sure, and we are not just looking at each other. We are doing some work. I am going to keep that between us three, but there is a lot of good things that we do to prepare for a football game."
The Rookie Quarterback took 7 sacks last week against the Pittsburgh Steelers.
Jackson was asked about how he has coached Kizer to release the ball more quickly this week.
"Don't give it to them. Just don't throw them the ball. They did a good job last week of being in lanes and tipping balls. They got interceptions in a variety of different ways. They have good players, and we respect that, but again, our job is to throw the ball to our open guy and then our guy has to catch it and make those plays. He just has to go back there, go through his progression and play football," he said.
Jackson also said he does not have his mind made up about a backup quarterback for this week, "not today. It is too early. Give me one more day. I don't speak to you guys, right? Bam." Cody Kessler was also a topic of discussion.
When Coach Jackson was asked about Kessler he said, "Kessler has been outstanding. He has been great for DeShone. When I am up here late at night, the guy who is with DeShone still is Cody. Cody has been through this so Cody has been a really good mentor per se for DeShone. He has been great in practice.
"He has always egging DeShone on to get the offense going, to get the rhythm going and to get the fire going. He has done a great job. He has been a pro about it. I think Cody knows his day is coming at some point. He is not concerned about that.
"In respect to the decision we made, he understands. I think that is what being a good pro in the National Football League is. Now, me saying that, does he want to play? Oh, yes. Is he competitive? Does he want to be out there? No question he does, but I think he gets the role that he is in right now."
The Browns have three quarterbacks on the roster still.

NEO Sports Insiders Newsletter
Sign up to receive our NEOSI newsletter, and keep up to date with all the latest Cleveland sports news.