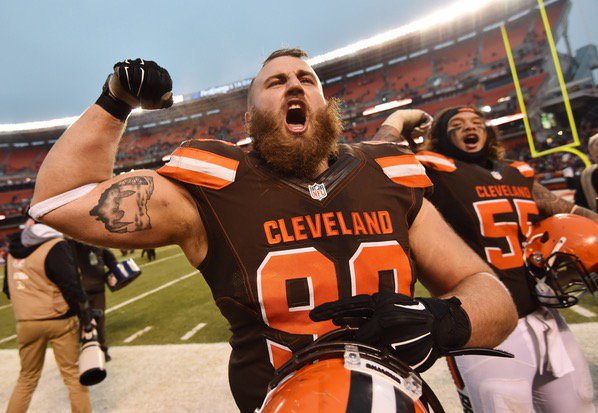 Berea- Hue Jackson talked with reporters before training camp today about position battles at defensive line and left tackle.  Jackson started off by talking about the duo of Emmanual Ogbah and Myles Garrett and while it's safe to say those two will be starting, he talked about having depth at defensive end.
"It is a big thing. They are­ two good players, really good players. Emmanuel getting hurt last year and Myles being hurt on and off earlier in the year, it kind of threw us for a little bit with movement stuff.  (DL) Carl (Nassib) came in and played well and (DL) Nate Orchard played well for us. I am grateful to have depth," Jackson said.
Jackson talked about the interior defensive lineman next.  When he was asked about Jamie Meder and Trevon Coley starting he said the competition to start week one was far from over, "They are working really hard. They work really well together. It is always competition, friendly. (DL Larry) Ogunjobi and all of them are pushing them. They are pushing each other. They are making each other better. I can't say enough about these players. They are good guys. They work hard. They are young and energetic. They are great. They come to work every day. I really appreciate what they do for me."
Jackson said Larry Ogunjobi needs to make less mental errors and he wants to see Ogunjobi push to be starting at defensive tackle, "I want to see him continue more and keep pushing Meder to take the starting job. Keep being who he is. Less mental errors and all of the stuff about going the wrong places and stuff, which is not a lot for him. Just keep competing, and all of the stuff will wash out when the wash is done."
Next, Offensive Line Coach Bob Wylie talked about the position battle brewing at left tackle, "The state of the left tackle is the state of the union. (OL) Shon (Coleman) is fighting. He is doing well at the spot. He is. We brought (OL) Greg Robinson in, and he gets a concussion. Now, we put (OL) Austin (Corbett) back out there to take the spot. We are waiting for (OL) Desmond (Harrison), we keep working with Desmond every day with the mental part of the game. You see him back of the huddle taking [mental] reps. You see one of the coaches like (offensive quality control coach) Brian (Braswell) stays with him and goes over assignments with him to make sure he is on page. We are waiting for him to get back on the field."
Wylie went on to say that moving Joel Bitonio to left tackle is the absolute last option, "That is the last [option]. If you were going to go A down, that would be Z. That would be Z."
These should be interesting position battles to watch through training camp, specifically left tackle.

NEO Sports Insiders Newsletter
Sign up to receive our NEOSI newsletter, and keep up to date with all the latest Cleveland sports news.