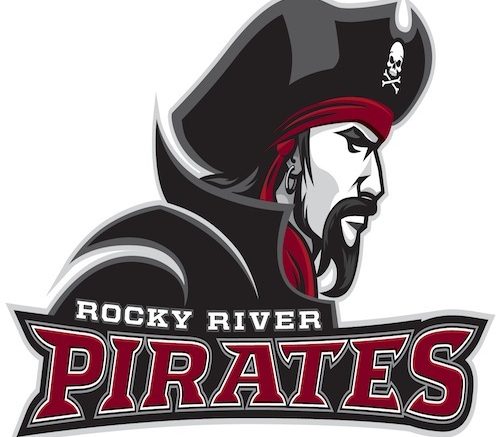 NORTH OLMSTED, Ohio — Rocky River displayed a depth in scoring ability, getting goals from six different players, as the Pirates defeated the North Olmsted Eagles, 6-2, on Saturday evening.
The Rocky River power play cranked out three goals at North Olmsted and is off to a 5-of-12 (40 percent) start to the 2018-19 season. The host Eagles (1-1) scored Saturday's first goal, but the Pirates (2-0) would score the next four en route to the road win. The Maroon & White have now tallied 12 goals over two games.
Senior captain Nolan Weaver logged a four-point game for the second straight night. Weaver had a goal and three assists on Saturday. Ethan Routenberg (goal, two assists) added three points.
Saturday's victory extended one streak and snapped another. The Pirates have now won seven in a row against the Eagles. On the flip side, however, North Olmsted had won six straight series games at home. Those games were played from 2001-06. Since 2000, River is now 10-16 against the Eagles.
The Eagles struck first, getting a breakaway goal from Shawn Donovan at the 9:09-mark of the first period. The Pirates countered at 6:36 when Reece Rochester potted a put-back on a rebound of a Luke Mallett effort. The 1-1 score made its way to the 10:15-mark of the second when Brodie Reid (from Routenberg and Weaver) beat the Eagle netminder on a long shot from the point.
Then the Rocky River power play – a unit that went 2-of-5 in Friday's win over Benedictine – got in on the act. At the 6:09-mark of the second, Luke Witzigreuter scored a goal on a feed from Danny Asmar. Tommy Kelly followed him into the net at the 2:07-mark. River had an extra attacker on for both goals; Kelly's netfinder (assisted by Weaver and Witzigreuter) extended the Pirate advantage to 4-1.
North Olmsted got one of those scores back when Riley Vertosnik netted an Eagle goal before the end of the middle stanza.
The Rocky River defense clamped down in the final period. Goaltender Ethan Mylett saw four shots and stopped all four. Ethan Routenberg's third goal in two nights – a power play job assisted by Witzigreuter at the midpoint of the third – bumped the Pirates' lead to three (5-2). Nolan Weaver closed out Saturday's scoring when he found twine in a four-on-four situation at the 6:00-mark.
A half-dozen goals. From a half-dozen scorers. And the goal total was certainly buoyed by the River power play (3-of-7) on a night that saw the Eagles whistled for 25 penalty minutes. The Pirates had six minor penalties; the Rocky River penalty-killers went 3-for-3.
Article VIA Skin Snow VNN Network Rocky River