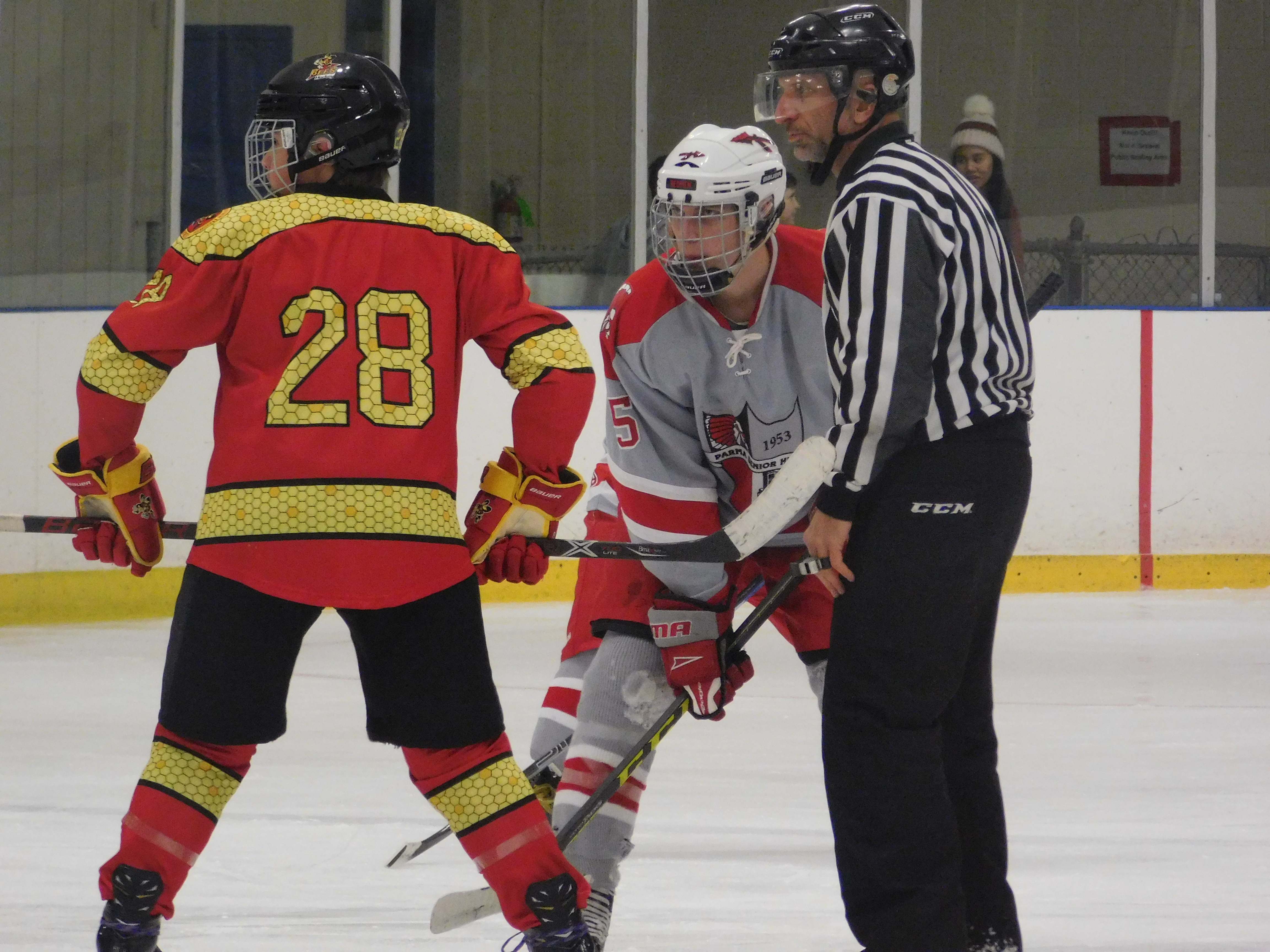 PARMA, OHIO – Parma Redmen defensemen Robbie Gudin was feeling it on Tuesday night against the Brecksville Bees, as he accounted for four goals and three assists as the Redmen skated to a dominating 10-1 win.
With the win, the Redmen move to 4-0-0 in the GCHSHL's Blue Division this season.
Gudin scored Parma's first four goals of the runaway win, all coming in the first 15 minutes of the first period as Parma built a 5-0 lead after one period of play.
They lead it 7-1 after two, and skated to the nine-goal win with three more goals in the final period. Parma outshot the Bees 54-9 in the win, keeping the puck in the Bees end for nearly the entire affair.
Brecksville's lone goal was scored in the second period by forward Shahil Merchant, with the assist going to defender Cole Schwertle.
The Bees have had a tough start to the season, as with the setback they fall to 1-4-0 in league play, good for 6th place in the division tied with Mayfield and ahead of NDCL.
Redmen goalie Colin Pinson didn't have a very busy night in net, but did his job turning away eight of the nine shots he faced to record the victory.
On the other side Justin Blauman was peppered with 54 shots, turning away 44 in the loss.
While Gudin led the way with the monster night finding the net, he was helped out in the win by forward Matt Higginbotham, as he found the net three times on his own and also collected three assists.
The other two Redmen goals were scored by forward Ryan Myers, his first in the first period with 1:36 to play which made it 5-0, and the last with 4:11 left to close the scoring at 10-1.
Parma outshot Brecksville 27-5 in the first period, 13-2 in the second, and 17-2 in the third for the 54-9 shots on goal edge in the win.
The Bees will be back on the ice for league play on Sunday, December 16th as they will skate against the Lakewood Rangers in a game in Brooklyn.
Parma will skate against Aurora on Tuesday, December 18th at Ries Rink in Parma.
Click the Pages for Some Pics of the Action Between the Bees and Redmen!