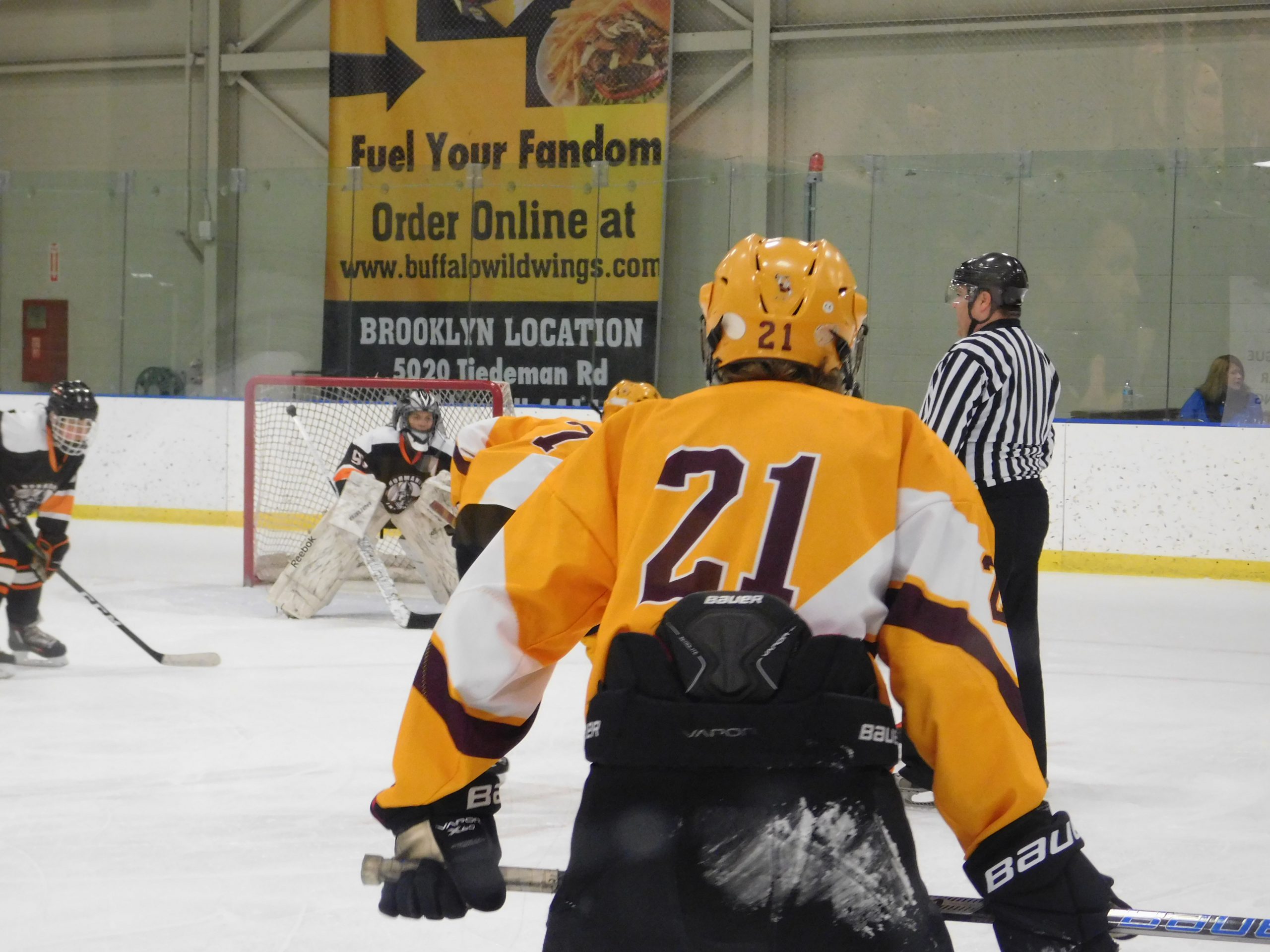 Scoring Summary
1st – 11:07 – SH – Lakewood
2nd – 11:38 – Tommy Kacmarcik from Justin Share and Nick Ospelt
2nd – 9:42 – Luke Farthing from Nick Ospelt and Hunter Hall
2nd – 5:47 – Lakewood
2nd – 3:17 – PP – Nick Ospelt from Justin Share
3rd – 10:15 – Nick Ospelt from Luke Farthing
3rd – 7:57 – Tommy Kacmarcik from Colin Reynolds
3rd – 0:47 – SH – Tommy Kacmarcik
Avon Lake Game Leaders
Goals – Tommy Kacmarcik – 3
Assists – Nick Ospelt and Justin Share – 2
Shots – Tommy Kacmarcik – 15
Saves – Dillon Aslaksen – 6
Avon Lake Team Stats
Power Plays – 1 for 2
Shorthanded Goals – 1
Penalties (min) – 6 (12)
Shots on Goal – 58
Face Offs Won – 33 of 39
The Shoremen took on SWC rival in a non GCHSHL conference game to open the home schedule and came away with a 6-2 win. It took plenty of shots to finally break through the great goaltending by Lakewood, but the Avon Lake offense kept the pressure on all game.
The first period was filled with Avon Lake pressure in the Lakewood zone with 17 shots on goal, but the play in net for Lakewood was able to keep the Shoremen off the board. about halfway through a Avon Lake power play, Lakewood was able to break open the scoring on a shorthanded breakaway.
After the first intermission, the pressure continued during the second with the Shoremen and junior Tommy Kacmarcik was able to finally get one on the board from fellow junior linemates Justin Share and Nick Ospelt. About 2 minutes later, Avon Lake took their first home lead of the season on a goal by sophomore Luke Farthing. The assists went to Ospelt and senior Hunter Hall. Lakewood fought back with a goal of their own, but Avon Lake answered to take the lead into the locker room on a power play goal by Ospelt from Share.
In the third, assistant captain Ospelt added his second goal (4th point) from Farthing who seems to have found a home after moving to defense this season. The next two goals both came from Tommy Kacmarcik who completed the first hat trick of the 2018-19 season. The first Kacmarcik goal of the third came from junior Colin Reynolds while the second was unassisted shorthanded after a nice forecheck.
Avon Lake is now 2-0-0 in the young season with 4 games over Thanksgiving weekend at Rocky River for the Tim Alexander Memorial Thanksgiving Hockey Tournament.

NEO Sports Insiders Newsletter
Sign up to receive our NEOSI newsletter, and keep up to date with all the latest Cleveland sports news.