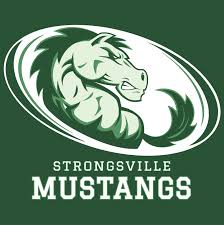 The Strongsville High School Mustangs traveled to Mentor Friday night for a date with the Cardinals. Unfortunately, the teams all came back empty handed despite strong efforts.
The Freshmen lost by 3 in the final seconds after a solid battle handing the team their first loss.  The JV dropped to 1-2 by a score of 64-42.
In the nightcap, the varsity boys came out strong with an 11-2 lead in the first quarter. As Mentor tried to pull away, the Mustangs fought back and were within four late in the third quarter.
Unfortunately for the Mustangs the game got away from them in the fourth as they lost 92-74.
The Mustangs end a three game road trip and finally come home to play Lorain next Tuesday.
Away
Home
Strongsville High School
vs
Mentor High School
74
92
1
22
27
2
40
49
3
61
67
4
74
92