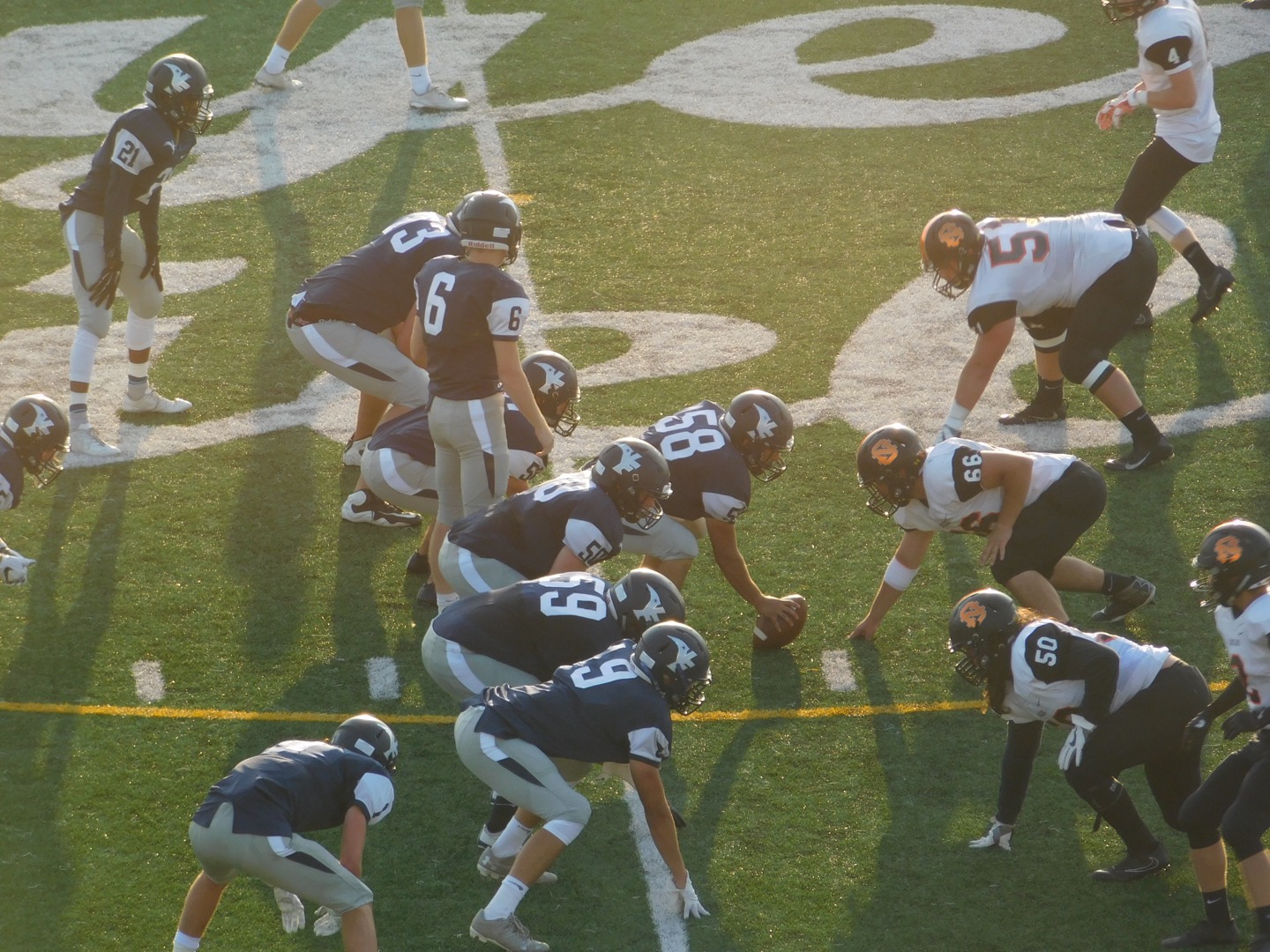 The Valley Forge Football team is coming off a great camp and summer practice. The Patriots spent many months in the weight room preparing for this upcoming season. The way the players have committed themselves to improving has everyone buzzing about this new season.
The team also spent 3 days at the University of Mount Union, where they practiced and enjoyed fun filled days. The trip was not only a great way to practice away from home without distractions, but it always allows players to form a closer bond.
The Patriots return a large group of seniors and a group of Juniors who all showed promise last year being varsity starters. With veteran experience, the team is hoping to close out those close games that pulled away from them last season.
Injuries plagued the Patriots last year and they are hoping to avoid that obstacle this year. Coach DeAngelis has implemented a different style of practice this year in order to try and keep players healthy.
The Patriots return almost their entire starting O-line that will be anchored by seniors and juniors: Isiah Kammer, Manche Gamache (first team all conference), Andrew Arraj, Nidal Abukhalil, and Benedictine transfer Anthony Laplaca. Jimmy Bateman will also provide great depth at are the tackle position.
The backfield will consist of dynamic running back Michael Pappas (First Team All Conference) who was one of the top players in the conference as a sophomore.
The wing position will be manned by senior Mike Miller as he has proved to set the edge for ball carriers. Playing QB will be Nick Kugler who has the coaches excited with his pre-season play thus far. Zach Ansboro has shown to be a more then suitable QB backup thus far with his great preseason play.
The Patriots also return almost all starters from last year. The Defensive line will be anchored by junior Isiah Kammer, who proves to be one of the strongest players the Patriots have seen in over ten years or more. Jimmy Bateman, Anthony Laplaca and Ricky Linville will also be key parts at Defensive tackle.
Securing the end spots will be sophomore Julius Sebille, Dionne Dubose and Manche Gamache. The Linebacker core is as strong as it has ever been with new comer Matthis Chmielewski (Benedictine transfer) who was a standout player before transferring to Valley Forge, his experience along with his strength and speed will be a huge plus this season.
Bobby Benak will also anchor the middle with his big frame, speed and aggressive play. The outside linebackers will be manned by Matthew Strachan, Mike Miller and Jackson Phillips. The secondary will consist of returning starters Jalen Varner, Mike Pappas and all conference cornerback Dylan Magda.
Samuel Rizuto will be the safety anchoring the secondary as he has proved he can fly and make plays all over the field.
Other seniors who have had a great preseason and will contribute this year are:Tyler Higgins, Nate Stephens, Timmy Dawson, Jason Mcneely and Zyon Dougherty.
The Patriots take on North Olmsted for their first regular season game. The patriots have never defeated the Eagles but with returning starters and new comers, the team is confident going into the strong opponent's new stadium.
2018 Schedule
Aug 24th @ North Olmsted
Aug 31 John Marshall
Sept 7th Brunswick
Sept 14th Normandy
Sept 21rst @ Elyria Catholic
Sept 27th Garfield Heights
Oct 5th Rocky River
Oct 12th @ Parma
Oct 19th @ Holy Name
Oct 26th Bay Village
Content for article provided to NEOSI by VF Athletics VNN Network

NEO Sports Insiders Newsletter
Sign up to receive our NEOSI newsletter, and keep up to date with all the latest Cleveland sports news.