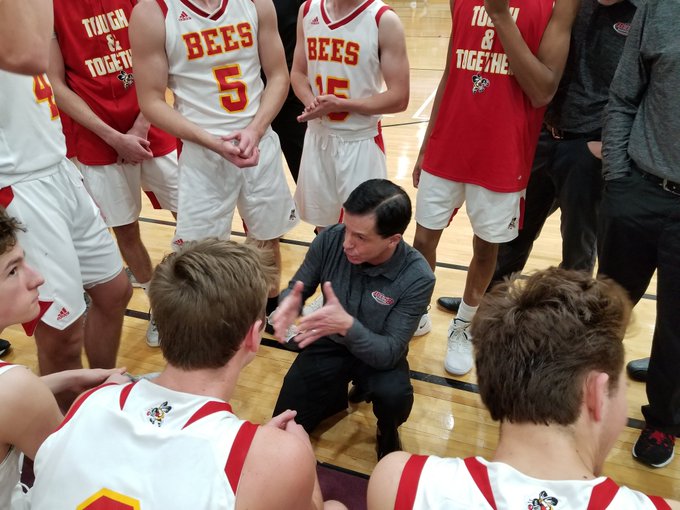 By Don DiFrancesco
Twinsburg 11 11 12 14 = 48
Brecksville (home) 12 9 17 18 = 56
BRECKSVILLE, OHIO – The Twinsburg Tigers came into Broadview Heights on Friday night looking to tie Brecksville-Broadview Heights for first place in the Suburban League's National Division. The Bees held the top spot at 8-1 in league play; the Tigers were a game back at 7-2.
Brecksville led by just one point after the first quarter, and Twinsburg came back to hold a one point lead at halftime. The Bees were on target in the first half, shooting an even 50% on 10 shots made in 20 attempts. The Tigers were shooting only 36% at the intermission (8 for 22) but connected on five early 3-point shots to keep up with the Bees.
During the second half, the overall shooting accuracy was about the same for both teams. But Brecksville was able to sink seven 3-pointers during quarters three and four, while Twinsburg made just one. The Bees outscored the Tigers by nine in the second half and emerged with a 56-48 victory.
Brecksville's sophomore forward Joe Labas was the game's leading scorer with 14 points, and he also corralled 10 rebounds. Senior forward Kenny Ganley, who sat out half of the third quarter after committing his third foul, finished with 13. Freshman guard Tyler Ganley added 10 points for the Bees.
Twinsburg seniors Ralph Campbell and Ryan Felberg topped the Tigers' scoring with 12 points apiece. Senior forward Mike Simpson came off the bench to score 6 points and pull down 10 rebounds.
Final shooting statistics:
Brecksville was 22 for 46 from the field (48%) including 8 for 21 (38%) on 3-pointers.
Twinsburg was 16 for 46 from the field (35%) including 6 for 24 (25%) on 3-pointers.
Twinsburg outscored Brecksville 10-4 at the free throw line.
Twinsburg
Campbell 3-5-12
Felberg 4-2-12
Simpson 2-1-6
Young 2-0-6
McCarthy 2-0-4
McElrath 1-2-4
Golnick 1-0-2
Yarbrough 1-0-2
Brecksville
Labas 5-2-14
K. Ganley 6-0-13
T. Ganley 4-0-10
Sejba 2-2-8
Barth 2-0-5
Jonozzo 2-0-4
Green 1-0-2

NEO Sports Insiders Newsletter
Sign up to receive our NEOSI newsletter, and keep up to date with all the latest Cleveland sports news.