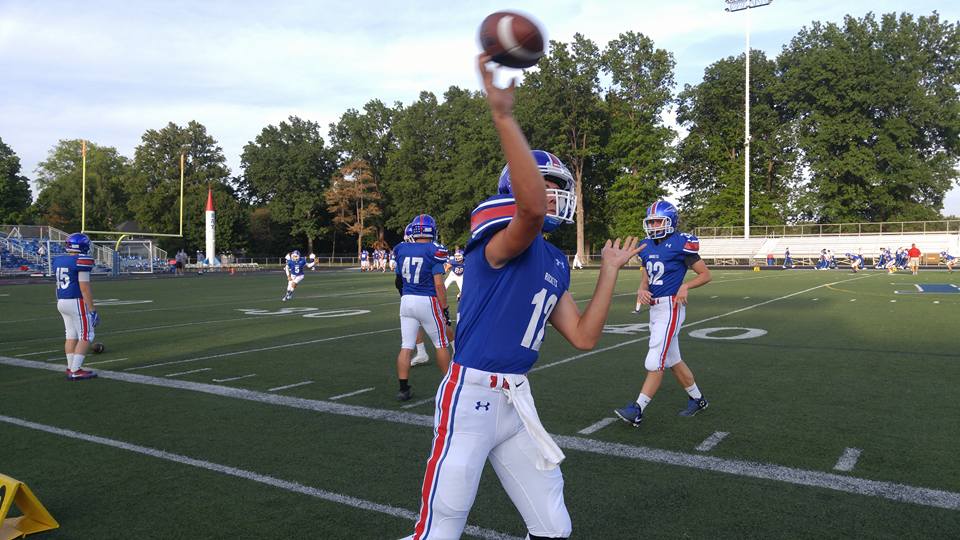 The Following Game Recap is brought to you by Mullins Construction at http://www.createns.com/mullins_construction/
BAY VILLAGE, Ohio – The 1-2 Bay Village Rockets played host to the 1-2 Holy Name Green Wave tonight in the kickoff to the Great Lakes Conference season. It was a wild finish that saw Holy Name Quarterback Joe Carter lead a furious fourth quarter rally to give Holy Name the thrilling 20-17 victory.
The Green Wave trailed 17-7 as the fourth quarter began, and then Joe Carter took matters into his own hands. Leading two touchdown drives to give the Green Wave the lead for good. A late drive came up just shy by Bay Village and Holy Name captured the 20-17 victory.
Joe Carter, who finished with 283 yards, on 19 of 40 passing, with two touchdowns had all day to throw with little pressure. Carter had this to say following the game, "In the first half we were inside the Bay 25 three times and only came away with 7 points. We knew we could score on them and have the formula to beat them. My line gave me a ton of time and my wide receivers made great plays. It was a team effort and a great win. This is a spark plug, and we need to keep going."
Carter had plenty of help in the backfield as well. Running back Marques Thompson ran for 77 yards on 23 carries. Wide out Andreus Harhalos found his way open all night including the game winning catch.
It has been a season of transition for Bay Village this year, as star running back Nick Best graduated and left for Ohio State after last season. Head Coach Ron Rutt talked a little bit about it, "We just try to come on out and do our thing. We pride ourselves on our execution offensively and also our defensive line technique. We try to go out and play our best and see where the chips fall. Sean Chambers has been doing a nice job at fullback for us as well. Running back Trey Psota has also really stepped it up. "
Even with Nick Best gone, Bay Village still showed a strong running game tonight. Trey Psota ran for 151 yards on 19 carries, and also had a score. Sean Chambers carried the ball 21 times for 83 yards and a touchdown as well.
It was a tight battle in the first quarter as it ended scoreless after several punts from both teams. Holy Name Quarterback Joe Carter got the offense moving midway through the second quarter however and they began the scoring when a Holy Name first and goal from the 7, turned into a 4th and 29 after two penalties and stops in the backfield. Joe Carter then converted the 4th and 29 for the TD toss to Andreus Harhalos.
Some excellent running by Trey Psota on the very next drive from Bay Village, allowed the Rockets to march down the field. Gains of 21, 10 and 6 sparked the drive. It would result in a 27 Yard Field Goal by Cade Gergye to make the score 7-3 at the half.
A 49 yard punt by Jared Riess of Bay Village pinned Holy Name at their own one after the opening drive of the third quarter. The field position game then began and wound up in the favor of Bay Village. The Rockets would start in great field position on their next possession and it resulted in a 7 yard Sean Chambers touchdown. This score gave the Rockets their first lead of the game at 10-7.
Bay Village kept the momentum after taking the lead, forcing a 3 and out of Holy Name. On their next drive, Bay Village drove back down the field and punched it in on a Trey Psota 2 yard touchdown scamper giving the Rockets the 17-7 lead.
Holy Name quarterback Joe Carter would hook up with Andreus Harhalos and two long connections to get the Green Wave into scoring position on the following drive. A few plays later, it was Colin Costanzo running it in from the 3 yard line to make it 17-14 Bay Village with just under ten minutes left in the game.
Joe Carter remained red hot, and drove the Green Wave down the field again on the following drive. He had little pressure and with all day to pass the ball, he hit Andreus Harhalos over and over again. He finally connected with Harhalos from 19 yards out to give the Green Wave back the lead at 20-17. Harhalos made a tippy toe catch in the corner of the endzone to score.
Bay Village would turn it over on their very next play from scrimmage as Holy Name intercepted Connor Shell. This gave Holy Name a chance to put the game away. The Rockets would deny them with four straight stops at the goal line, to give them a chance at a potential 99 yard game winning drive. They would get all the way to the Holy Name 34 yard line in thrilling fashion, before fumbling it away to lose the game.
Next week, Bay Village travels to Rocky River while Holy Name hosts Normandy High School.
Score by quarter
Bay Village 0-3-7-7 = 17
Holy Name 0-7-0-13 = 20
Scoring Summary
Holy Name – 29 Yard Touchdown pass, Carter to Harholos. 3:53 Second Quarter. XP Good
Bay Village – 27 Yard Field Goal Cade Gergye. 1:48 Second Quarter
Bay Village – 7 Yard Touchdown Run – Chambers. 5:59 Third Quarter. XP Good
Bay Village – 2 Yard Touchdown Run – Psota. 10:46 Fourth Quarter. XP Good
Holy Name – 3 Yard Touchdown Run – Costanzo 9:13 Fourth Quarter. XP Good
Holy Name – 19 Yard Touchdown Pass – Carter to Harhalos. 5:23 Fourth Quarter. XP No Good

NEO Sports Insiders Newsletter
Sign up to receive our NEOSI newsletter, and keep up to date with all the latest Cleveland sports news.