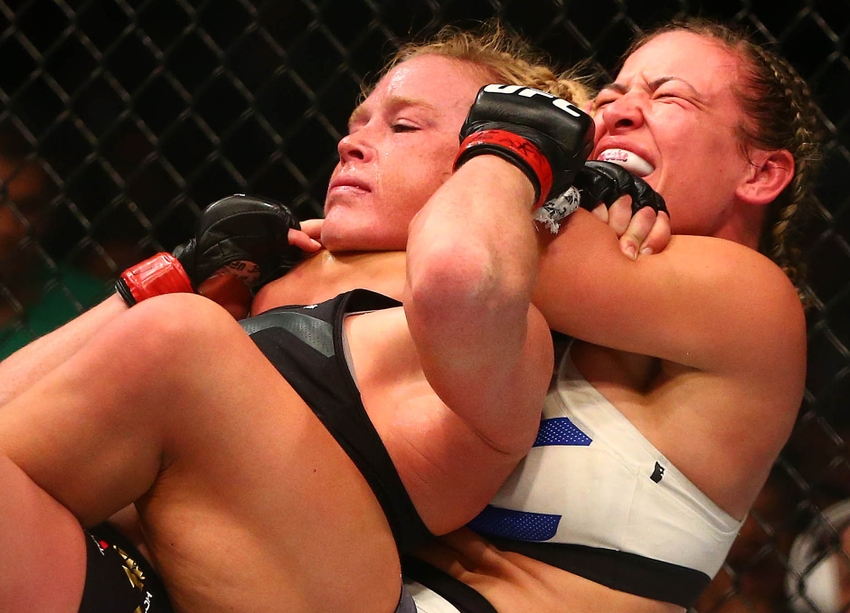 Flashback to November 15, 2015 when Holly Holm defeated the seemingly unbeatable icon known as Ronda Rousey.  At the time, it was seen as the greatest upset in MMA history, and some even went as far as to call it the greatest upset in sports history.  The only question was, would Holm go the route of Buster Douglas and prove the entire thing was a fluke by quickly flaming out.  Or would Holm actually prove to be a legit champion and begin her own dominant reign?
Sadly for Holm, the answer has not only looked like a fluke win, but her opponent that night, Rousey, has disappeared from MMA all together following that fight.  With the sole exception of a Rousey comeback fight, which lasted less then a minute, ended violently at the hands of new champ, Amanda Nunes.
As for Holm, since that magical night in November of 2015, it has been all down hill.  She has lost three straight fights since taking the title from Rousey.  She lost the belt in March of 2016, in a thrilling fight against Miesha Tate.  A women Rousey has soundly defeated twice before.
It was pivotal for Holm to have a long and impressive title reign, to prove she wasn't a one night wonder in MMA, and that Rousey was a formidable champion and not a media creation.  Considering Rousey and Holm have gone a combined 0-4 since their fight, the once "biggest upset in sports history", is since long gone and a distant memory in many MMA fans minds
It's been all downhill since losing her title to Tate at UFC 196 by fifth round submission.  It was a fight that Holm was actually winning, before the thrilling come from behind submission for Tate.
Since then, Holm has gone 0-2 with losses to Valentina Shevchenko in July 2016 by decision.  That fight was her last at Bantamweight as she then moved up to featherweight for the chance to fight for the inaugural UFC women's Featherweight Title.
That did not go so well as her opponent in the main event of UFC 208, Germaine de Randamie kept hitting her after the bell with kicks and punches, and was never punished for doing so.  This caused Holm to come out flat at the start of each following round and simply never recovered as she lost by decision.  That fight was for the inaugural title as well.
So where does Holm go from here?  Three straight losses and her MMA career in serious Jeopardy.  Few forget that before she was in the UFC and MMA, she was a world re-known kickboxer.  Holm compiled up countless world titles and knockouts along the way!
Holm has held several welterweight boxing titles.  She has been highly regarded as one of the best female welterweights in the world, and is considered among the best of all time by some close to the women's kickboxing game.
She was named Female Fighter of the Year by Ring Magazine, twice in consecutive years in 2005 and 2006.  Despite the incredibly impressive Kickboxing record, she is still relatively new to the MMA world.  Holm made her mixed martial arts debut on March 4, 2011 and only had 9 professional matches at the time of her fight against Rousey.  That title fight against Rousey was only her 3rd in the UFC.
She is desperate for a win on Saturday night, and will need one for media members, fans and fellow competitors to once again start giving her the respect she once earned.
Standing in her way is the hungry and well talented Bethe "The Pitbull" Correia.  The nasty Brazillan is filled with non stop energy and doesn't back down from any fight.  While Holm's highest MMA moment came against Rousey, it was Correia's worst moment  when at UFC 190 on August 1, 2015, Ronda Rousey absolutely destroyed her in her own country in less than 34 seconds.
Correia was 9-0 at the time of the title match, but has since struggled.  She lost a tight decision against Raquel Pennington and then won a highly disputed decision against Jessica Eye at UFC 203 in Cleveland.  In fact, anybody I have spoken with that saw the Jessica Eye fight, including my own two eyes, had all three rounds for Eye.
She has fought one more time since the controversial win over Eye, it was yet another controversial decision.  This time, earning a rare Draw, against Marion Reneau.  Bethe is a tough cookie, and fierce competitor and often times a hard opponent to figure out.  She won't back down from Holm.
Official prediction on this one, I see HOLM BY KNOCKOUT.
This will be the third straight main event for Holm, as her title loss to Tate was not the main event of the card, Diaz vs McGregor 1 was.  With that being said, I simply do not see one of the best strikers in the world losing her fourth straight fight, and third straight in the main event of the evening!  The road to ending Fluke talk, starts Saturday night.
Quick Predictions on the other main card fights
Rafeal dos Anjos wins by decision over Tarec Saffedine
Dong Hyun Kim wins by decision over Colby Covington
Andrei Arlovski wins by Knockout in the third round over Marcin Tybura

NEO Sports Insiders Newsletter
Sign up to receive our NEOSI newsletter, and keep up to date with all the latest Cleveland sports news.