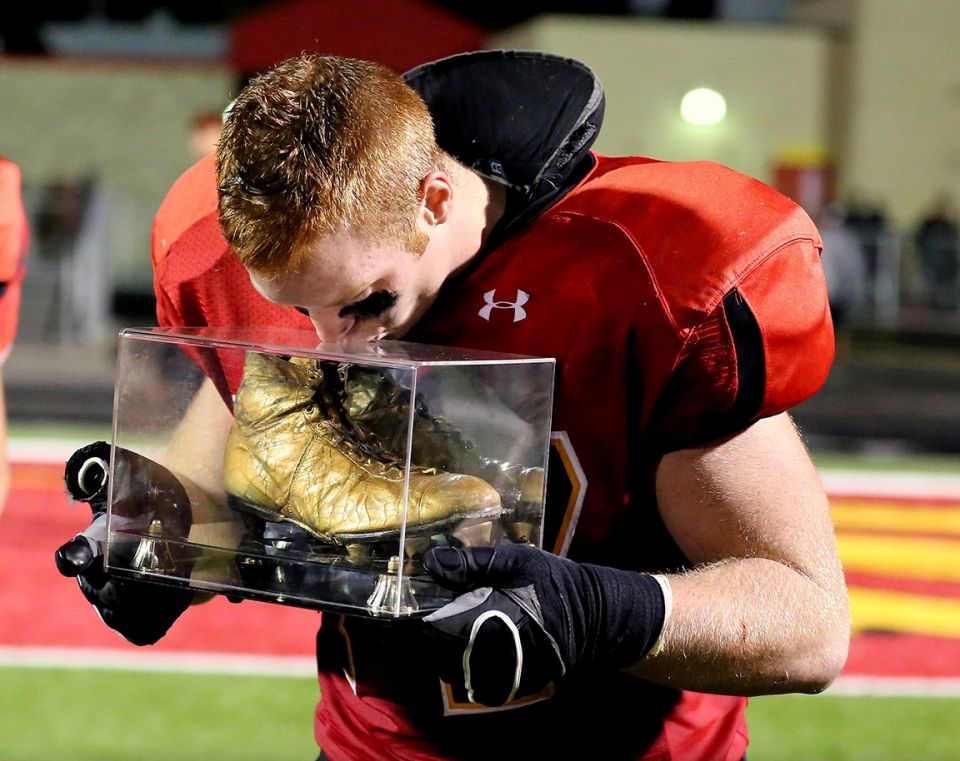 NORTH ROYALTON, Ohio-Rivalry games are what make sports so much fun for so many fans. Watching battles between Ohio State and Michigan, the New York Yankees and the Boston Red Sox, and the Pittsburgh Steelers and the Cleveland Browns (not so much anymore…..thanks a lot Browns!) are what really engage the fans. In High School, you have your classic rivals in Northeast Ohio, such as St. Ignatius vs. St. Ed's, Padua vs. Holy Name, and Strongsville vs. Brunswick, to name a few. On Friday, the Brecksville-Broadview Heights Bees (6-0, 3-0 in the Suburban League) will do battle with their neighboring rival as they travel to North Royalton and face their long-time nemesis, the North Royalton Bears (1-5, 0-3 in the Suburban League) at Serpentini Stadium at 7pm. When these two schools get together,  you can throw their records out the window, because pride is all that matters. That, and a little thing called "The Golden Shoe" which is what each team fights for the rights (Sorry for the Beastie Boys reference) to own after each year's game.
These two schools first played for "The Shoe" as it is called, first, back in 1937. The Golden Shoe game is one of the longest standing trophy rivalry games in Ohio. Their conference rivalry goes back to the early 60's when both schools were members of the Cuyahoga Conference and later becoming charter members of the Pioneer Conference back in 1977. In 2015, both schools then joined the revamped Suburban League to renew their long-standing conference rivalry. The Bees have won the last three contests, with Brecksville prevailing 7-0 last year at The Bee Hive. North Royalton last won this game back in 2012 in non-conference action at First Energy Stadium, 54-42.
The Bees are coming off a hard fought victory on the road against a tough Nordonia Knights team, 42-35. Despite the fact Brecksville had picked off four passes in the first half, the game was tied, 14-14 at halftime. The Bees offense took over in the second half, as they jumped to a 35-21 lead, before Nordonia crept back into the game at 35-28 and then again at 42-35. Nordonia's onside kick attempt was recovered by Brecksville, who was able to hold on for the victory, to run their record to a perfect 6-0 on the season. Brecksville was again led to victory on the strength of standout Senior quarterback Luke Strnad's 18 of 32 passing, for 341 yards and 3 touchdowns. Senior wideout Adrian Asimou was Strnad's favorite target, catching 8 passes for 149 yards and a TD. Junior tailback Alec Buckley chipped in 2 touchdowns for the Bees.
North Royalton is coming off a tough road game against the Wadsworth Grizzlies, losing 55-35. The Bears were down 49-14 at halftime, as their defense simply could not stop the Grizzlies offensive attack. North Royalton did make a valiant effort to make the score more respectable in the second half, outscoring Wadsworth 21-6. Junior runningback Zach Antonio led the Bears offensively, as as he had 27 carries, for 99 yards and 4 touchdowns. Freshman QB Joe Marousek completed 17 of 21 passes for 209 yards, and ran 15 times for another 94 yards, with a touchdown on the ground. Senior wide receiver David Steward was the Bears leading receiver on the evening, catching 6 passes for 120 yards. Junior wideout Tyler Knurek chipped in 8 catches for 68 yards.
Prediction:
Both teams are extremely young, and both teams run spread offenses that can light up the scoreboard. Neither team is consist on the defensive side of the ball, so points could be aplenty. North Royalton will have to try and contain Bees star QB Luke Strnad to have a chance to pull off the upset. For Brecksville, they will need to focus on getting past their rivals and not look forward to the remaining games on their schedule against the likes of Wadsworth, Stow, and Hudson. The Bees currently sit 7th in the computer points in Region 5 (Division II state playoff rankings). The Bears look to have something to say about their rivals fate Friday night.
Brecksville 42
North Royalton 28

NEO Sports Insiders Newsletter
Sign up to receive our NEOSI newsletter, and keep up to date with all the latest Cleveland sports news.