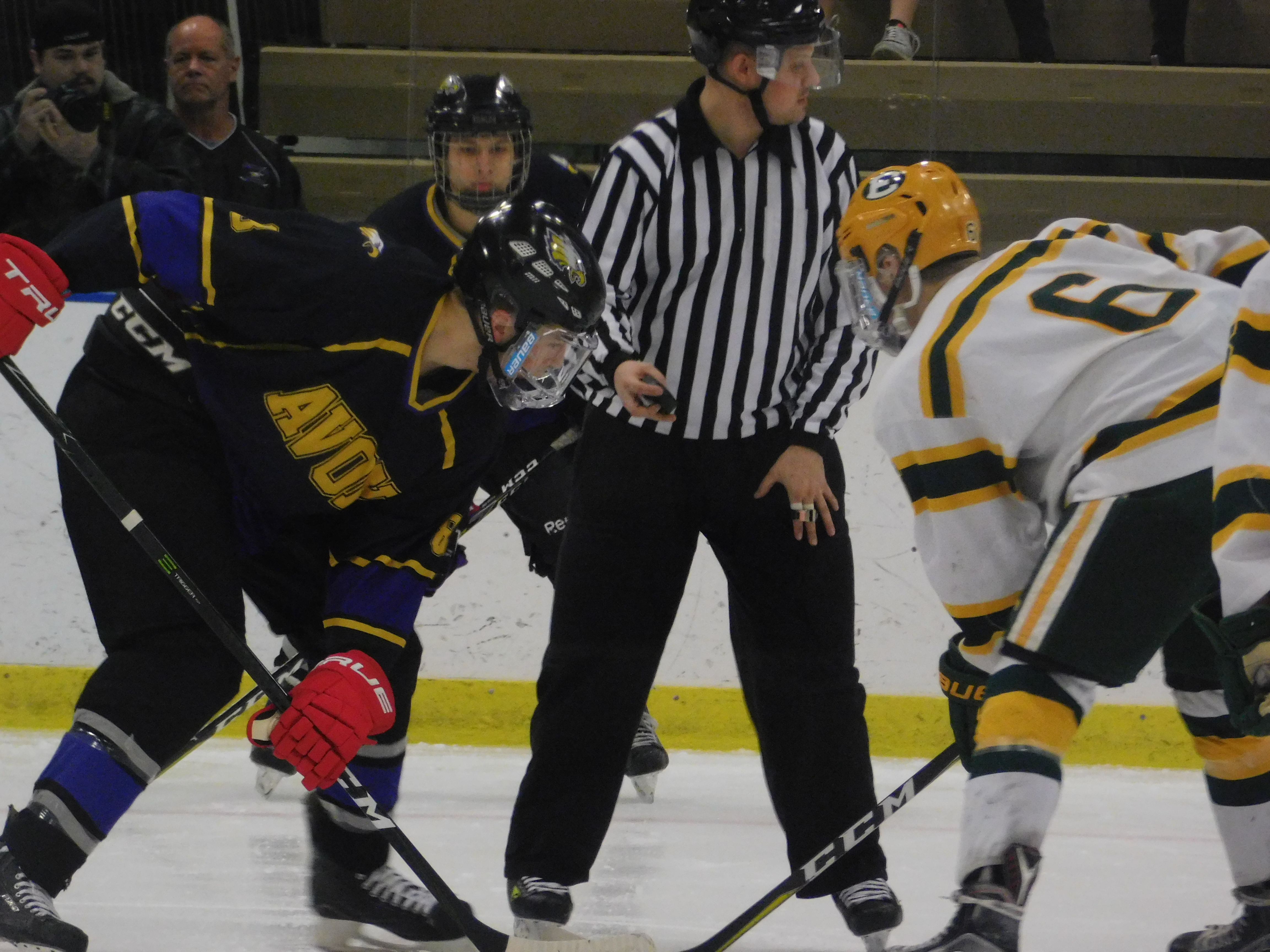 BROOKLYN, OHIO – The St.Edward Eagles roll towards another championship matchup with the St.Ignatius Wildcats took another step closer Sunday afternoon, as Ed's rolled past the Avon Eagles 10-0 in a game that ended with 1:05 to play in the third period.
If things continue as it appears they will, the Eagles of Ed's would take on Ignatius on Saturday, March 3rd in championship game in Brooklyn with the winner moving on to Columbus in the State Final Four.
Ignatius did their part in making the championship showdown appear inevitable as they took out the Brooklyn Hurricanes in Saturday's opener of playoff action in Brooklyn 11-1.
Avon, who went 9-22-0 in the regular season, beat Chagrin Falls in a memorable 1-0 overtime win on Wednesday to earn their part in Sunday's matchup with St.Ed's.
Sunday's Ed's domination was fairly straight forward, as they put up 54 shots on goal in the win, and played almost the entire game in the Avon end of the ice.
Avon managed just four shots on goal the entire afternoon, none in the final period as Ed's scored three more times to put the game away with 65 seconds still left on the clock.
Ed's got five goals in the first period, putting up 22 shots on Avon goalie Danny Fielding, with Frank Crisafi scoring two of his three goals on the day in the first 4:14 of play to quickly put Ed's up 4-0.
Tanya Bajzar, Matt Masro and Ryan Willse also collected goals for St.Ed's to help them build a lead in the first they never came close to losing in the victory.
Avon put three shots on goal on Ed's goalie Jake Ward, who had a quiet day in net with facing just three shots in the first 15 minutes of play.
The second period saw much of the same, as Ed's increased their lead with two goals in the period, while Fielding and the Avon defense did what they could to stop the Ed's onslaught.
The two Ed's goals went to Tyler Budzar with 8:36 to play in the period and and Crisafi at the 8:30 mark to make it a 5-0 affair in favor of Ed's.
The second period saw Ed's again pepper Fielding with 17 shots, to just one in the period for the Eagles.
The final three goals of the game for Ed's went to Bajzar, Joseph Wilber, and the clincher to end the game went to Matt Smith as the game was called with just over a minute to play.
Ed's will take on the winner of Sunday's second game between the Normandy Invaders and Elyria Catholic Panthers, that game that will take place in Brooklyn on Wednesday, February 21st at 5:30pm.