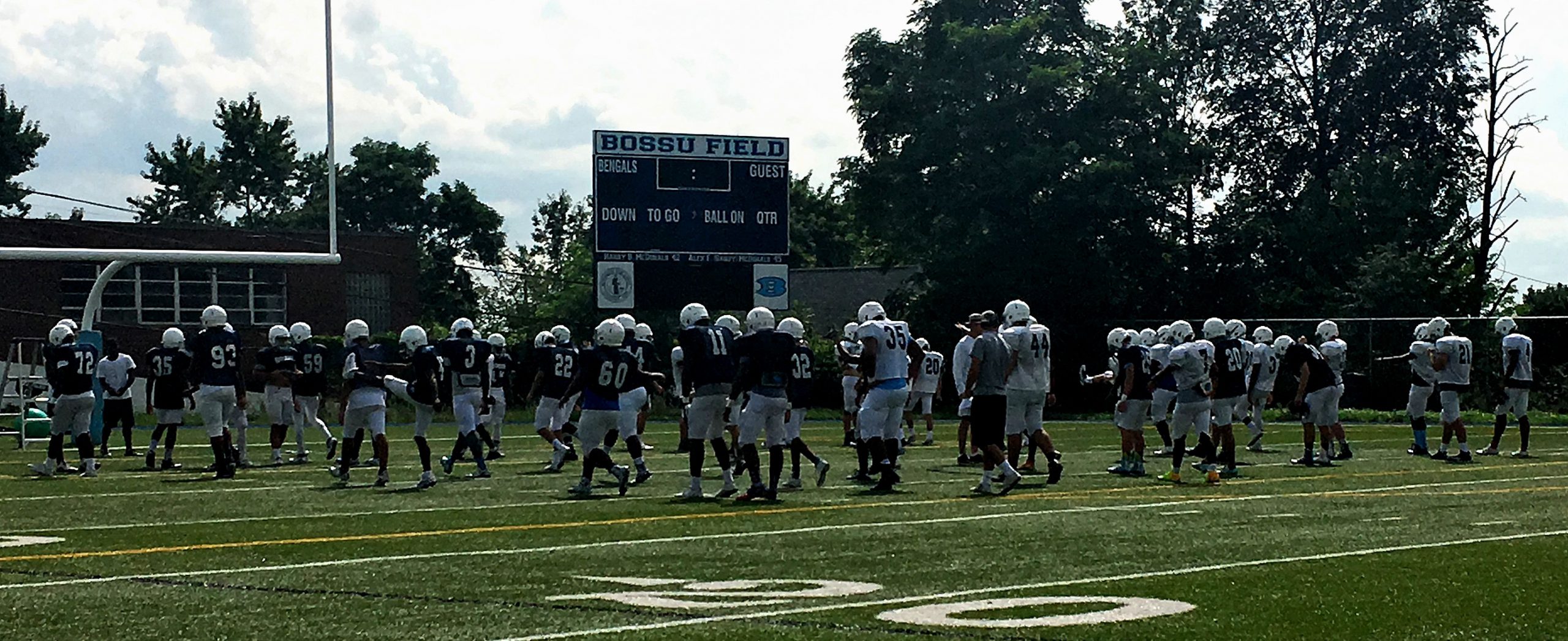 By Mike Coutee
After going 12-1 last year, reaching the OHSAA Division III regional finals, the Benedictine Bengals are prepped for the 2016 season. The Bengals play in the North Coast League (Blue Division), which also features Akron Archbishop Hoban, Walsh Jesuit, Padua, Notre Dame-Cathedral Latin and Lake Catholic.
First year Head Coach Carter Welo took the place of long time head coach Joe Schaefer, who resigned in February, the day before the National College Letter of Intent signing day.
Coach Welo has set high expectations, both for himself and for his players.
"We need to win games," Welo said. "We need to play every game in November and December.
We're the 'Home of Champions' for a reason.
"Yes, I'm a first year head coach – new to everything, and have a bunch of seniors leaving – but that doesn't change our expectations."
Benedictine is dealing with the loss of many key players to graduation, including Justin Layne (Michigan State), Warren Saba (Garden City C.C-Kan.), Dontez Rash (Ohio) and TJ Beltavski (Ball State).
"I think it will be hard to replace last years team … the fact is, we did have a lot of talent, but we're young and growing," Welo stated. "Our defense has three returning starters, and five on offense returning, but there's a lot of senior leadership we have lost going into this year.
"Our guys are hungry, competing and don't want to lose a beat," he continued. "The next guys up need to step up to the plate."
Even though the Bengals lost many players to college football, there are many key players to watch for the 2016 season.
"We have a lot of young talent on our team," Welo said. "One is our running back DeCavillon Reese, who is a very special player who started for us last year. Wide receiver Aubrey Warb is a big player maker, while our two safeties, Keith Williams and Jaczin Tytko, return to start on the defensive side, and we need a lot of production from those two guys."
Welo also knows that there are many big games on this year's docket.
"Archbishop Hoban always give us competition," he explained. "Both teams go in there and grind and always end up in a close game. If you have Benedictine in front of your jersey, every team wants to go after us, because we've always finish on top in our division.
"Weather if its Ursuline in week one or Cleveland Heights in week three, the expectation is that we're going to get the best from every team that we play and we going to do the same thing," Welo added. "That's how we going to play 'Bengals football.'"
The team's main goal will be to fight for a trip back to Columbus in the OHSAA state tournament.
"(We want) to win the NCL and get back to Columbus, but first, if we want to get there, we expect to go into every game prepared to play and hopefully to come out with a 'W,'" Welo stated. "The NCL and the playoff push is right in our sites."
The Bengals will look to start off strong, with the 2016 season kicking off against the Ursuline Fighting Irish at home, Aug. 27, at Bedford Bearcat Staduim.
2016 Benedictine Bengals season schedule
(All home games will be played at Bedford High School)
08.27.2016 7:00pm Ursuline High School
09.03.2016 2:00pm @ John R Buchtel High School
09.09.2016 7:00pm @ Cleveland Heights High School
09.16.2016 7:00pm Cathedral Preparatory School
09.23.2016 7:30pm @ Bishop Watterson High School
09.30.2016 7:00pm Notre Dame Cathedral Latin School *
10.07.2016 7:00pm @ Lake Catholic High School *
10.14.2016 7:00pm @ Padua Franciscan High School *
10.21.2016 7:00pm Walsh Jesuit High School *
10.28.2016 7:00pm @ Archbishop Hoban High School *
* denotes a conference game

NEO Sports Insiders Newsletter
Sign up to receive our NEOSI newsletter, and keep up to date with all the latest Cleveland sports news.