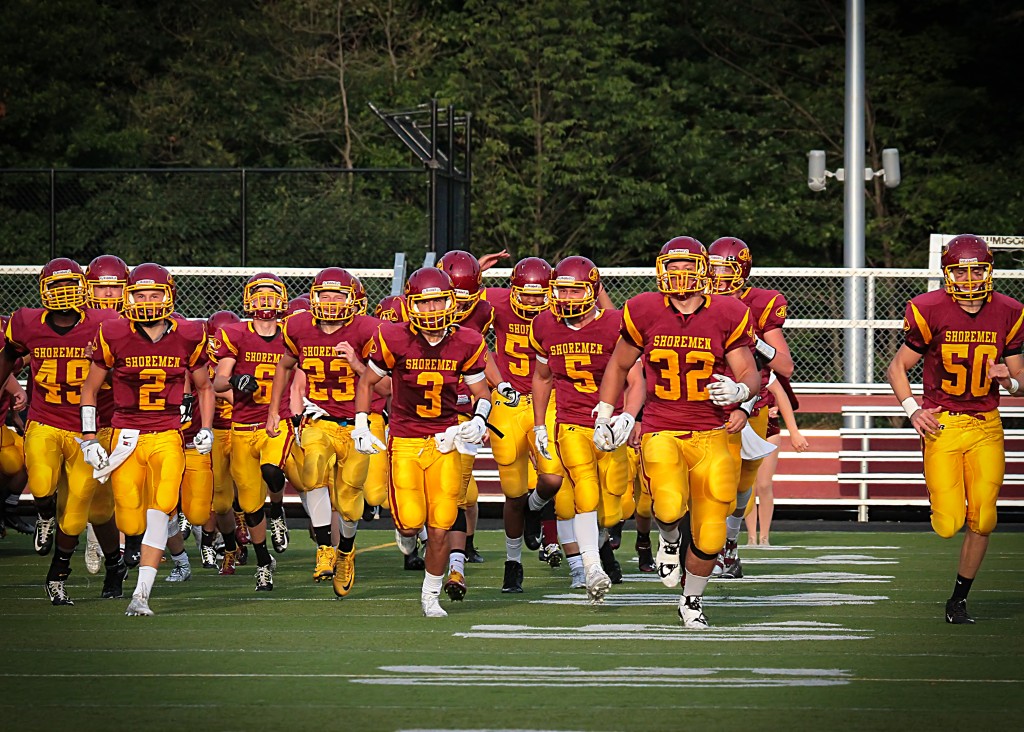 Avon Lake head coach Dave Dlugosz is looking to bring the Shoremen back to its winning ways after a couple of disappointing seasons in 2014 and 2015. The Shoremen went 4-6 in 2015, following up a 2-8 performance in 2014. Prior to those two seasons, Avon Lake was one of the dominant football programs in Northeast Ohio over the last 25 years and a perennial favorite to reach the playoffs.
Coach Dlugosz spoke about his desire to return the Shoremen football program back to its long-standing reputation of being one of the most-respected teams in the region.
"The question I get asked real often, 'what's happened about the last two years?' Dlugosz said. "That's something that nobody in Avon Lake is real comfortable with, let alone myself, our coaching staff, our kids or are community.
"Hopefully with what we have coming back, we've got a pretty nice senior class – 27 seniors, almost all of them are going to be starters – and we've got what we think is a pretty good bunch of skill guys," Dlugosz said.
Although Dlugosz is confident, he acknowledged there are some issues that could arise on the offensive and defensive lines.
"We're not quite as big as what we've been in the past," Dlugosz stated. "We don't have quite the amount of depth that we've had in the past so that's certainly a concern."
"But our kids are willing to work at it and that's all you can really ask for, so we'll see what happens up front because as you know in football, it's what's up front that counts."
Avon Lake is a member of the Southwestern Conference, one of the most competitive in Northeast Ohio, featuring Avon and Midview, who each went to the playoffs in 2015.
When asked about how much emphasis Dlugosz puts on those games against the heavyweight teams in the conference, he said, "The only emphasis I put on games is from week to week and right now we open up with Elyria so that's the game that we're focusing on the most."
Dlugosz spoke about the dynamic of the conference and how it has changed since 2015, indicating that he believes there could be a changing of the guard in the Southwest.
"As far as the conference is concerned, every school in the conference has lost a significant amount of people," he said. "I don't think there's any one team that you can say is going to be a dominant type of powerhouse, let alone two or three of them. I think it's going to come down to which teams mature and which teams make the breaks for themselves."
The Shoremen open up the season at Elyria, who reached the playoffs in 2015, going 6-5 on the season. Avon Lake hosts Avon in Week 2, making for a challenging first two games to start the season.
"Our schedule is kind of top-loaded," Dlugosz said. "Our two toughest games are games one and two, with all due respect to Midview, who we'll see later down the road. We don't have time to say 'let's kind of get our guys ready and grow into this season.' We have to hit the road running," the coach added.
      Key Players to Watch
Carson Toy – Sr. Wide Receiver/Free Safety (6-foot-2, 185), 50 receptions, 650+ yards in 2015
Mark Pappas -Sr. Quarterback (6-foot, 160), first-year starter
Hunter Bateman – Sr. Wide Receiver/Cornerback (6-foot-3, 180), runs a 4.6 40-yard dash
Jason Sullivan – Sr. Wide Receiver/Cornerback (5-foot-9, 150)
Zac Sabol – Sr. Wide Receiver/Defensive Back (5-foot-11, 160)
2016 Avon Lake Shoremen Varsity Football Schedule
Aug. 26 @ Elyria
Sep. 2 vs. Avon
Sep. 9 @ Westlake
Sep. 16  vs. Lakewood
Sep. 23 vs. North Ridgeville
Sep. 30 @ Amherst
Oct. 7 vs. Berea-Midpark
Oct. 14 @ Olmsted Falls
Oct. 21 @Midview
Oct. 28 vs. North Olmsted
For more information on the Avon Lake Shoremen football program heading in to the 2016 season, listen to Coach Dlugosz's interview with WEOL 930 AM below:

NEO Sports Insiders Newsletter
Sign up to receive our NEOSI newsletter, and keep up to date with all the latest Cleveland sports news.