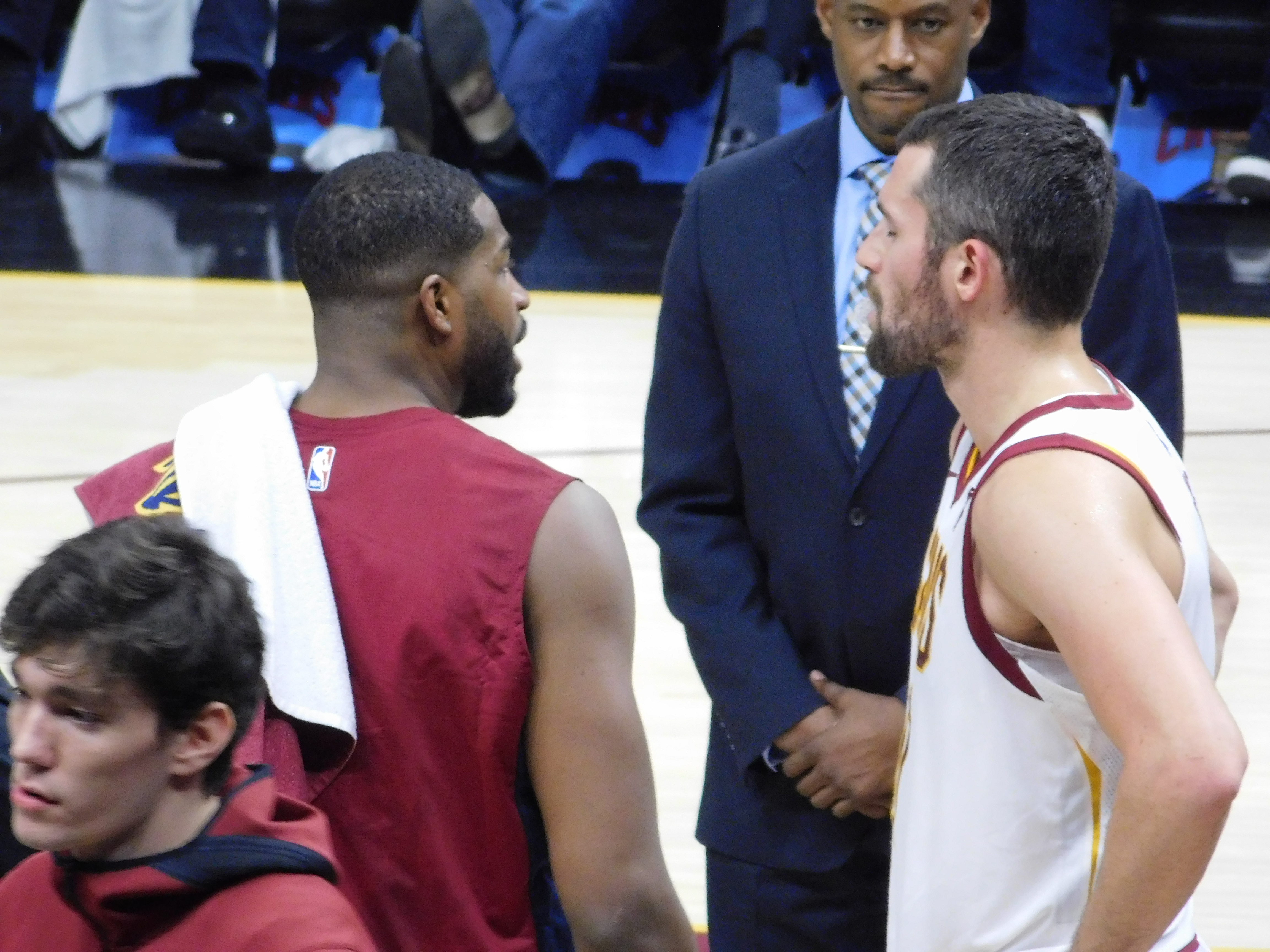 INDEPENDENCE, OHIO– The Cavaliers starting backcourt has struggled against the Boston Celtics to say the least.
J.R. Smith and George Hill were outscored by Jaylen Brown and Terry Rozier 41-3 in Game 2. And while the Celitcs' guards are doing plenty of damage to the Cavs, their starting post players are making life just as difficult.
The way the Celtics are guarding LeBron James, combined with their quick rotations, is making things harder for the Cavs' offense as a whole. It certainly helps that Boston's defenders are similar sizes (at least more similar than the Raptors).
"I mean they're putting bigger defenders on him," head coach Tyronn Lue said after Friday's practice. "I think when they switch, you either got Horford, Tatum, Brown and Morris. So they're putting bigger guys on him, bigger defenders, putting two bodies on him when he is posting up to make it appear crowded. They have bigger defenders and stronger defenders guarding him."
As a result of those quick rotations, the Cavs' shooters aren't getting the best looks, even when James is able to kick it out to them.
"I think they do a really good job of contesting shots, and they've been physical the entire playoffs," Kevin Love said. "Brad Stevens is going to put them– not only on the offensive end but the defensive end– put them in a really good position to succeed. I think their strength is their entire team. They play extremely well, guys are stepping up throughout the course of the playoffs so, like I said, we'll just have to bring it at home and make sure we come out and are in attack mode."
If the Cavs want to have any chance of evening the series, they are going to need to come out with that fire that Love talked about. Hopefully being on their home court will help some with that. Over the last two days as well, numerous players and Lue have talked about more ball movement and physicality following practices and film sessions.
While ramping up that physicality is a fine line, it seems to be something the Cavs are embracing. After all, they don't really have much of a choice right now.
"They can't get under my skin," Tristan Thompson said on Thursday. "It's just basketball. But they're playing hard and chippy and I love that. I love that. I think the city of Boston loves players like that that emulate their city, and Cleveland is the same way. We got some chippy players like myself and that's what this city is about."
More from Tristan on physicality: "They're playing hard and chippy and I love that. I love that. I think the city of Boston loves players like that, that emulate their city and Cleveland is the same way. We got some chippy players like myself and that's what this city is about." pic.twitter.com/Q1Cy1Z8P7Q

— Ashley Bastock (@AshleyBastock42) May 17, 2018