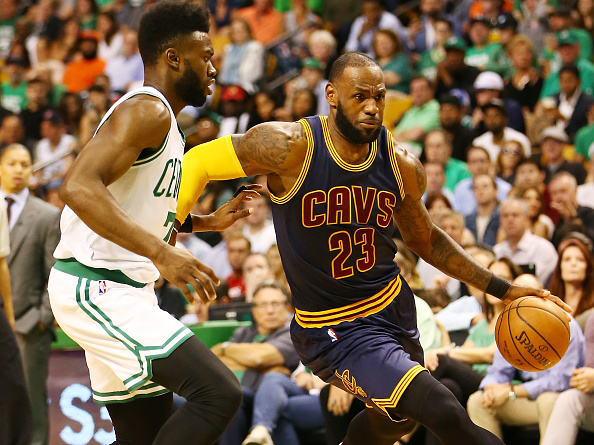 In Game 3 of the Eastern Conference Finals, LeBron James hardly had a typical performance.
After finishing the game with 11 points, six assists and six rebounds on 4-of-13 shooting in the Cavaliers' first loss of the 2017 Playoffs, James was clearly upset with himself.
Talking with reporters following the loss, James simply said "I didn't have it," when asked about his performance.
But Sunday night continued to be rough for James, even after Avery Bradley's buzzer beating three-pointer that sealed the win for the Celtics.
As James was on his way to address the media following the loss, a fan in the Lexus Lounge began to heckle him.
According to ESPN's Brian Windhorst, James "got peeved" and "asked what the heckling fan had done."
The fan replied that he played at Hiram College, and according to Windhorst, began to shout his college stats at James.
According to numerous reports, at this point, The Q security team removed the heckler from the area.
In the hours since the game, Twitter went abuzz talking about the "Hiram Heckler." A man named Trey Sanders has taken credit for the dispute on his Twitter timeline.
For those not familiar with Hiram, it is a Division III liberal arts college located in Portage County. Hiram competes in the North Coast Athletic Conference and enrolls around 1,000 students.
This is the second time Hiram has been in the news throughout the Cavs playoff run. Against the Toronto Raptors, James jokingly grabbed a beer bottle from a vendor who is a Hiram women's basketball player.