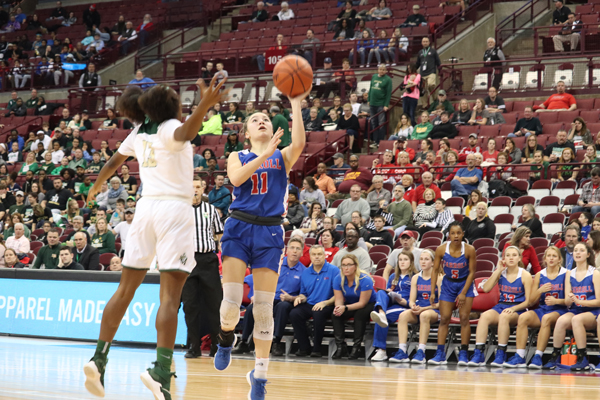 By Paul Ross
Photography: NEOSI / Opique
Dayton Carroll to much for STVM in State Semi Final
Coming into the first of two DII State Semi Finals games Saint Vincent-Saint Mary's (STVM) had the task to knock of the second #1 team in the Final State poll in Dayton Carroll. STVM has used a different game plan this season in the road to the DII Final Four.
For most of the top teams in the tournament the key to winning comes down to they play of your guards. Whether it be scoring the ball or controlling the pace of play.
For STVM it has been the dominant performances from its inside combination of Freshman Lanae Riley and Seniors Sophia Williams and Aubrie Marsh.
This has been the key to their Final Four Run along with steady play from senior guards Jada Haines and Maria Dobson.
From the opening tip STVM looked to establish its bigs by getting key baskets on the inside from Williams and Marsh. Thanks to a Marsh basket in the inside with a 1:03 left in the 1st STVM held a 10-9 advantage.
Carroll regained the lead on a three from Freshman Sarah Ochs to close the quarter with a 12-10 advantage. All of STVM points came in the paint and the strategy that lead them to states was working once again.
The tide started to shift when Freshman Lane Riley Picked up her second foul in the quarter and had to go to the bench with 6:05 remaining.
Behind five big points from senior Maria Dobson, Dayton Carroll went into the break with a six point lead at (26-20).
In the third quarter the Dayton Carroll (27-2) offense came alive from deep. By going on an 11-0 run in the quarter and hitting four threes from four different players.
Carroll went on to out score STVM 19-8 in the third to close the quarter with 45-28 advantage behind 7 points from Ochs.
Despite being down heading into the fourth STVM showed the fight that lead them to the State Final four but in the end gap from the 3rd quarter was just to much to overcome.
This was an amazing season for STVM (18-10) who started the year 2-5.
Going into next season the experience of its young core of Sophomores Dream Cherry and Tezjah Brooks, along with freshmen Annie Watson and Lanae Riley show that the future is bright for the girls basketball team on Maple St.
Final
Dayton Carroll 57 – STVM 38
Leading Scorers:
Dayton Carroll
S. Ochs – 14pts
A. Stefanek – 12pts, 5reb
J. Keller – 12pts, 5reb
STVM
M. Dobson – 10pts
A. Watson – 7pts
A. Marsh – 6pts
Check out photos from the game below: