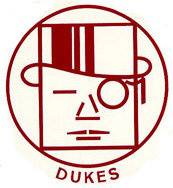 by Don DiFrancesco (@MayorNEOPrep)
WELLINGTON, OHIO– Wellington's "Tri-Towers" were too much for Columbia to handle on Monday night as the Lady Dukes raised their record to 10-2 with a 50-29 victory.
Wellington boasts three girls in their lineup standing 6-foot tall: juniors Erin Frenk and Alexis Lehmkuhl, and sophomore Jalen Gibbs. The three combined for 43 of the 50 points scored by the Lady Dukes, and helped keep the Lady Raiders in check for most of the game.
Wellington scored the first eight points of the game and had an imposing 16-point lead by halftime. After three quick baskets in the third quarter, Columbia was able to get the score within 12 at 30-18. But that was as close as the Raiders would get. The Dukes were able to reassert control and led by 20 or more for most of the second half.
Leading scorers for Wellington were Lehmkuhl with 20 and Gibbs with 17. Columbia (8-7) was paced by junior guard Serena Goode with nine points.
Columbia                                6              4              8              11   =     29
Wellington (home)               12            14            13             11   =     50