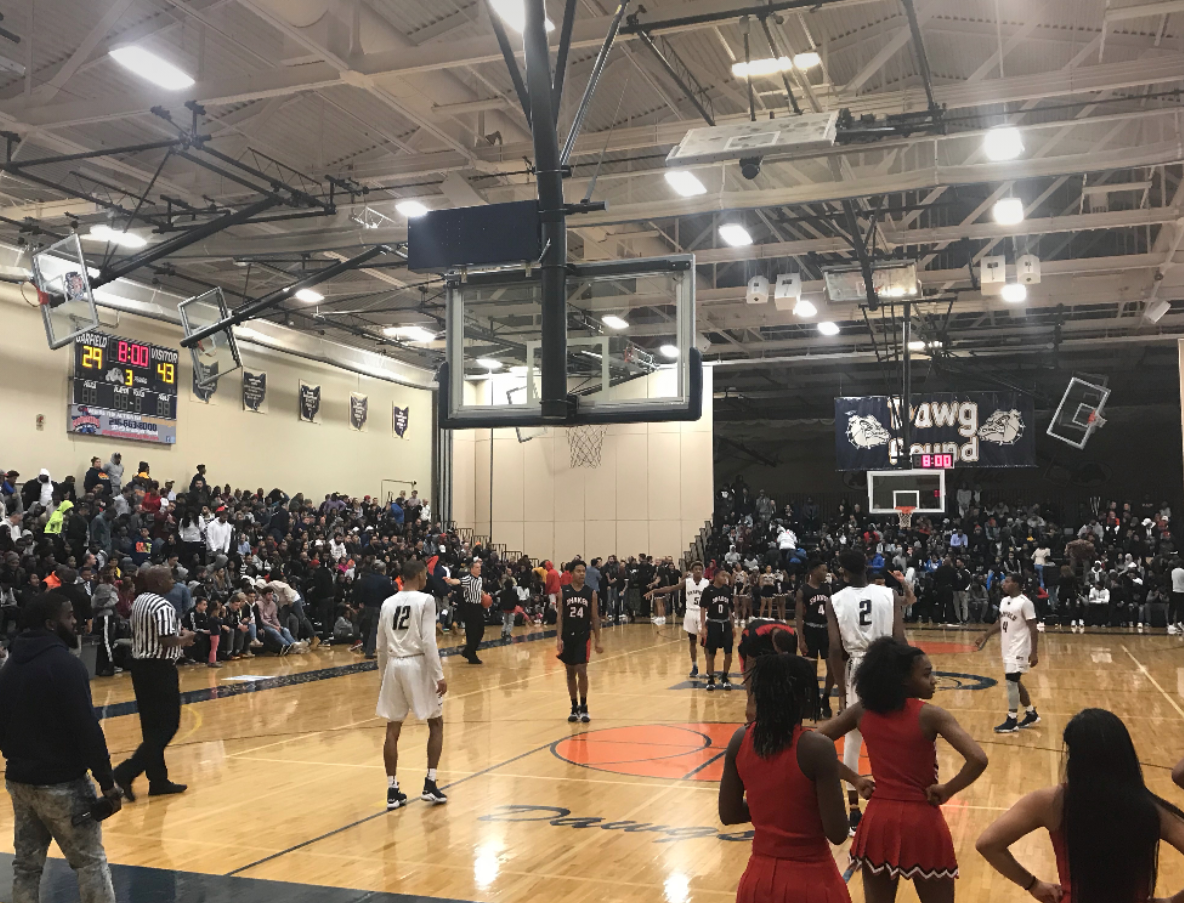 GARFIELD HEIGHTS, Ohio- Heading into Wednesday night's game against Shaker, Garfield Heights was ranked the 22nd best team in the country according to MaxPreps. It wasn't an easy one against the Raiders as they edged out and a very talented Shaker Heights team 85-82.
The atmosphere inside of Garfield Heights High School was like no other game. In front of a sold-out crowd, it was definitely an advantage for Garfield Heights.
"With LeBron coming, that was a great atmosphere," Meechie Johnson said. "Playing at Benedictine, that was a great atmosphere. But it's not a sold-out crowd at home. You got 1,800 people screaming your name, yelling at you, booing you, calling you overrated and then you come out with the dub and you win."
Junior Alonzo Gaffney and freshman Meechie Johnson would lead the Bulldog offense as they scored 17 and 25 points respectively. Gaffney would end a night with his first triple-double of the season.
"Lonzo was outstanding," Head Coach Sonny Johnson said. "When you have a triple-double in a game like that, that's pretty special."
Garfield Heights got down early in the game and had to force their way to a comeback throughout the course of the night. Senior Justin Phillips had the hot hand from the opening tip-off. The Raiders got off to a commanding 10-4 lead. Quickly after that, Phillips would hit back-to-back threes to bring the lead to 13 points.
Christian Guess and Justin Phillips would lead the Shaker Heights offense against Garfield Heights. Guess scored a team-high 25 points with Phillips contributing with 22 points.
Gaffney would get things going in the second quarter as he had a team-high nine points. He would make his presence be known down inside the paint as he came up with a few big blocks that would lead to Garfield Heights scoring a few easy points.
The Shaker Heights defense would hold their own as they continued to apply their heavy pressure, forcing Garfield Heights to turn the ball over which lead to easy transition buckets. After two quarters, Shaker Heights would hold a commanding lead 43-29.
Freshman phenom Meechie Johnson would be a big spark to the Garfield Heights offense as they tried making a comeback. After back-to-back threes from Johnson, the deficit was cut to 14 with just under two minutes left in the third quarter.
A Christian Guess 3-pointer with three seconds left boosted the Shaker Heights lead to 15 points. The score would read 68-53 entering the fourth quarter.
Early in the fourth quarter, Christian Guess appeared to injure his left ankle. With 6:37 left in the game, the Shaker Heights offense needed to work together to hang on to their lead.
Nothing is ever guaranteed when playing against a team like Garfield Heights. The Bulldog offense came alive and started to chip off points to get themselves back in the game.
A 3-pointer by Julian Whiteside cut Shaker's lead to single digits after leading by double digits for the majority of the game.
Shaker Heights had a hard time staying out of foul trouble late in the fourth quarter. The fouls would lead to free throws and that would be a key to Garfield Heights getting right back in the game.
A Meechie Johnson layup in transition would give Garfield Heights their first lead of the game. The Bulldogs took an 83-81 lead with just under a minute left in the game. The freshman really made a big halftime adjustment that sparked the Garfield Heights offense.
"In the second half, my teammates really just started to find me," he said. "I let the game start coming more to me. I think in the first half I forced a couple shots, I missed a lot of my teammates. I really started letting the game come to me more."
A foul on the floor sent Meechie to the line with just under 15 seconds left. He would miss both free throws at the foul line. Being down only one at this point, Shaker needed a big bucket to give themselves the lead. As Justin Phillips put his head down towards the basket, he lost control of the ball. This would lead to Alonzo Gaffney getting fouled at the other end.
Gaffney would sink both of his free throws which gave Garfield an 85-82 lead. A last-second heave from half court didn't fall through for Shaker Heights, and Garfield Heights would hang on and survive by a final score of 85-82.
The comeback win was one special one for this Garfield Heights team. The team kept fighting and never gave up.
"We were down twenty points," Sonny Johnson said. " To come back to win shows them how to fight, continue fighting."
Garfield Heights will look to keep their undefeated season going as they host John Adams Friday night.
The Raiders, meanwhile, will look to rebound after a tough loss as they host the Euclid Panthers before playing Cleveland Heights in the NEO Elite Christmas Classic on December 27.

NEO Sports Insiders Newsletter
Sign up to receive our NEOSI newsletter, and keep up to date with all the latest Cleveland sports news.