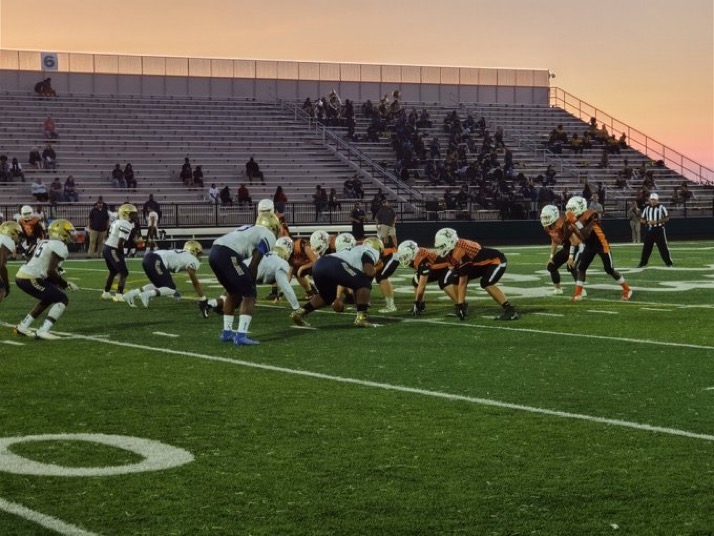 By Mark Perez
PARMA, OHIO – A good return for the Garfield Heights Bulldogs on opening kickoff, started their first series on their own 41-yard line.
The first play from scrimmage was a handoff to Bulldogs' running back Torrance Davis, who shed a tackle before bursting through the secondary for a 59-yard touchdown to give them the early lead.
This run quickly foreshadowed what happened the rest of the game as the Bulldog quickly overwhelmed the Normandy Invaders 51-0, giving them their eighth-straight loss, spanning last year on September 21st being the last time they won a football game.
"I think it was the most consistent performance yet this year," Bulldogs' first year head coach Jason Osborne said.
"All week, I've been talking to the kids about being consistent. I think the last three games, we've let penalties and non-football stuff get in our way. All week I've been preaching at being consistent and being good leaders."
That preaching paid off as this win extends their winning streak against Normandy that has been there since 2011.
The Bulldogs record is 2-2 and the Invaders record is 0-4.
At the half, this game that featured two young rebuilding teams, had the Bulldogs leading 45-0.
This lead inserted the running clock to start the second half.
The top performers for Garfield Heights was their quarterback Marcus Carothers and their Davis.
Davis rushed for 160 yards and three touchdowns off five carries, all of them in the first half. The University of Kentucky commit also scored on a 64-yard touchdown pass from Carothers.
He lined up as a wide receiver, caught a short pass that was open from Normandy's off coverage.
He slipped the defensive back's tackle on his way to the endzone.
The running game was their calling card tonight as the team rushed for 333 yards and scored five of the Bulldogs' eight touchdowns.
It helped set up their passing game as well. Carothers passed for 224 yards and three touchdowns.
"It was a big win," Carothers said after the game.
"Coming off a loss to Bedford. We know we needed to regroup. So we just used (the loss) to regroup and come together as a team."
For the Bulldogs' offense, all of their touchdowns but two came from big plays 20 yards or more.
"We needed it." Osborne said. "I think all year, we have been working on our run game going and plugging away. We really need those big plays.
"Our quarterback needed confidence this week and I talked to him about confidence throwing the ball down the field.
"When we were throwing the ball down the field, I think we lack that confidence. We need to help him out moving forward."
The Bulldogs had four plays that could have resulted in touchdowns get called back for penalties.
Two of the penalties were from punt returns from Ronald Davis and back-to-back offensive plays in the second quarter.
"There is always needs to be work done in the penalty department, especially at Garfield Heights," Osborne said.
"I've been at Garfield for five years. That is something we needed to work on and I constantly preach, preach, preach. The penalties in this game weren't anywhere near as devastating as they have been in our other games.
"We've been over 150 penalty yards all three games. Something we need to learn is discipline and doing what we are supposed to do and trusting the teammate next to you. I think they did that today."
Defensively, Normandy's quarterback Eddie Stark was pressured all night; taking multiple sack and lots of hits.
He left the game from cramps, according to Invaders' head coach Brian Darden. But, he was also not the only player suffering injuries for Normandy.
"We took a beating," Darden said following the loss. "But from our end from a coaches standpoint of the coaching staff, we saw a lot of improvement from out guys from last week to this week. They play with a lot more heart.
"They are being more physical. We are just a really young team. We're starting 85 to 75 percent sophomores.
"Inexperienced guys who haven't played. We're missing one of our key hogs up front on the offensive line.
"Our starting quarterback is only a sophomore. We just have to keep building and taking our small wins as they come."
The player one the offensive line was Vincent Fillippelli, who was dealing with a forearm injury and should be back next week at Rocky River High School.
The Bulldogs are happy with this win, but they know they have to be ready for a tough schedule ahead.
"We've got a tough three-game stretch coming up and hopefully we come out on top," Osborne said.
Next week, they go on to host Maple Heights.

NEO Sports Insiders Newsletter
Sign up to receive our NEOSI newsletter, and keep up to date with all the latest Cleveland sports news.