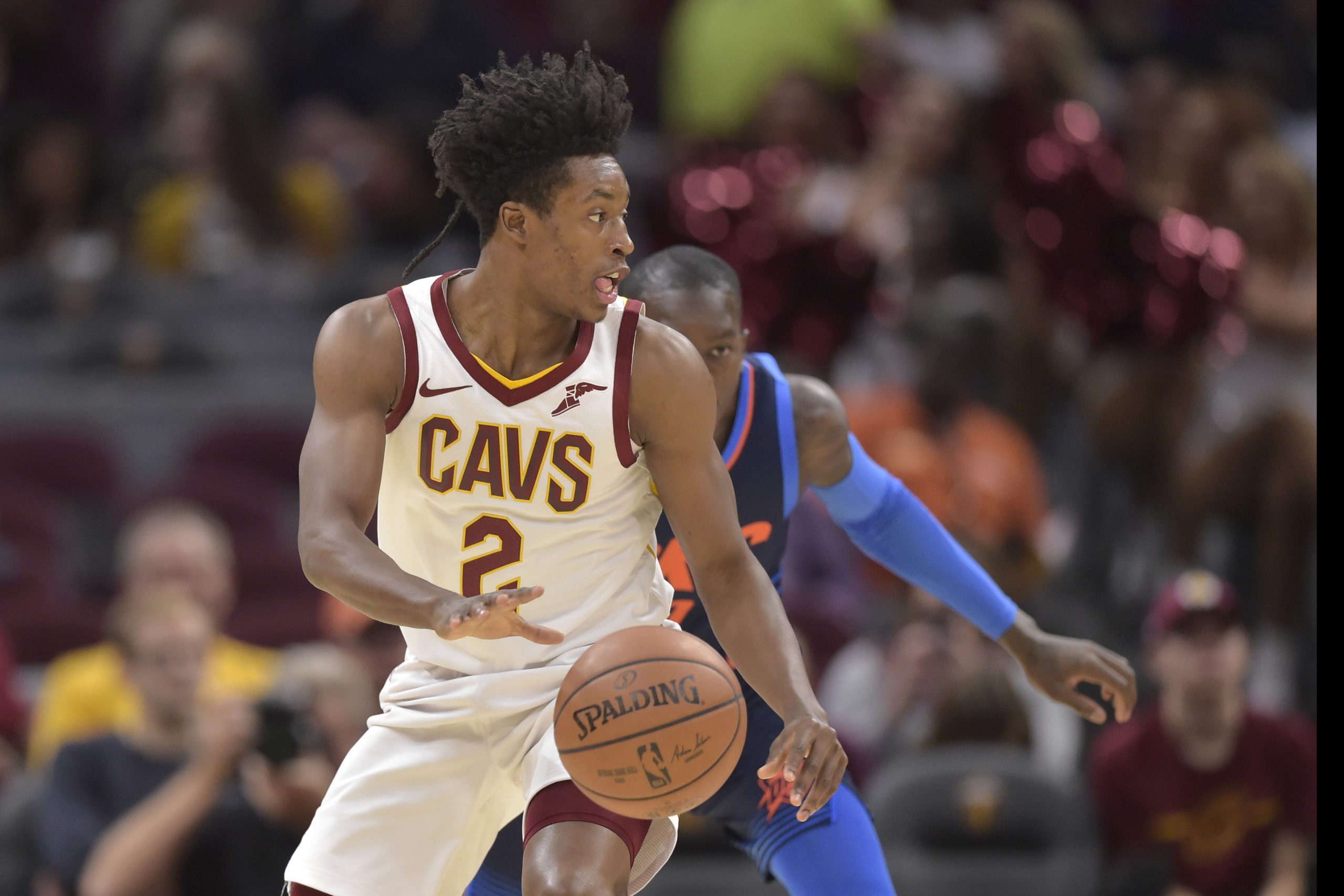 The Cleveland Cavaliers have gotten the fans, and perhaps the league's, attention with the way they've been playing in recent weeks. However, while Cleveland's relatively newfound competitiveness has caught quite a few people by surprise, it's important to note that the Cavaliers' surge has coincided with rookie point guard Collin Sexton being moved to the starting lineup in place of an injured George Hill.
Ironically, Sexton's first game as a starter came exactly three weeks ago against the Oklahoma City Thunder.
To be fair, Sexton had just played his worst game of the season two days before in a two-point loss to the Orlando Magic but even in that matchup — one in which Hill and veteran center Tristan Thompson led the way with 41 combined points — there wasn't the level of faith in the team that exists now.
The confidence that the Cavaliers have now is an effect of defeating the Philadelphia 76ers and Houston Rockets in back-to-back games, blowing out the Charlotte Hornets and losing close games to the Thunder, Chicago Bulls, LeBron James-led Los Angeles Lakers and Minnesota Timberwolves since Sexton's first start.
Does George Hill return to the starting lineup?
The difference between Sexton and Hill comes down to one physical trait and two mental traits. Speed, awareness and aggressiveness.
Sexton, a speedy point guard who doesn't hesitate to put the pressure on defenses but has a lot to learn in terms of defensive positioning, how to run a team and making his impact felt when his shot isn't dropping, has averaged 18.7 points, 3.8 rebounds and 2.8 assists per game while shooting 47.7 percent from the field and 47.6 percent from three-point range.
Hill is more passive than Sexton but he's more efficient and savvy his rookie counterpart as well. Prior to his injury, Hill averaged 12.6 points, 3.0 assists, 1.9 rebounds and 1.0 steal per game while shooting 55.6 percent from the field and 48.0 percent from three-point range.
Per cleveland.com's Chris Fedor, Hill could return as early as Wednesday against the Thunder.
If Hill should return, there's a possibility that he starts over Sexton (which would be hard to justify), Rodney Hood (which would give them an undersized backcourt) or simply comes off the bench in place of two-way signing Andrew Harrison (which would be a definite boost to the second unit). For the sake of simplicity and putting shooting guard Jordan Clarkson in a role where he can play off-ball more in the second, bringing Hill off the bench is likely the best option.
Against the league's top-ranked defense (sorted by defensive rating), a team with tremendous athletes, a penchant for pick-pocketing and one of the best defensive anchors in the league in Steven Adams, the points won't be easy to come by. Cleveland will benefit greatly from heavy ball-movement, seeking out size-based mismatches and attacking in transition against a defense like the Thunder's.
Quieting the Thunder
The Thunder, who are ranked third in the Western Conference with a 12-7 record, have been on a tear recently, defeating both the weaker teams (like the New York Knicks) and the elite teams (like the Golden State Warriors) handily. They've gone 7-3 in their last 10 games but, with Russell Westbrook missing six of those contests, the playmaking responsibilities largely fell on Dennis Schroder and Paul George in that stretch.
Over the last 10 games, Schroder has averaged 19.0 points, 4.9 rebounds, 4.8 assists and 1.6 steals per game while shooting 43.0 percent from the field and 38.3 percent from three-point range. George has been averaging 25.2 points, 9.3 rebounds, 4.4 assists and 2.1 steals per game while shooting 42.9 percent from the field and 36.8 percent from three-point range.
Westbrook, meanwhile, has averaged 21.5 points, 11.5 rebounds, 10.0 assists and 2.0 steals per game while shooting 40.7 percent from the field and 22.6 percent from three-point range.
Slowing down the Thunder's attack starts with slowing down their playmakers, considering that they're a team lacking elite off-ball threats.
With Sexton's play against John Wall last week, holding the All-Star to six points on a combined 2-8 shooting from the field and showing he can body up the speedy guard on the way to the rim to force a miss, there's a solid chance that he'll be able to play decent defense against Westbrook. However, if David Nwaba is healthy, Cavs head coach Larry Drew could allow the defensive stud to use his strength and athleticism to force a shaky jump shooter like Westbrook into tougher shots.
Slowing down George, a versatile scorer with elite athleticism and some of the best court vision on the team, is a responsibility that will fall on Cedi Osman. However, Osman — like the members of Cleveland's backcourt — has to be aware that George isn't just a player that will attack on offense, he'll crash the boards too. Keeping George and the rest of the smaller players off of the glass as much as possible will pay dividends for Cleveland in their second matchup against the Thunder.
In the second unit, the battle between Schroder and Jordan Clarkson could determine the game and, while Clarkson has made definite improvements to his shooting ability this season, Schroder is undoubtedly the better player. However, if Hill should return and looks to play defense against the speedy German, Schroder's points will be much harder to come by than if Clarkson finds himself defending Schroder. Conversely, the Thunder's second unit backcourt doesn't have the personnel to stop both Hill and Clarkson.
Location:
Chesapeake Energy Arena, Oklahoma City, OK
Probable starters:
Cleveland:
Collin Sexton
Rodney Hood
Cedi Osman
David Nwaba
Tristan Thompson
Oklahoma City:
Russell Westbrook
Timothe Luwawu-Cabarrot
Paul George
Jerami Grant
Steven Adams
*All stats gathered from Basketball Reference

NEO Sports Insiders Newsletter
Sign up to receive our NEOSI newsletter, and keep up to date with all the latest Cleveland sports news.