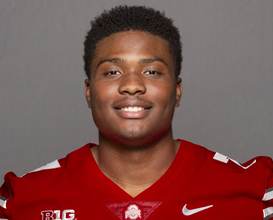 Former Ohio State quarterback, Dwayne Haskins, died this weekend in Florida. He was 24. According to the Florida Highway Patrol, Mr. Haskins was walking on Interstate 595 where the highway is 8 lanes wide with four running east and westbound, between the exits for I-95 North and South at 6:37 am, when he was hit by a truck. The driver stayed and cooperated with the authorities.  Mr. Haskins died at the scene.
Dwayne (also known by his self-imposed nickname, Simba) was in the area working with other Pittsburgh Steeler teammates according to reports.  He is survived by wife, Kalabrya, parents Dwayne and Tamara, and younger sister, Tamia.
BREAKING NEWS:
Former Ohio State quarterback Dwayne Haskins, 24, was killed this morning after he got hit by a car in South Florida, per his agent Cedric Saunders.

— Ohio 24/7 Now (@ohio247now) April 9, 2022
Born in New Jersey, Dwayne visited Ohio State at nine years of age and famously said to his father, "I'm going to college here."
Haskin's family moved to Montgomery County, in Maryland when he was in the ninth grade. He became a starter at Bullis School, a private, college preparatory school in Potomac, Maryland.
Later, his family moved to Montgomery County, in Maryland when he was in the ninth grade. He became a starter at Bullis School, a private, college preparatory school in Potomac, Maryland.  He passed for more than 5,300 yards and 54 touchdowns.  Dwayne, a top five recruit according to Rivals.com, first visited Rutgers, but later decided to attend the University of Maryland and committed to the school.  Shortly thereafter, he changed his mind and decommitted to attend Ohio State.
He entered the school in 2016, was redshirted, and saw action in 2017, filling in for injured quarterback JT Barrett during the Michigan game. Haskins led the Buckeyes to a huge win over their main rivals, 31-20.
In 2018 Haskins set records as the leader of the Buckeyes phenomenal offense. He set Big Ten records for passing yards in a season, touchdown passes in a season, pass completions and total offense, just to name a few of them. He was a Heisman Trophy finalist for the best college player in 2018, where he finished third in the final voting. His 2018 season is considered the greatest in Ohio State football history.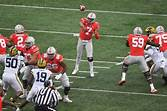 After the Rose Bowl in 2019 and his MVP performance, he announced he would forgo his career at Ohio State and make himself available for the NFL draft.
QB from Ohio State @dh_simba7 out here tying ties and teaching these young men how to dress for success! #NFLDraft pic.twitter.com/GcD2yF5Ogp

— Kayla Anderson (@KaylaAndersonTV) April 23, 2019
(Here is Dwayne helping youngsters tie a tie before the 2019 NFL draft festivities, thanks to Kayla Anderson (@KaylaAndersonTV))
Haskins was the 15th player chosen in the draft by the Washington Redskins, now Commanders. His 2019 season was a down and up affair, where he started as a backup to Case Keenum, before being named the starter in the middle of the season. After a week 12 win over the Detroit Lions, he was named the NFL's Rookie Offensive Player of the Week. An injury in week 16 made him miss the final game of the season.
Haskins commitment to his workouts in the offseason led to him being named the starter and a co-captain before the 2020 season. Haskins' season again was a roller coaster where he had some success and some failures, but notably, he was caught breaking COVID-19 protocols twice and lost his captaincy.  For his Washington career, his record was 4-16 (3-10 as the starter), and a combined passer rating of 74.4.  He was released by the club shortly after the 2020 season.
In the offseason, Dwayne signed with the Pittsburgh Steelers to back up Big Ben and Mason Rudolph. Though he saw no time on the field this past season for the Steelers, as Roethlisberger retired, Rudolph and Haskins were supposedly ready to battle for the starting job.
"They're giving me a chance to compete," Haskins said, "and I have a chance to start. That's all I could ask for.
For the Steelers, having two quarterbacks signed was good for the level of competition. But things changed with the club signing Mitch Trubisky to a contract. Mitch invited Haskins, Rudolph and other wide receivers and running backs to his Florida home to train in the offseason which started last week. Rudolph refused, but Haskins did not.
Seen a bunch of videos from Mitch Trubisky's #Steelers workout in Florida. Haven't noticed Mason Rudolph or Diontae Johnson. Dwayne Haskins is there, however.

Johnson appears to be training with #Patriots QB Mac Jones and some others at a different location in Florida.

— Josh Rowntree (@JRown32) April 8, 2022
There were many pictures of Haskins and people like Najee Harris the past few days on social media, as the group worked out together.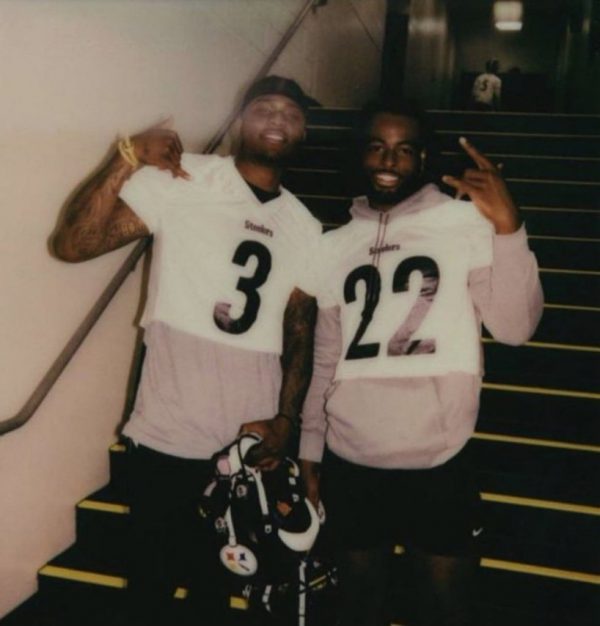 As news of his death began to surface, many former players and coaches were quick to comment on the tragedy.
Steelers and Mike Tomlin:
Statement from Head Coach Mike Tomlin: pic.twitter.com/hI5QaKzBUq

— Pittsburgh Steelers (@steelers) April 9, 2022
Washington Commanders owners:

"We are devastated to hear the news of the tragic passing of Dwayne Haskins Jr.," Commanders co-owners Dan and Tanya Snyder said in a statement released by the team. "He was a young man with a tremendous amount of potential who had an infectious personality. To say we are heartbroken is an understatement. Our hearts and prayers are with the members of Dwayne's family and all of those who knew him and loved him."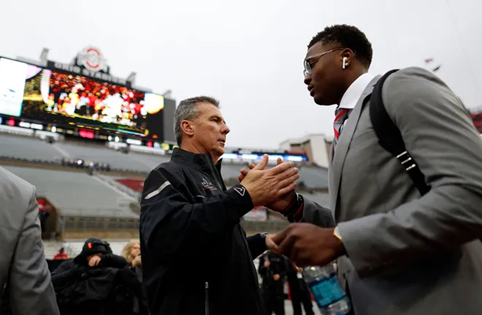 Coach Urban Meyer:

"He was one of the sweetest kids," Meyer said. "The players all loved him. My daughter just showed me a picture of him holding our grandson. I'm just heartbroken for that family."

Mitch Trubisky via Instagram:

"I am absolutely heartbroken. Dwayne has made such an impact on me in a short period of time. He welcomed me to his team with his big heart and infectious smile. I am so thankful to have known Dwayne. All my love and prayers are with his family."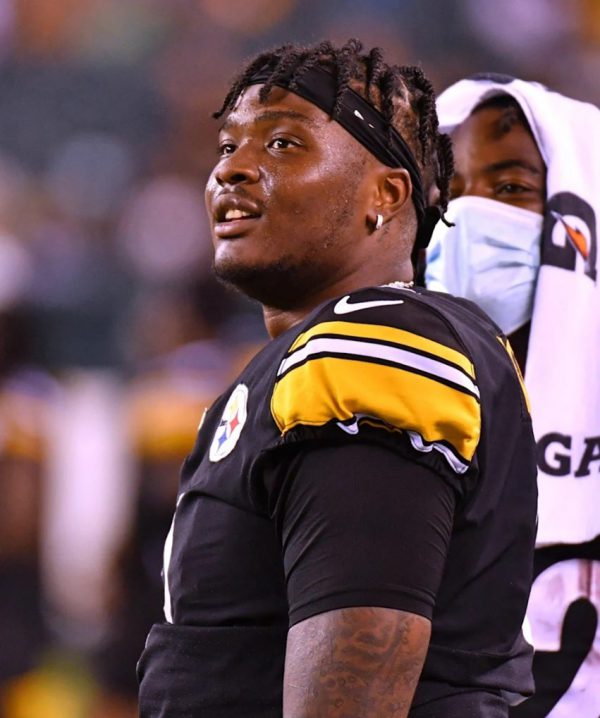 Haskins was ready to put forth the work and effort for the 2022 season. "I've wanted to be a quarterback my entire life. Being a quarterback for the Pittsburgh Steelers is a dream," he said in January. "I feel like I can be a starter in this league. I got drafted for that reason."
Cleveland Browns Social Media fans, many of them Ohio State fans, commented on the situation:
R.I.P. Dwayne Haskins. #BuckeyeNation will never be the same without you, and we'll never be the same thanks to you. pic.twitter.com/HB7JA17YL4

— The Dawgs – A Cleveland Browns Podcast (@thedawgspodcast) April 9, 2022
Haskins would have turned 25 on May 3rd.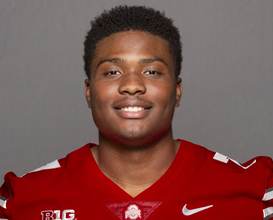 NEO Sports Insiders Newsletter
Sign up to receive our NEOSI newsletter, and keep up to date with all the latest Cleveland sports news.