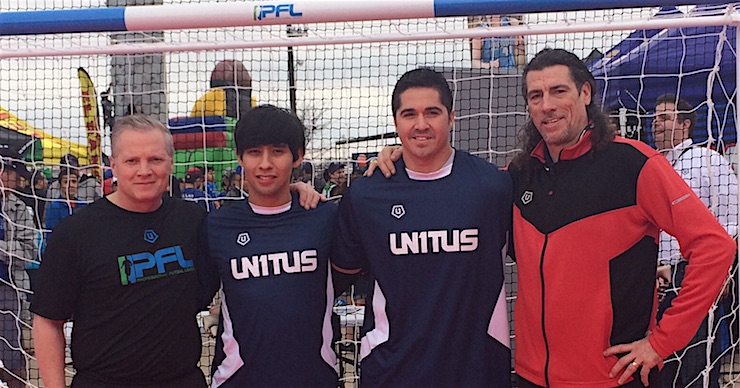 The Following Press Release is directly from The Ohio Youth Soccer Association North:
The Ohio Youth Soccer Association North is excited to announce that Otto Orf has joined the association as its' first Director of Futsal.
He is tasked with furthering the development of coaches and players through the education and the creation of leagues, clinics, camps and tournaments.
Otto comes with a wealth of experience, having spent the past 20 years playing, coaching and administering futsal initiatives across the United States.  A retired 21-year veteran of professional indoor and outdoor soccer, Otto won three indoor soccer championships with the Cleveland Crunch in the 1990's.
He then made international appearances with the US National Futsal Team in Guatemala, Spain and Costa Rica, respectively from 1996-2003. The 1996 team won the first CONCACAF Championship for the US and competed in the FIFA Futsal World Cup in Spain later that year. Otto ended his 17-year playing career in Cleveland by transitioning into the role of assistant coach and community relations director for the Cleveland Crunch/Force.
During most of his playing career, Otto additionally coached children of all ages and in 2006 co-founded the Great Lakes Futsal Leagues. Since that time, he has worked closely with US National Futsal Team coach Keith Tozer to help promote the sport in the United States. He has been invited to work with CONCACAF to develop the game across our federation and has taken multiple coaching courses to further his own education.
"I could not be more excited to teach others in our region about this wonderful game that has given me so much," Orf said. "I know that playing futsal will increase the skill level of every player that engages in the sport and I believe that through futsal we can make a positive and lasting change in our soccer culture."
"My entire career has prepared me for this role and I want interested people to reach out so I can share what I have learned with them and their players. I am thankful to Ohio North Soccer for this opportunity and I will do all I can to help make Ohio the epicenter for the game of futsal in the United States."
Futsal was created in 1930 in Uruguay and adopted by the Brazilians as their own over the past 60 years. It is credited for developing many of the world's most talented players as it promotes success for displaying high levels of skill and creativity versus rewarding size and brute strength. The small confines of the game allow for a high frequency of shots and goals, an increased number of transitions and it mandates that all players are actively engaged at all times.
The low-bounce ball and hard-court surface assure the ball stays at the feet of the participants and the lack of walls promotes combination play and creativity to break down defenses. Futsal games are easy to facilitate due to fewer players needed and can be played in gymnasiums and on outdoor courts of all surfaces.
Futsal is recognized worldwide as the best developmental tool for young soccer players and Otto is eager to bring its' access and education to the soccer communities of Ohio North.

NEO Sports Insiders Newsletter
Sign up to receive our NEOSI newsletter, and keep up to date with all the latest Cleveland sports news.