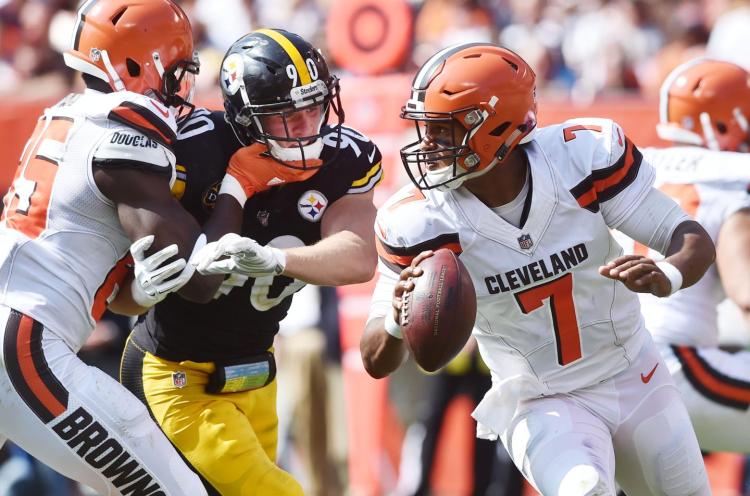 When you break down the final stats from todays 21-18 loss at the hands of the Pittsburgh Steelers, the stats match the final score indicating just how close this one was.  They also point out flaws but also improvements for the Cleveland Browns to focus on this week.. There were some good, some bad, and some ugly.  Let's get right to it!
Here are some of the key stats from Week One.
Roethlisberger went 24 of 36 for 263 yards with 2 touchdowns and one interception, also one sack.
While good numbers, they were not the stellar number he typically puts up against Cleveland.  He normally scorches them for 300 plus every time.  However, only being sacked once shows the lack of pressure the Browns will need to be successful this year, also a clear indicator that injured rookie Myles Garrett is needed to be in the lineup every week if they are to improve and succeed in this system.
The Browns defense held Le'Veon Bell to 32 yards on 10 carries.
For many years some of the Browns biggest struggles have been stopping the run and running the ball themselves.  Today, they apparently made strides towards improving one of those facets.  Hopefully this is a sign to come on not a product of rust from Bell not practicing or playing since last season.
Starting Running back Isiah Crowell was held to a paltry 33 yards on 17 carries.
If Bell's 32 yards on 10 carries was bad, then Crowell's 33 yards on 17 carries was even worse.  The Browns need to get this figured out and fast.  Your starting tailback cannot average 1.9 yards a carry or else you will go 1-15 again.  All that money spent on an offensive line and that is what you produce? Awful!
Antonio Brown catches 11 balls for 182 yards.
Perhaps Joe Haden wasn't the problem after all when it comes to covering Brown.  Simply put, no one can cover this guy and it showed again today.  Brown crushed the Browns late in the third quarter and fourth quarter extending drives with great catches.  Sometimes it was in the slot, sometimes he would go deep.  It didn't matter, they had no answer for him.  The Browns couldn't get the Steelers off the field on third down in the second half, and Antonio Brown was the reason why.
Kizer was sacked 7 times. 
DeShone Kizer had a very solid first NFL career start.  But, the one stat I can't get over is the 7 sacks.  Not good and it was a mixture of poor blocking, poor decision making and simply holding onto the ball too long.  While I understand Kizer holding onto the ball too long, that is a common rookie mistake.  I cannot get over the poor O-Line play once again.  It bears repeating, All that money spent on an offensive line and that is what you produce? Awful!
The Browns did a lot of things well today, they truly did.  But, until they can get off the field on third down, rush the ball efficiently and also pressure the quarterback, it will continue to be hard to win games.  They have talent, they have youth and energy, they have coaching.  They simply need to get better line play on both sides of the ball and things can improve this season.
Time will tell!