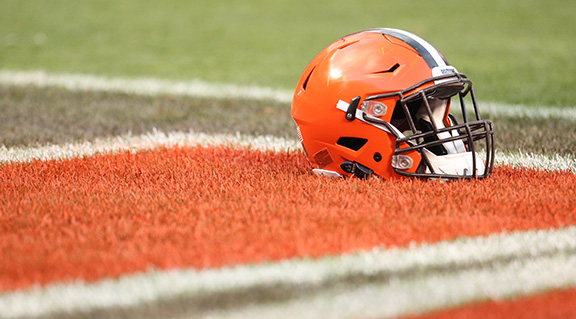 It's not just the battle of the barge tonight between the Browns and Lions, it will also be the battle of the backups as the two teams hope to finalize their first official 53-man roster in the coming days. So while the fourth preseason game may not feature the most entertaining game of football, it's an important one as those third and fourth stringers fight to keep their NFL dream alive.
For the Browns, a lot of their two-deep depth chart is sort of settled. Positions like quarterback, running back, wide receiver and defensive line are pretty set and stone. That doesn't mean there aren't battles still brewing though at the back end of the roster and in at least one case, a starting job is still up for grabs.
With that in mind, here are five bubble players you'll want to keep an eye on tonight…
1) WR, Braxton Miller

The former Ohio State quarterback turned wide receiver was only added last week, giving him less time to make an impression here in Cleveland. Fortunately for him, there's an opening to the 53-man roster after the team placed D.J. Montgomery on the reserve/injured list and surprisingly cut Jalen Strong earlier this week. Prior to being released, Strong felt like a guy who had done enough to make this roster. With him out of the picture and Antonio Callaway set to start the season suspended, Miller has an opportunity to make this roster as the sixth wideout kept with a strong showing tonight. It won't be hard to keep your eyes on Miller given his ability to make plays like this…
2) TE, Seth DeValve
There's something intriguing about DeValve that has allowed him to make this roster the last few years despite nagging injuries hindering his ability to contribute. If healthy, he can be a nice depth weapon for the Browns at tight end. The key there though is "if healthy," something the 26-year-old hasn't been consistently. That includes a concussion that kept him out of commission during training camp as well. He is by no means a roster lock at this point, with David Njoku and Demetrius Harris comfortably slated in front of him on the depth chart. Perhaps his new found role as an H-back helps him survive roster cutdown day. Either way, DeValve has something to prove tonight.
3) S, Sheldrick Redwine
Of the Browns defensive backs, rookie Sheldrick Redwine has been arguably the most disappointing throughout the preseason. He's racked up plenty of tackles over the first three games but hasn't been much of a standout in coverage, which is a bit discouraging. On the flip side, he's a rookie so there is room for growth and he's probably safe from being cut because the Browns used a fourth round pick on him. Still, Browns fans should hope to see more from Redwine in the preseason finale.
4) DT, Devaroe Lawrence

What was one of the Browns weakest positions a year ago is no maybe there deepest. Cleveland depth along the defensive line is incredible, which means some tough decisions are going to have to be made on who stays and who goes. The locks are pretty obvious: Myles Garrett, Larry Ogunjobi, Sheldon Richardson and Oliveir Vernon ain't going anywhere. It feels like Chris Smith and Anthony Zettel are pretty safe as well. The interior defensive line depth has some interesting competition going on though as Trevon Coley, Devaroe Lawrence and Daniel Ekuale are three guys fighting for a likely two spots. Lawrence has had some solid performances of late so perhaps he's playing himself into a spot. Could he possibly beat out Coley, who has been a starter each of the last two seasons? These things could be answered tonight.
5) The Kickers
The most inconsistent kicking competition of recent memory continues into week four of the preseason. Two kickers remain, only one can survive roster cutdown day on Saturday, and truthfully, whoever does come out on top still may not be safe come Sunday. Either way, the Browns will have to make their first decision on who their kicker will be this week and tonight will most definitely play into it. For most of camp Greg Joseph was the shaky front-runner for the job until last week, when a four-for-four field goal night from Austin Seibert that included a 54-yarder made things interesting. Every extra point and field goal matters tonight for these two.

NEO Sports Insiders Newsletter
Sign up to receive our NEOSI newsletter, and keep up to date with all the latest Cleveland sports news.