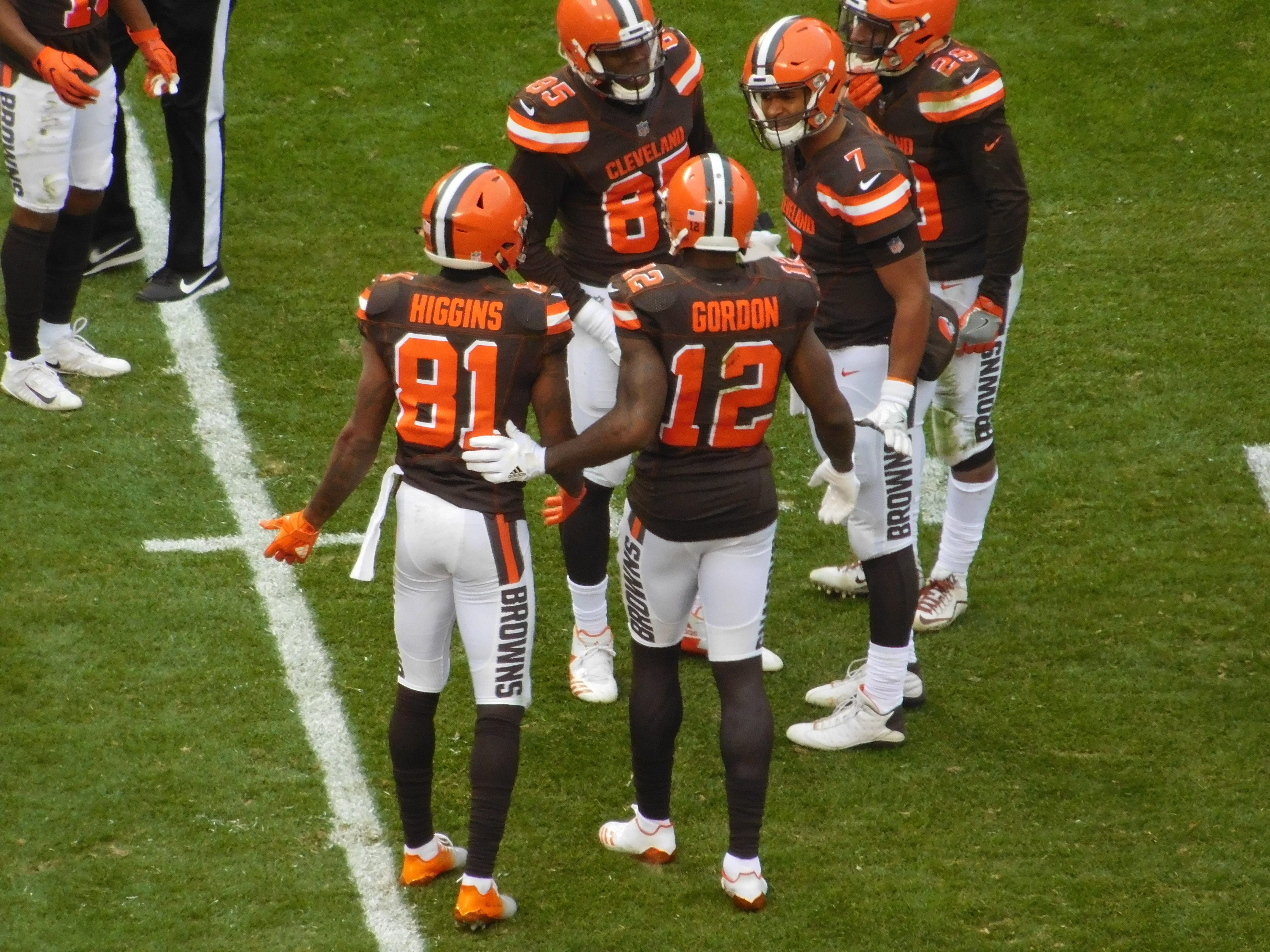 By Nick Broulis
CANTON, Ohio– The Broulis Beat Report has some thoughts after the Browns lost in OT 27-21.
Let me start out by stating how well the Browns played for 3 quarters. They played as well as they've played all season long. The only other game that comes close, is their game in Detroit. After that, would be the season opener against Pittsburgh.
The first half, Cleveland played so well, Cleveland fans weren't sure if this was really happening.
Cleveland's only major miscue was allowing WR Jamaal Williams to get 10-yards behind the entire defense for an easy touchdown. That should've never happened. No excuse for a defensive breakdown that bad. Especially when Gregg Williams has his safety playing so far off the line of scrimmage.
Kizer caught Josh Gordon in the back of the end zone to tie the game. The pass was a bit high, but Gordon was able to haul it in. Josh Gordon's presence clearly had an affect on the entire receiving core. Green Bay didn't take much time sliding a safety over towards Gordon. That meant single coverage for the other receiver's.
DeShone then made a nice shuffle pass to Duke Johnson from 7-yards out. That play was well executed. I told some friends of mine, that Pittsburgh loves running that specific play in the red zone and I'm glad to see Cleveland run something different, something that was unexpected. Green Bay was clearly not ready for that play.
Corey Coleman had a good day. Coleman caught a 2-yard pass from Kizer that put Cleveland up 21-7. It's pretty obvious that Coleman, though picked in the first-round, is a #2 WR. I'm not saying if a receiver is taken in the first-round, that player must be a #1 option at wide out, but that was what Cleveland had envisioned when they drafted Coleman out of Baylor. Nonetheless, if Coleman can produce like he did against the Packers, the Browns will take it.
Isaiah Crowell decided to finally show up. Crowell has been dormant all season long, except for the game in Detroit. Crowell had his best game of the season Sunday afternoon. Crowell has been averaging less than 4-yards a carry most games. Sunday, he averaged 6.4 yards a carry. Did he feel the pressure of the new GM John Dorsey being in the house Sunday? Crowell knows if he doesn't produce, he won't be getting a new contract. I, for the record, think his chance or chances, have come and gone.
The Browns defense played so well for 3-quarters. Then came the dreaded fourth quarter. The Browns had a 21-7 lead going into the fourth quarter. Cleveland had two chances to really put this game away. QB DeShone Kizer threw a dart into a tight window to tight end David Njoku. Originally, Njoku caught the pass, but then dropped the ball. That would have given the Browns a crucial first-down. Instead, Cleveland was forced to punt the ball. Next, Packers return man Trevor Davis returns the punt for 65-yards and in doing so, gave Green Bay excellent field position.
Over the last several seasons, Cleveland has fired many coaches, coordinators and GM's. Yet, the special teams coach Chris Tabor has managed to survive each cut. Am I saying this huge punt return was all his fault? No. But, you would think he would've said something like kick the ball deep into the end zone or kick the ball to one side of the field. Not the middle of the field. Also on that play, the tackling was awful. I think Cleveland had at least five missed tackles. If the Browns tackle Davis within the first five or ten yards, the game, for the Browns, is in good shape.
Kizer threw two interceptions. The first interception wasn't that big of a deal. Ha Ha Clinton-Dix picked off Kizer, but it meant nothing. It was Kizers' second interception of the game in OT that ended up being costly. Cleveland was in a third and 2, Kizer rolled out and tried throwing a deep ball. A Packer defender got his arm on Kizer and the ball just went up in the air like a long jump ball and the Packers intercepted it. Next up, WR Davante Adams runs in the game winning touchdown after catching a 25-yard pass from Hundley.
Why on earth Kizer just didn't take the sack or throw the ball out of bounds and let the punting unit kick the ball into Packer territory and force the Packers to work on a longer field is beyond me.
It was frustrating to watch the team just completely fold in the final quarter. I'm also wondering where Myles Garrett was late in the game. He was on the field, but did nothing. A sack or strip sack could've possible sealed a Browns win. It's situations like Sunday, late in the games, that Cleveland drafted Garrett. I understand he's playing on a bad ankle, but asking him to make one play on the quarterback isn't asking for much. Myles Garrett has disappeared in the last few games.
Now, Cleveland is down to their final home game of the season. They'll host a very angry Baltimore Ravens team who is still in the playoff hunt. The Ravens will be coming to town looking to destroy Cleveland to remain in the playoff hunt. I expect Baltimore to blitz Kizer a lot. Cleveland's motivation? Getting their first win and spoiling Baltimore's chances of getting a playoff spot.

NEO Sports Insiders Newsletter
Sign up to receive our NEOSI newsletter, and keep up to date with all the latest Cleveland sports news.