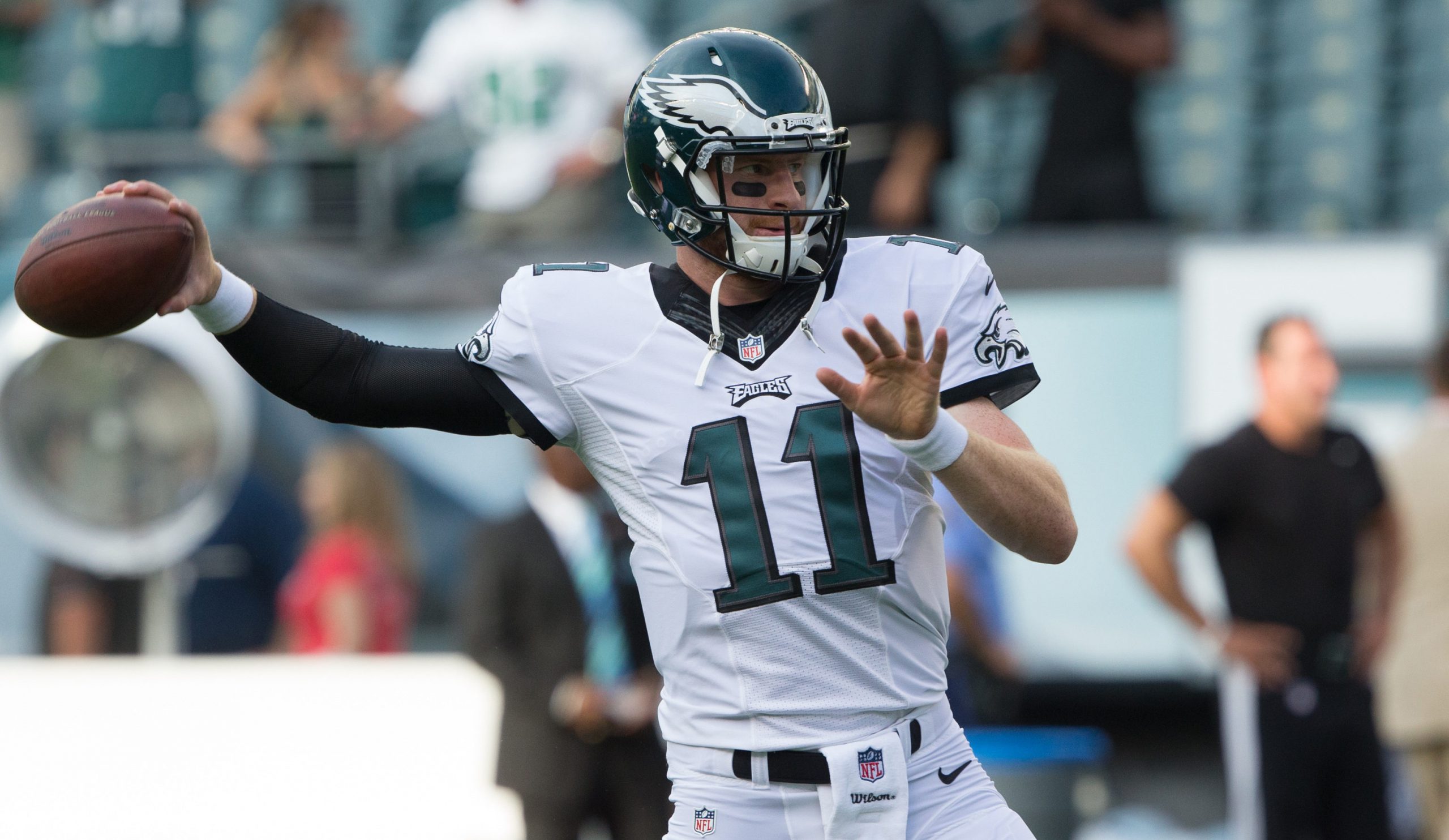 We have reached the dawn of a transitional era of quarterbacks. While some of  yesterday's stars (Brady, Brees, Romo) Are still hanging around, new blood has been injected under center across the league (Carr, Prescott, Winston).
With young quarterback talent comes absurd expectations for a young man about to embark on the most difficult career path for an athlete. Earlier in the season, Browns fans were again lamenting their front office members for missing out on what looked like another star quarterback that slipped through their grasp.
As the season has progressed, however, that noise has dimmed. Through the lens of Carson Wentz, here is how not to overreact to your presumed baby star quarterback.
Remember when the Eagles were 3-0 and slander against thy lord and savior Carson Wentz was considered criminal despite two of his wins coming against the Bears and Browns? Well, in the 12 weeks since then, we have learned that playing professional quarterback for the first time can, in fact, be difficult.
Wentz's Eagles are 2-9 and the latest Browns draft "whiff" has posted an 8-13 touchdown to interception ratio since being hailed as sliced bread. Oh, and then there's this:
Eagles QB Carson Wentz's passer rating when under pressure is an NFL-low 33.8. Simply throwing an incompletion every play gets you a 39.6

— Jeff Dooley (@JeffDooley_) December 19, 2016
I've gone from being considered a Wentz hater to a Wentz defender in 2 short months. Oh, you mean a guy from an FCS school whose offensive line was so outstanding that they rarely needed him to pass for 200 yards to win games is struggling with NFL pressure? It can't be!
Philidelphia was playing with its 3rd string right tackle yesterday, and the offensive line has had injury/suspension issues all season. The Eagles also have one of the worst receiving corps in the league.
So here's the real rap sheet on Wentz: He's tall, has elite NFL arm strength, has been making intricate pre-snap reads since college, and doesn't have much to work with surrounding him. But he also struggles under pressure, is scatter shot on downfield throws, and is playing at a speed and competition level that is 50 times greater than he's ever seen.
The week to week nature of the NFL is unique in that we get seven days to analyze every aspect of every game. Players have to hear about a bad game all week, as opposed to baseball and basketball where they could make up for it the next night.
So, Browns fans, whoever does end up being tapped on the shoulder to lead this horrendous franchise next, remember Carson Wentz. Remember Dak Prescott against the Giants, too.
The theme here is to be patient with young quarterbacks. They're not all Andrew Luck's, and even Luck still has flaws today. It takes time to adjust to being as famous as pro quarterbacks are, it takes time to adjust to truly living on your own, it takes time to learn how to live as a 22 year-old millionaire, and that's discounting all the on-field challenges that take significant time to acclimate into their repertoire.
Fans are so quick to anoint/denounce their team's potential budding franchise quarterback. When in reality, the best thing for both parties is to let the kid build a body of work.

NEO Sports Insiders Newsletter
Sign up to receive our NEOSI newsletter, and keep up to date with all the latest Cleveland sports news.