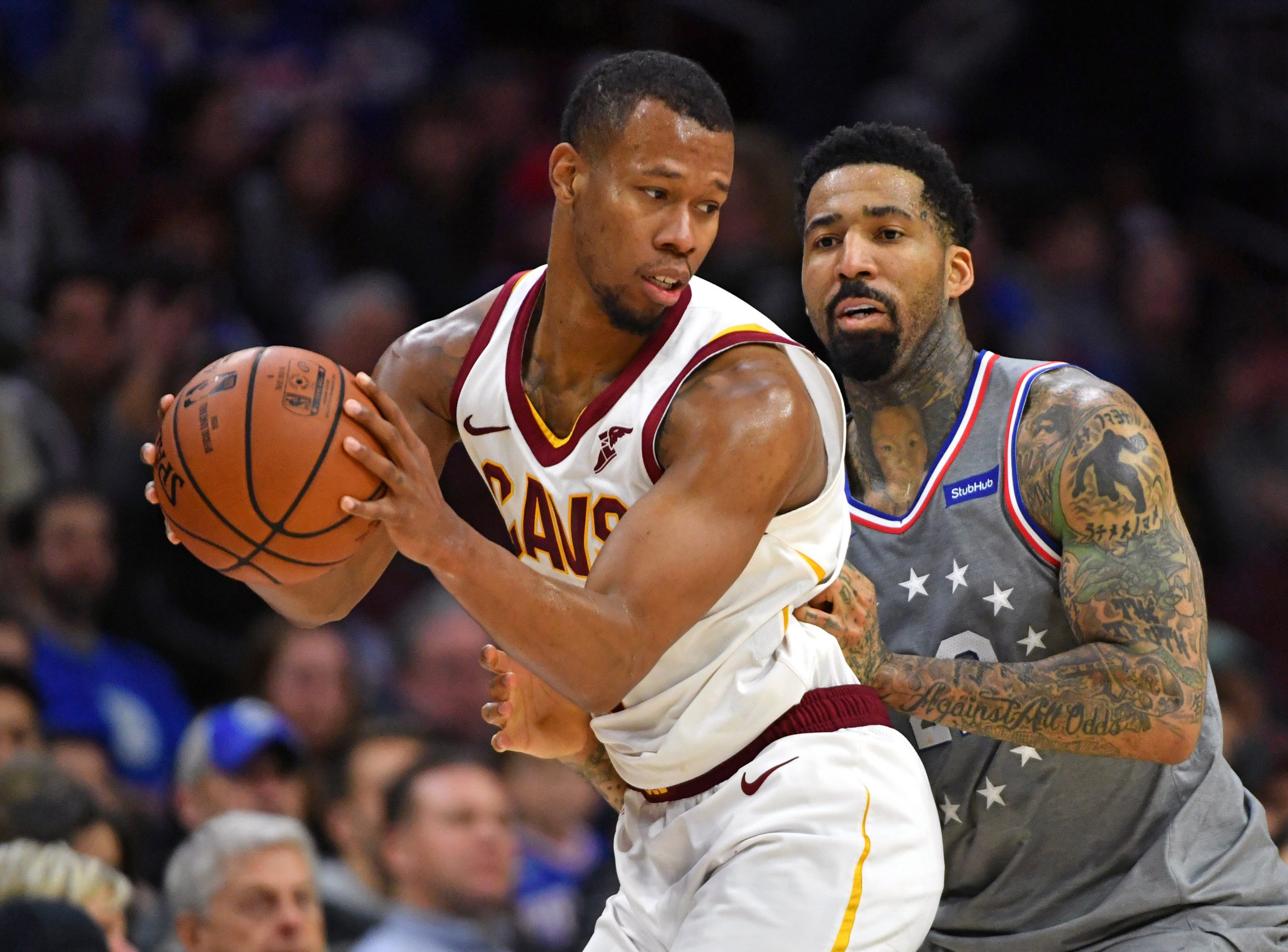 After upsetting the Philadelphia 76ers with a 121-112 victory on Friday, the Cleveland Cavaliers are now 3-14 and have quite a few reasons to be excited about their future although they have the second-worst record in the NBA.
Facing off against the Sixers' Big Three of Joel Embiid, Ben Simmons and Jimmy Butler, the Cavs got off to a quick start and jumped out to an early lead thanks to Sexton's 10 first quarter points. From there, a mix of Sexton, Cedi Osman, Rodney Hood and Jordan Clarkson took it to Philadelphia for the rest of the game, allowing Cleveland to outscore the East's third-ranked team despite the Sixers shooting 53.3 percent from the field and 36.4 percent from three-point range.
To put it succinctly, on Friday, the Cavaliers' current core was better than the 76ers'.
Here are three takeaways from Cleveland's win with the focus shifting from their young players' potential to their purpose.
David Nwaba is a perfect low-usage fit in the starting lineup
Cavs shooting guard David Nwaba has been the team's starting shooting guard ever since veteran J.R. Smith took a leave of absence from Cleveland as the franchise looks to find a team that will trade for him. However, while Smith was a smooth athlete who was one of the best shooters on the team, Nwaba is a better fit for the team's starting lineup.
Since being named as a starter, Nwaba has averaged just 7.0 points and 4.0 rebounds per game (2 games) while shooting 36.4 percent from the field and 26.8 percent from three-point range. Those numbers aren't pretty nor deserving of a starting spot but it's what he does — and doesn't do — that doesn't show up in the box score that make him a great fit in the starting lineup.
Looking at his defensive acumen, Nwaba isn't a lockdown defender but he's a hard-nosed defender that's strong and fearless when guarding his man on an island, no matter how talented the opponent. Per NBA Advanced Stats, Nwaba held the 76ers to 33.3 percent shooting on two-point field goals (17.7 percent less than their season average) and 50.0 percent shooting on shots within six feet of the rim (12.4 percent less than their season average).
His defensive mindset eases the pressure on starting guards Collin Sexton and Rodney Hood, two players that need to focus on scoring more than any other aspect of the game. To that point, Nwaba's ability to be satisfied without having to be a scorer or playmaker bodes well for Sexton, Hood and Cedi Osman, three players who want to score in abundance.
Rodney Hood wants a larger role in the Cavs offense
Following Friday's win over the Philadelphia 76ers, Hood would tell reporters that he didn't feel as if he was involved enough in the team's offense prior his 25-point outing against the Sixers.
However, rather than pointing a finger of blame at the coaching staff playing him just 27.9 minutes per game or teammates seeming to look him off more than others, Hood showed tremendous self-awareness in saying that his lack of involvement is essentially his own fault, as he's lacked aggressiveness in a fair number of games this season.
Per cleveland.com's Joe Noga:
Hood said he absolutely made a conscious effort to be more aggressive against the Sixers than he had been on offense in Cleveland's previous few games.

"I felt that I wasn't involved enough," Hood said. "This game, I wanted to come out guns blazing. Obviously come in with a defensive mindset, but when I caught the ball just be aggressive. I think we're a better team when I do that. Because I can also make plays when I've got it going."
Hood has averaged 13.4 points per game on a true shooting percentage of 54.8 this season and on Friday, he had his second-best game of the season after catching fire from behind-the-arc with five threes, the highest amount of threes he's made in a single-game all season. Hood's 20 field goal attempts were far and away his highest single-game total this season.
Should the 26-year-old Hood continue to play aggressively from the outset, he has the tools to show he's one of the NBA's better scorers. His assertiveness on offense is one of the keys to the Cavaliers' victories this season; he's averaging 22.3 points per game in wins but just 11.4 points per game in the team's losses.
Collin Sexton's midrange jumper is deadly
Rookie point guard Collin Sexton has been averaging 18.3 points per game as a starter, showing that he can put points on the board with some of the best of them. On Friday, Sexton also was crafty with his ability to change speeds, putting an early season MVP candidate in Embiid on skates time after time on his way to the rim.
However, the shots that stuck out the most for Sexton on Friday is the one that he's become extremely proficient at. His pull-up jumpers from 10-16 feet away from the rim. A shot that's become his bread-and-butter and a shot he's now converting 48.0 percent of the time. Having a go-to shot is important for an elite scorer and that Sexton has already found his bodes well for Cleveland.
Further, as players start to realize they have to respect Sexton's jump shot, they're more likely to apply pressure in pick-and-rolls. That alteration to their defensive positioning should open up more crevices for players like Tristan Thompson or Larry Nance Jr. to catch pocket passes on their rolls to the rim. In a general sense, the more of a threat that Sexton is as a scorer, the more his teammates will find themselves with open shots; one of the league's most understandable principles.
As a result, Sexton's ability to be a knockdown shooter from the midrange doesn't just help him, it helps the entire team be effective. Just ask Sexton's mentor, Chris Paul, who'll he have a chance to face for the first time as a pro on Saturday.
*Unless otherwise referenced, stats gathered from Basketball Reference

NEO Sports Insiders Newsletter
Sign up to receive our NEOSI newsletter, and keep up to date with all the latest Cleveland sports news.