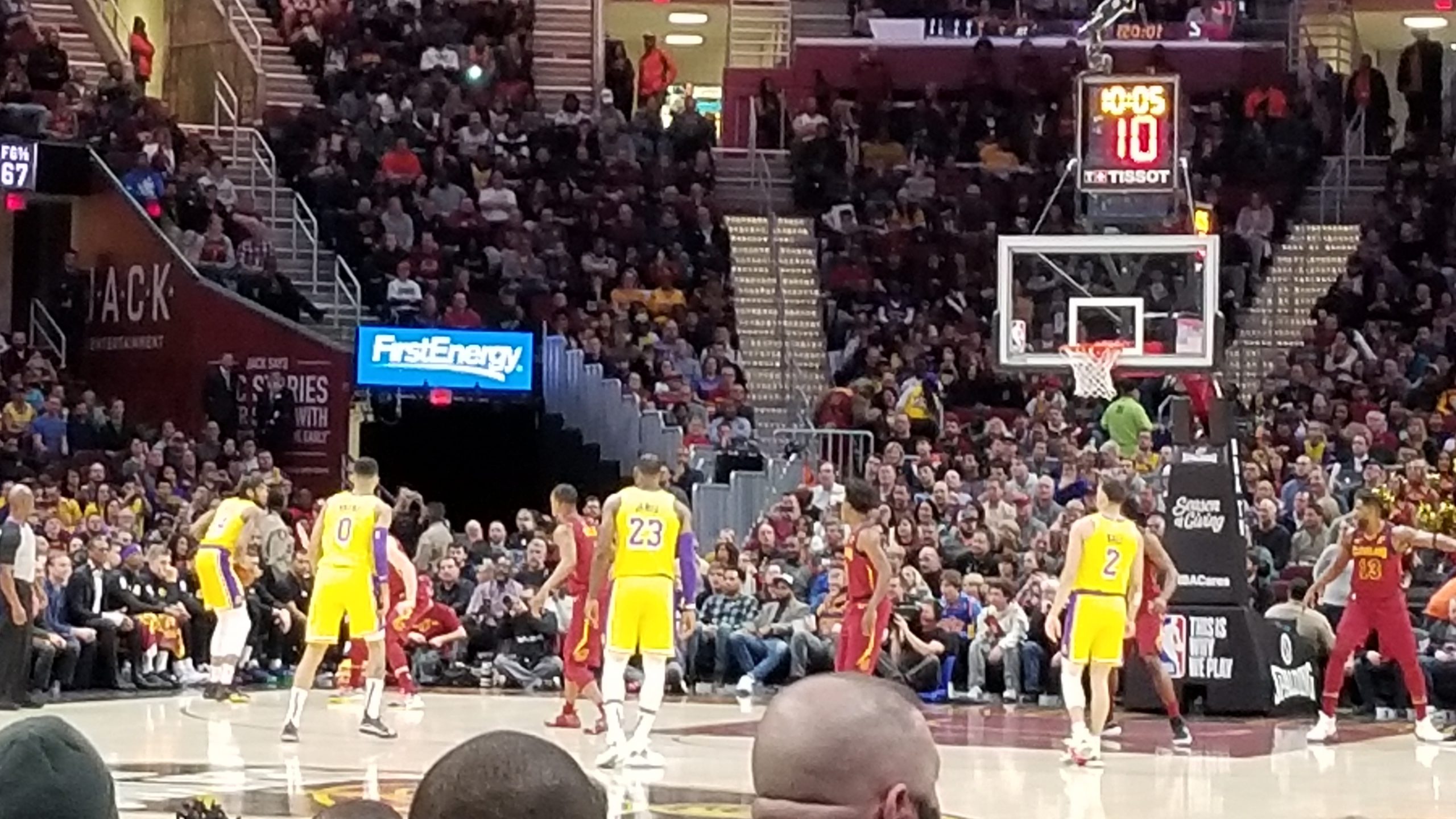 Between Wednesday's game, which marked the first time LeBron James returned to Cleveland face the Cavaliers as a member of the Los Angeles Lakers, and Thursday's holiday, these last two days have been quite eventful. However, now that the King has returned to his new home and everyone had their fill on Thanksgiving, we can dig into Cleveland's loss to the Lakers and what was learned from their four-point loss.
Cedi Osman had a breakthrough game
After the first two games of the season, in which Cedi Osman looked like the second coming of Chris Mullen while starting at small forward in place of the league's premier point-forward, the second-year wing's production fell off of a cliff. Osman went from averaging 19.5 points and 6.0 assists per game on 51.9 percent shooting from the field (66.7 percent shooting from three) in his first two games to averaging 9.1 points and 1.9 assists per game on 33.3 percent shooting from the field and 25.0 percent shooting from three-point range over the next 11 games.
However, on Wednesday, Osman scored 21 points on 7-13 shooting from the field and 5-7 shooting from three-point range. He was confident in his shot the entire night and it seemed to make a world of difference. Furthermore, unlike his efforts near the beginning of the season, Osman didn't take a single ill-advised jumper.
Perhaps it was playing on the court with his friend and mentor in James, who called Osman one of his favorite teammates ever, that assisted his play on the court. No matter the reason why, after notching 20+ points (in efficient fashion) for just the third time this season and the first time since October 30th, Osman finally has had a game that could serve as a marker for the day that Osman broke out of his slump.
Osman is one of the Cavaliers' cornerstone players and he should reach his potential. He just has to learn how to let the game come to him more often.
Rodney Hood isn't the second option
The idea that Rodney Hood could be the second option in the Cavaliers starting lineup made perfect sense considering his abilities as a scorer and his experience in similar roles. However, Hood has only had a handful of games where he's had the production of a second option, scoring at least 16 points in just four out of his 16 total games.
It's in part Hood's fault, as he often doesn't play aggressively enough to be considered a second option and unlike most players thrust into the role, he's not particularly athletic or crafty as a playmaker. In fact, at this point in his career, his ability to play off-ball or on-ball while being an all-around contributor is best suited for a player that's a third option.
Nonetheless, there also doesn't seem to be a way Hood can be the second option in the team's offensive design.
Rookie Collin Sexton has become the team's first option in the starting unit thanks to his blend of speed and jump-shooting. Veteran center Tristan Thompson, who has been much improved as a scorer around the rim this season, has become the team's second option. Sixth man Jordan Clarkson, a player whose efficiency from the field has been a career-best 45.7 percent this season, could also be seen as the team's second option at times.
Hood, who has become more dynamic overall in his second season, has been a solid piece for the team and his production (12.6 points per game on 43.8 percent shooting from the field and 39.0 percent shooting from three) should be appreciated. Unfortunately, until he becomes more aggressive and crafty, the potential he possesses to be a second option may not be realized soon.
The Cavaliers had more potential LeBron gave them credit for
The difference between the Lakers and the Cavaliers on Wednesday night was LeBron James. James led all players with 32 points while adding 14 rebounds, seven assists and a block, leading Los Angeles to victory with the Lakers down eight points late in the fourth quarter. In the final 5:41, James scored or assisted on 12 of the team's final 18 points, reminding the Cleveland faithful what it was like when he was donning Wine and Gold instead of Purple and Gold.
However, outside of James, the Lakers were largely unimpressive. Out of Lonzo Ball (15 points), Brandon Ingram (14 points) and Kyle Kuzma (12 points), Ball was the most impressive and aggressive as a playmaker. Further, while Ball was the only starter to clearly outplay his matchup (thanks to Sexton's relative ineffectiveness in the second half), as Ingram outscored Hood but didn't dominate and Osman outshined Kuzma.
Of course, that won't be the case every game and Ball, Ingram and Kuzma all have more long-term potential and are more dynamic than than their counterparts. Nontheless, for one night, James had to have sat back and noticed that, without him, his Lakers team isn't too much better than the Cavaliers are. If at all.
*All stats gathered from Basketball Reference

NEO Sports Insiders Newsletter
Sign up to receive our NEOSI newsletter, and keep up to date with all the latest Cleveland sports news.