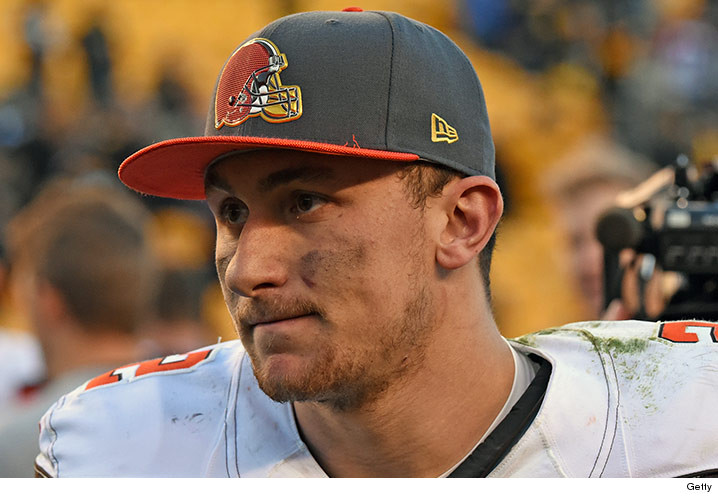 If you thought Johnny Manziel's days of relevancy were over, think again. Manziel already made headlines earlier this year when he took his talents to the Canadien Football league in an effort to revive his career. Now, the former Browns first-round pick was the focus of a feature on ESPN's NFL Countdown, in which he penned a letter to Browns rookie QB Baker Mayfield.
The piece aired on Sunday morning, just hours before Mayfield is set to make his first career start. In it, Manziel – with all his wisdom – offered up some advice to his fellow Heisman Trophy winner.
"Dear Baker, if there's one thing you already know, one thing that everybody already knows, you and I are not the same person," the letter begins – a clear reference to Mayfield unfairly drawing comparisons to Manziel during his college career. The fact that they both ended up as Heisman winners and being drafted in the first round by the same team only perpetuated the narrative that they were the same player.
However, as Manziel points out in the first part of this letter, the two quarterbacks couldn't be more different.
As for his advice to Mayfield, "What I do know is this: life's experiences are the best teachers," Manziel said in the feature. "Through all the good days you'll encounter over your career there, you'll undoubtedly face some tough ones as well. Through all the good and the bad, stay close to your family, and more so, continue to be you. That's what's taken you from a walk-on to a Heisman trophy winner to a first-round draft pick."
Mayfield certainly has better things to worry about than taking advice from a failed Browns quarterback, who wasted his NFL opportunity. This ultimately just comes off as ESPN trying to force a narrative that no one is buying anymore.
If you care to watch, here's the full feature from this morning:
Follow: @Spencito_

NEO Sports Insiders Newsletter
Sign up to receive our NEOSI newsletter, and keep up to date with all the latest Cleveland sports news.