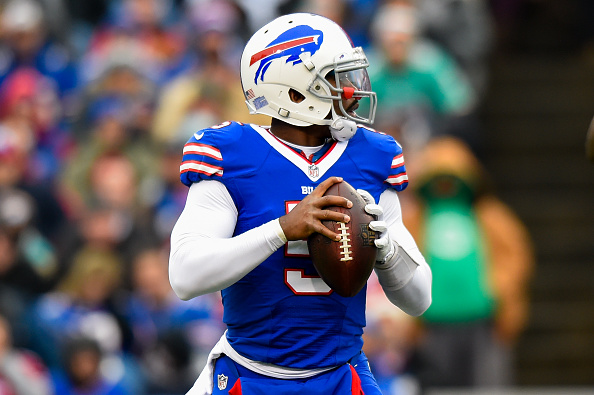 Friday, March 9, 2018, may end up being a day Cleveland Browns fans remember forever. A trio of trades that brought the NFL's 2017 receptions leader, Jarvis Landry, the quarterback who ended Buffalo's playoff drought, Tyrod Taylor, and the potentially rewarding cornerback Damarious Randall to Cleveland, could spark the organization's long-awaited turnaround. Kudos to general manager John Dorsey.
Coming off of a dilapidating 0-16 season, there is plenty of reason to be optimistic about these sweeping changes. Friday was a good day for the Browns. But in regards to Taylor specifically, it's important to understand what exactly you're signing up for.
Taylor is an obvious upgrade from DeShone Kizer, whose 22 interceptions in 2017 were the most by any quarterback. In fact, he's quite the opposite of the Notre Dame product. Taylor's 62.6 completion percentage during his three-year tenure with Buffalo is just one of the reasons why a small handful of teams were interested in acquiring his services. So too is his league-low 16 interceptions over the last three season for quarterbacks who have started 40 or more games, which for a team like Cleveland that gave the ball away more than other this past season is extremely valuable.
The other aspect of his game that will instantly catch your attention, is his extraordinary elusiveness. Let's just say it's fitting that Taylor's idol is Mike Vick and that his nickname is T-Mobile. Ironically, they both are Virginia Tech alumni, but deeper than that their playing styles mimic each other. Athletically, Taylor is the modern day version of Vick at quarterback. And during his three seasons in Buffalo, he mastered the art of escapability, enough to make Harry Houdini's straightjacket stunt look like child's play. Take this play against the Falcons from Wek 4 for example…
https://www.youtube.com/watch?v=aNXrFW9f6lU
That's just a small sample size of Taylor at his best. But as special as his mobility makes him as a player, it also holds him back.
Having covered the Bills these last three seasons, there is a quote I always go back to from one of Taylor's now, former teammates and backfield-mate, running back LeSean McCoy. It came following a Week 3 drubbing of the Arizona Cardinals in 2016. In typical Tyrod Taylor fashion, he was 14-of-25 passing for 119 yards, while adding 76 yards on the ground along with a touchdown to compliment McCoy's 110 rushing yards and two TDs. Afterward, McCoy was asked specifically about the importance of using Taylor's legs as part of their offensive gameplan.
McCoy's response: "One of the best things Tyrod can do, is he can run the ball. I mean he's like a running back at quarterback, so why wouldn't you not have him using his legs?"
A running back at quarterback. In many ways that sums up Taylor perfectly, the difference being that, of course, he can throw the ball better than a running back could, but by no means better than many quarterbacks. Maybe the biggest indictment is how opposing teams gameplan against him.
I can think of two times specifically off the top of my head – following games in Baltimore in 2015 and at home against New Orleans this past season – where players from the opposing team were asked "what did you do to stop Tyrod Taylor?' and the answers were, "make him be a quarterback." It's not exactly ideal for teams to prepare for you, by  making you do what your position requires you to do.
Some will point to his completion percentage, which over the last three seasons is on par with guys like Phillip Rivers, Andy Dalton and Derek Carr, and only a few ticks behind the likes of Russell Wilson, Ben Roethlisberger and yes, Tom Brady. Many of those same people will laud his ability to protect the football as well.
But what can't be ignored are figures such as in 22 of his 44 starts in Buffalo – including January's wild card meeting with Jacksonville –he finished with less than 200 yards passing and in 31 of those contests he threw one or no touchdown passes. In fact, Taylor has only thrown for over 250 yards nine times in his career (all with the Bills) and needed overtime to put together his singular 300-yard passing performance. The mobile-QB threw two touchdown passes seven times over that three-year span, and three touchdowns six times.
Additionally, when forced to throw the ball 30 or more times, Taylor is a forgettable 2-14 and one of those two wins came against the Patriots in 2016, with then-rookie Jacoby Brissett was under center with Tom Brady still serving his Deflategate suspension.
What's also become evident from the 28-year-old's time as a starter is that he's not going win you a lot of games himself. In Buffalo, Taylor led two fourth-quarter comebacks and five game-winning drives. More troubling though, is his 4-21 record when the Bills trailed by four or more points at any point in the game. You're certainly not wrong to be excited about yesterday's roster makeover. However, hopefully, you've tempered your expectations in terms of what Taylor brings you.
Maybe you're someone who thinks these stats don't do Taylor justice, and instead see a player who didn't even have the remnants of a quality supporting cast in Buffalo – something the Browns can now provide. In terms of this past season, you're probably right. An arsenal of Zay Jones, less than half a season of Kelvin Benjamin, Charles Clay and McCoy isn't quite on par with one of Landry, Josh Gordon, Corey Coleman, David Njoku and Duke Johnson that he'll have next year. However, in 2015 Taylor's receiving corps contained Sammy Watkins, Robert Wood, Marquise Goodwin and Chris Hogan. In 2016, he had all of them, minus Hogan. All but Watkins saw their numbers spike upon leaving Western New York and joining forces with better quarterbacks.
With the Rams in 2017, Robert Woods posted career highs in yards (781), yards per reception (13.9), yards per game (65.1) and tied his mark for touchdown catches (5). Goodwin saw the biggest improvement out in San Francisco this past fall, catching 56 balls, for nearly 1,000 yards and scoring twice. Good enough to earn the track and field star a three-year contract extension this past week worth $20.3 million. And of course, Hogan not only went on to win a Super Bowl with New England in 2016 but has also scored more touchdowns in two seasons with the Patriots (9) than he did in three seasons with the Bills (6).
Credit where it's due, Taylor did post his best season with all four of those guys at his disposal in 2015, throwing for 3,035 yards, 20 touchdowns and just six interceptions. He also completed 63.7-percent of his passes that year. But the Margins Taylor set in 14 games that year, Jared Goff surpassed easily this past season with two of Taylor's former targets. Meanwhile, in just six games, 49ers quarterback Jimmy Garoppolo halved Taylor's yardage total from that season (1560) and nearly did the same with touchdowns (7).
The other aspect of this is if Cleveland uses Taylor properly. Where Taylor is at his best as a quarterback is in both taking shots deep and making throws on the move. He has one of the most beautiful deep balls I've ever seen and when a team actually allows him to use it, good things happen. Additionally, those RPO, read option style offenses that are taking over the NFL are a perfect fit for him. If the Browns are able to cater the offense to his strengths – something former Bills offensive coordinator Rick Dennison was unwilling to do last year – they'll be alright. And the purpose here isn't to rain on your parade.
You're free to celebrate what went down yesterday, Browns fans. It could alter the direction of this franchise forever. Moreso, just remember to keep things in perspective. Tyrod Taylor is by no means the long-term answer at quarterback for Cleveland. And by no means should acquiring him prohibit the Browns from drafting a QB come April 27.
What Taylor brings to Cleveland is at least some stability at the quarterback position in the form of a stopgap,  as well as some impeccable leadership qualities that will not only earn respect in the locker room quickly but should rub off on a potential rookie backup. He's a class act through and through and he's got some serious swagger when it comes to his wardrobe. He'll be the best-dressed player on team trips.
On the field though, get ready to be dazzled by Taylor's highlight-reel of evaded sacks, and disappointed by his reliance on checking the ball down. You'll fall in love with his deep ball, and pull your hair when you read his final stat lines on Sundays. There will be days where he looks like the guy to build your team around, days where he's just good enough and days where you'll be begging for better. That's what you're signing up for with Tyrod Taylor.