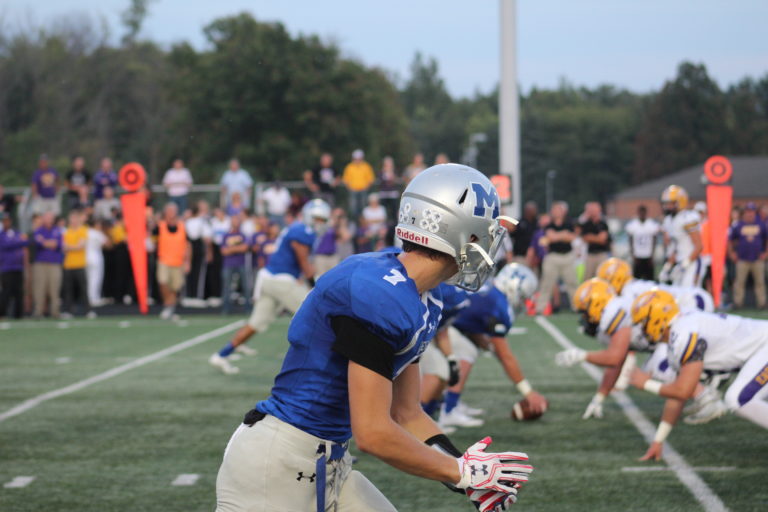 The 2017 Midview Middies will have a different look for the first time in a few seasons, as they will take the field for the first time without superstar quarterback Dustin Crum.
The former 'Golden Helmet' award winner for the best player in Lorain County traded in his Friday night cleats for Saturday afternoon spikes as he will play this fall for Kent State.
Success has been a staple at Midview with Crum under center, last season the Middies were very good again, going 9-1 overall and 8-1 in Southwestern Conference play, losing out on the SWC Title to the undefeated Avon Eagles.
Losing Crum has been the big storyline for Midview this offseason, but head coach D.J. Shaw feels his kids will step up and keep the program right on track in 2017.
"There's no question about it as talented as Dustin was at quarterback, he was just as talented as a leader, and he's just a great person," Shaw said.
"When your best players are gonna be your best kids, you're going to have success because those guys are leading your team in the direction you want to go in."
The Middies will have to count on those that watched Crum perform at a high level the last few seasons and do their best not only to continue the winning tradition, but also teach the younger players how it's done, something Crum himself did very well.
"Our hope is that the underclassman watched how Dustin prepared and how he went about his business and the extra time he put in, and the work in the weight room and the film room, you hope that it just trickles down to those guys," Shaw said.
There's still plenty of talent spread across the Midview roster that should keep this team right in the mix in the SWC this season, starting with Crum's cousin Nick, who is a 6'3 force at wide out and defensive back.
Brandon Gilchrist is making the move from tight end to tackle for the Middies, and another player to watch is senior running back Conner Wolf.
"I think we have a really good senior class with some players below them, we've got a lot of guys coming back this year with a lot of great experience," Shaw said.
"We've got a chip on our shoulder about that, and hope we can play with that type of attitude."
If there's one thing that Shaw and the players at Midview know about it's winning. Under Shaw the team has gone 32-4 in four seasons including the postseason.
He's hoping that winning tradition will continue despite knowing that many will think otherwise and without Crum the team will struggle to find as many wins as in the past few seasons.
"Our expectations are to win, we've won a lot of football games," Shaw said. "The mentality might be different from what the outsiders are saying, what people are saying in the media or on social media about our chances this year, to us we use that as motivation this year."
The meat grinder of the SWC will be challenging for the Middies, and their non-conference slate will start with a huge week one game against the Lorain Titans.
Shaw knows that playing in important games the last few seasons will do nothing but help the Middies in 2017. If they can stay healthy, there's no reason to think they won't again be a force in the conference.
"We've got a lot of kids with talent returning, they've all played in big games," Shaw said. "I like where our team is at right now."
2017 Schedule
8/25 7:00p @ Lorain (Lorain, OH)
Location: Lorain High School
9/1 7:00p North Ridgeville (North Ridgeville, OH)
Location: Midview High School
9/8 7:00p North Olmsted (North Olmsted, OH)
Location: Midview High School
9/15 7:00p Steele (Amherst, OH)
Location: Midview High School
9/22 7:00p @ Avon (Avon, OH)
Location: Avon High School
9/29 7:00p @ Berea-Midpark (Berea, OH)
Location: Berea-Midpark High School
10/6 7:00p Westlake (Westlake, OH)
Location: Midview High School
10/13 7:00p Olmsted Falls (Olmsted Falls, OH)
Location: Midview High School
10/20 7:00p @ Lakewood (Lakewood, OH)
Location: Lakewood High School
10/27 7:00p @ Avon Lake (Avon Lake, OH)
Location: Avon Lake High School