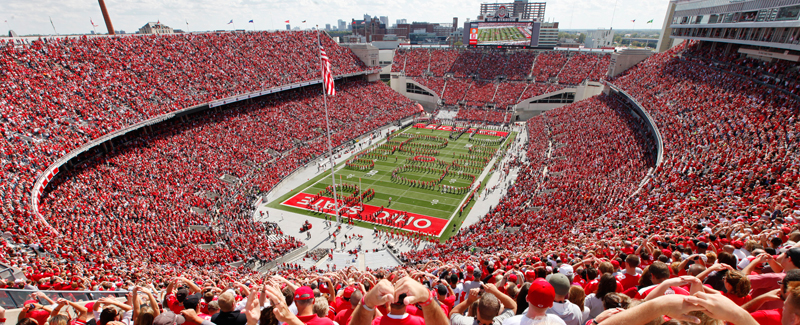 Ohio State survived a scrappy run by the upset-minded Indiana Hoosiers, shutting down a late drive in a 34-27 win.
Ezekiel Elliott rushed for 274 yards and three TDs, most of which came in the second half, as the Buckeyes found their groove rushing the ball again.  Elliott had been held to only 31 yards on 10 carries in the first half before exploding for touchdown runs of 55, 65, and 75 yards to help seal the victory.
"Zeke got loose a few times and had some big hits," head coach Urban Meyer told ABC following the game. "We're still, in the throw game, not anywhere near where we need to be.  We've got a lot of work to do, but we're 5-0 and 1-0 in the Big Ten."
Elliott has now topped 100 yards rushing in ten consecutive games.  During that 10-game run, he has carried for 1,653 yards and 19 TDs.
Ohio State has now won 18 straight games, and returns home next Saturday to play struggling Maryland at Noon.  Indiana falls to 4-1 on the season, 0-1 in the conference.
Ohio State started the game with struggles of their own.  Two straight 3-and-outs gave the Hoosiers an opening, as they took a quick 3-0 lead that expanded to 10-0 early in the second quarter.
RB Jordan Howard, who has been dominating defenses in 2015, could not get his footing.  He eventually left the game with an injury after gaining only 34 yards on 14 carries.  The only rushing attack that Indiana could muster came from backup QB Zander Diamont, who picked up 98 yards (79 coming on one play).  Diamont entered the game when senior Nate Sudfeld's ankle swelled up after a hit from Joey Bosa drove a RB into the Hoosier's starting QB.
"Indiana played us tough, everyone's playing us tough" head coach Urban Meyer told ABC following the game.  "We've got to get a little better."
The Buckeyes repeatedly had trouble finding the end zone throughout the first half, which ended with Indiana leading 10-6.  Three straight drives drove inside the Hoosier's 25-yard-line, but a fumble and a missed FG led to those drives totaling three points.
The second half was a different story.  On the Buckeyes' second possession, Elliott raced 55 yards for the TD, capping a 4-play, 75 yard drive to take the 13-10 lead.
Indiana responded with a score of their own to go up 17-13 and keep the Bloomington crowd's hopes alive. However, the Buckeyes scored on consecutive possessions, the first on a 65-yard jaunt by Elliott, and followed by a 23-yard TD pass from Cardale Jones to Michael Thomas.
The two teams traded touchdowns to conclude the scoring – a 75-yard score by Elliott and a 79-yard rush by Diamond on back-to-back plays – but the drama was not over yet.
Indiana reached the Buckeyes' 6 yard line in the final moment, but could not score as OSU forced an incomplete pass in the end zone as time expired.
Game Notes
Ohio State has now won 15 straight games on the road
The Buckeyes have also won 25 straight Big Ten games in the regular season.
Urban Meyer is now 43-3 as Ohio State's head coach.
Ohio State was flagged for 109 yards, Indiana for 50
Ezekiel Elliott is the only NCAA player in the past 10 years with three TD runs of over 50 yards in one half.
Elliott's game is tied for the second-best in Ohio State history. (Eddie George, 314 yards vs Illinois, 1995 is #1.  Zeke tied Keith Byars for the second slot)
Indiana is now 0-16 vs top-ranked teams.  Ohio State has personally given them six of those defeats.

NEO Sports Insiders Newsletter
Sign up to receive our NEOSI newsletter, and keep up to date with all the latest Cleveland sports news.