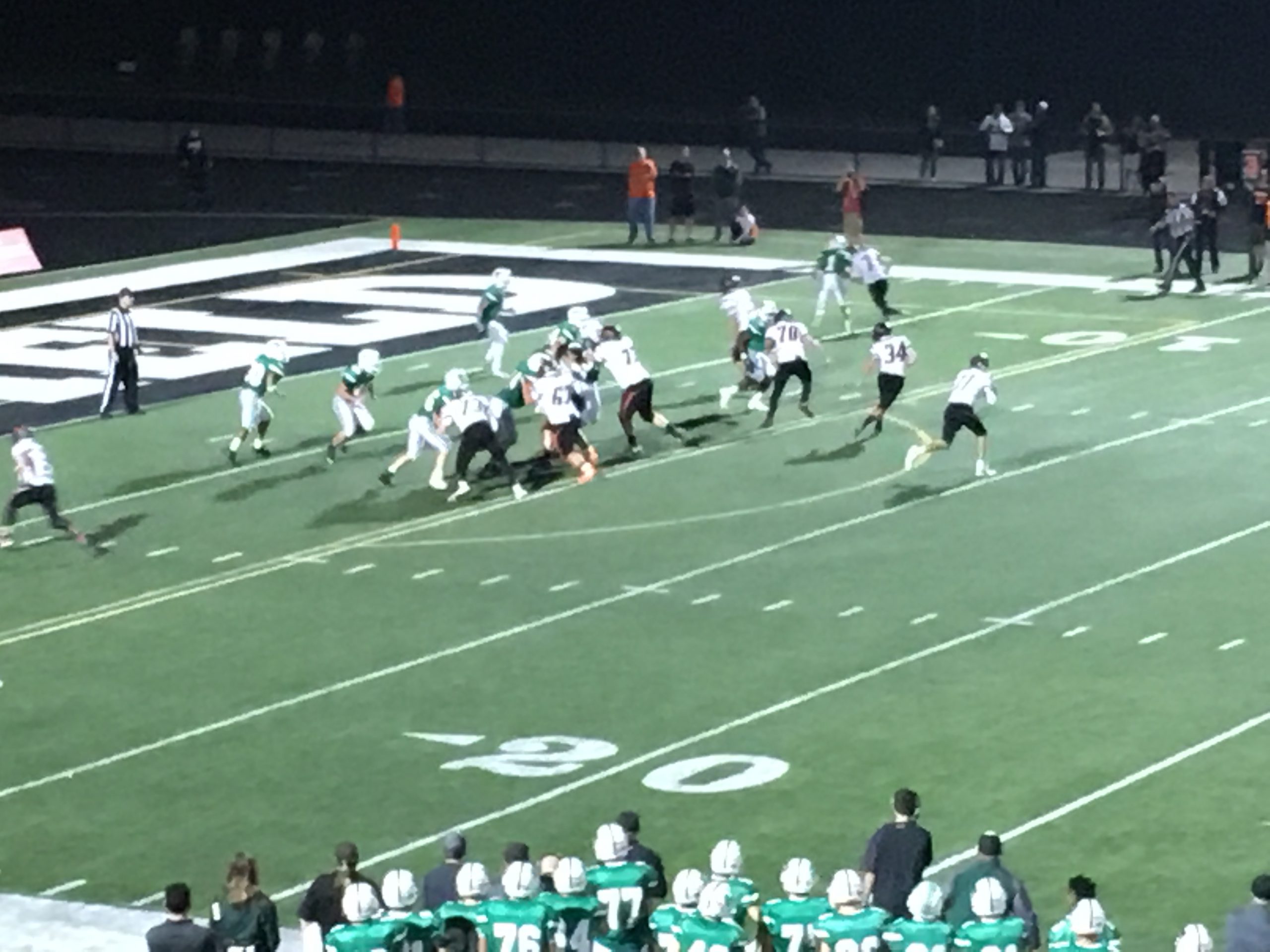 by Michael Bohm
MAYFIELD, OHIO– On a cool fall night in mid-October, two teams entered Friday night's matchup in Mayfield looking to extend their respective winning streaks to three. Only one would emerge victorious.
In this case, where both the Wildcats of Mayfield and Rangers of Eastlake North would go back and forth all night long, the Rangers were able to maintain their poise just long enough to halt the Mayfield offense and pull away for the win, 31-16.
For the second consecutive week, Mayfield was without their captain and starting quarterback ,Jake Dostal. Freshman Michael Huss was handed the start and, for the most part, did not disappoint. But, when it came down to the nitty-gritty end, the Wildcat offense simply could not spark a long drive as they had all night, and fell to the Rangers.
Mayfield struck first on a field goal after driving down the field.
Eastlake would come right back, marching down the turf and capping the drive off with an impressive grab in the corner from quarterback Jake Tanski to wideout Kenny Streb for 14 yards. A two-point conversion would make the score 8-3.
The ensuing Wildcat drives would end on a sensational catch from Huss to leading receiver Bobby Casey, who leaped and reached over the helmet of the defender in front of him to snatch the ball away for a 21-yard score in the corner to regain the lead at 9-8.
A Rangers' field goal would send the two teams into the locker rooms at halftime with North leading, 11-8.
With the third quarter came the emergence of tailback Brett Payne, whose immense power literally carried this offense, and this time led to the five-yard touchdown, bouncing off tacklers and diving forward to extend their lead, 19-9. This play was set up after a third and 16 conversion from Tanski to Streb who made a 360-degree spin to haul in the back shoulder pass inside the 10.
Mayfield was not done, however, as Huss found Casey over the middle, and bursted through two defenders before a race to the pylon for the 25-yard score to close the gap to 19-16. Casey finished with 125 yards and two touchdowns on six receptions.
Eastlake was able to answer, thanks again to Streb, who brought in a pass that was eerily similar to his last grab, this time in the back corner for a 24-yard touchdown to pull ahead 25-16. Streb managed 109 yards on just five receptions, receiving half of Tanski's 10 completions.
Mayfield had plenty of opportunities to once again take the lead, but a number of turnovers on downs and penalties wound up costing them dearly after a very disciplined first half.
North's final scoring drive included a fourth and 20, in which they elected to go for it and a pass interference call set them up inside the five, before Payne carried it in from one yard out to go up, 31-16. Payne carried the ball a total of 38 times, notching 157 yards.
Perhaps the most intriguing discrepancy in the game was Tanski. The quarterback entered Friday's matchup with only three touchdown passes and nine interceptions while connecting on fewer than 50 percent of his passes. This time, though, he finished at 67 percent with no interceptions, and the two scores to Streb.
Mayfield owned this series, winning nine of their previous ten, but the Rangers won last year, and again on Friday night.
Both teams now stand at 4-4 on the season.
Game Ball(s): Streb and Payne, totaling 266 offensive yards and four touchdowns.

NEO Sports Insiders Newsletter
Sign up to receive our NEOSI newsletter, and keep up to date with all the latest Cleveland sports news.