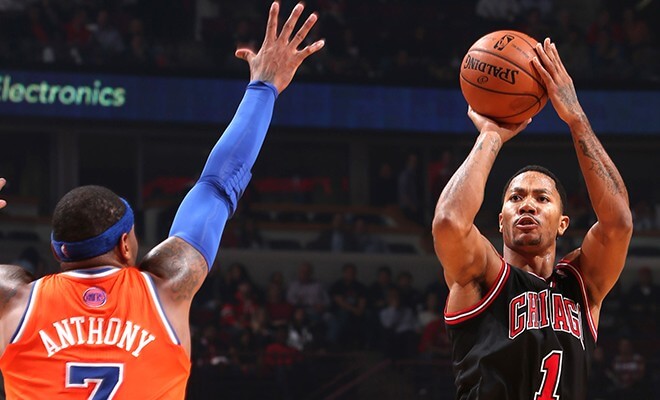 While the Cavaliers celebrated with their championship parade and rally on Wednesday, teams throughout the East were searching for ways to get better and have any shot of catching Cleveland.
The New York Knicks sent a package of role players to Chicago for Derrick Rose, creating a "Big Three" of Carmelo Anthony, Kristaps Porzingis, and Rose at Madison Square Garden.
If Rose stays healthy and plays close to his normal self, they could make some noise in the East, but their lack of depth is a concern for anyone who hopes to see the Knicks make a deep playoff run.
The Knicks don't have a pick in Thursday night's NBA Draft, so it's hard to see them upgrading significantly throughout the off-season from here on out.
The Indiana Pacers made a three-team deal, sending point guard George Hill to Utah and receiving Jeff Teague from Atlanta.
On Thursday, the Pacers reportedly made a deal with the Nets, receiving Thaddeus Young in exchange for the 20th overall pick in this year's draft and a future second-round pick.
Their "Big Three" of Paul George, Teague, and Young makes them significantly better than they were two days ago.
These two moves could propel them into the top four teams in the East.
What is clear from Wednesday is that the Bulls and Hawks are in sell-mode, indicating they do not believe they can catch up to the Cavs with their pieces heading into 2016-2017.
What that does is opens up the door for teams like Indiana and New York, but also gives room for a team like Detroit to try to climb up a spot or two, and puts teams like Washington, Milwaukee and Orlando a bit closer to sneaking in as a 7 or 8-seed.
The teams that will be most interesting to watch in the East this off-season are Boston, Washington, Toronto, and Miami.
We'll start with the Heat. Miami has always been an attractive destination for free-agents for obvious reasons related to beaches, but they have a great foundation with Pat Riley, Erik Spoelstra, Dwyane Wade and Hassan Whiteside. Goran Dragic played great at times in the Playoffs and the uncertainty of Chris Bosh's health will continue to be a theme of the days going forward.
Could the Heat attract a free-agent star like Dirk Nowitzki or even Kevin Durant? It's far from the most likely spot, but don't dismiss it completely.
Durant's decision obviously plays the biggest factor in whether or not any Eastern Conference teams can catch up to the Cavs, but let's not forget the Toronto Raptors took the Cavs six games in the Conference Finals with a somewhat under-hyped roster.
The biggest story in Toronto is whether or not DeMar DeRozan will re-sign. He has said he wants to play in Toronto, but other destinations could be more attractive. If DeRozan leaves, that team sinks dramatically.
They also have to decide whether or not to re-sign Bismack Biyombo, who played like a star at times in the Playoffs. Assuming Toronto's core of Kyle Lowry, DeRozan, Jonas Valanciunas, and Biyombo stays together, the Raptors should be considered a top three or four team in the conference. They also have the ninth overall pick in the NBA Draft, which will help round out the team a bit more.
The future of the Washington Wizards is almost solely dependent on Durant's decision. The Wizards hired Scott Brooks to serve as head coach because of his close relationship with Durant. Durant is from the D.C. area.
It's somewhat of a case of putting all the eggs in one basket, but if it pays off, a "Big Three" of John Wall, Durant, and Bradley Beal would make the Wizards instant contenders and a legitimate rival to the Cavs for Eastern Conference Champions.
The most interesting team in the East to watch this off-season, especially on Draft Night is the Boston Celtics. The first big thing to watch is that the Celtics have the #3 overall pick in the draft, which they acquired from the Brooklyn Nets. They also have the Nets' first-round pick next year, which is likely to be in the top five again.
The Celtics are a deep team with solid role players and will most likely keep their two best players, Isaiah Thomas and Jae Crowder. Pretty much anyone else on the roster could be viewed as a possible candidate to be included in a trade package.
Boston has been linked to the following players in trade rumors:
Jimmy Butler, Gordon Hayward, Nerlens Noel, Jahlil Okafor, Kris Middleton, Jabari Parker, DeMarcus Cousins, and yes, even Kevin Love.
Don't worry Cavs fans. Nothing is imminent. Tyronn Lue said Love will be in Cleveland next season, although that doesn't make it gospel, but the bottom line is the Celtics have a lot they can potentially do with their top draft picks and deep pool of players to offer in a trade.
The Celtics could just go out and use that #3 overall pick on a future star player, who takes years to develop.
They are also a team to watch in the Durant sweepstakes.
Assuming Durant signs with a Western Conference team, here are my way too early projections for the 2016-2017 Eastern Conference.
1. Cavs
2. Heat
3. Pacers
4. Raptors
5. Celtics
6. Knicks
7. Pistons
8. Hornets
9. Wizards
10. Bulls
11. Magic
12. Bucks
13. Hawks
14. Sixers
15. Nets
If Durant goes to any Eastern Conference team, they instantly become the second-best in the conference.
Let's see if there are any big moves on Draft Night.