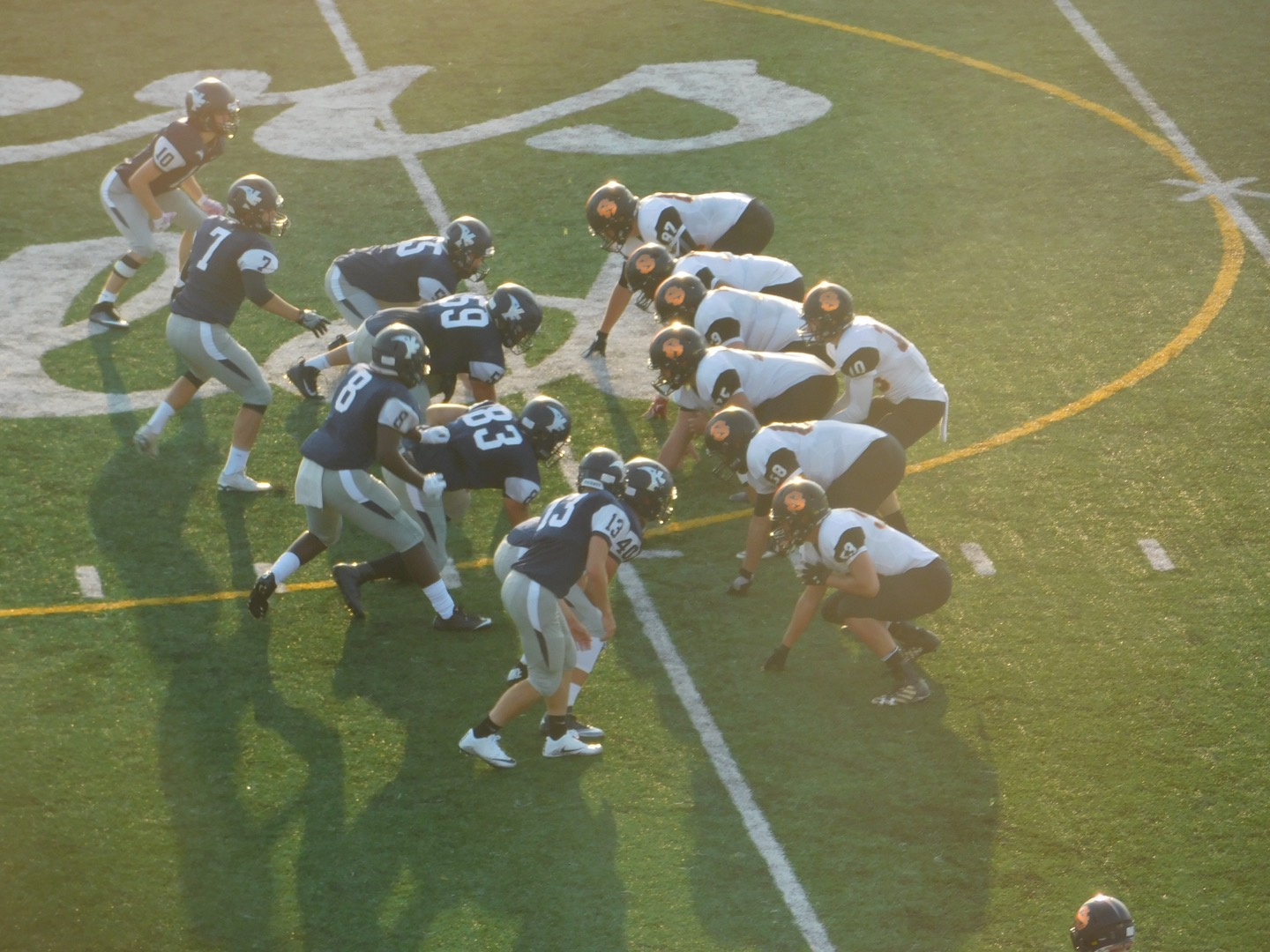 PARMA, OHIO – Last season the North Olmsted Eagles used a running attack to pound the Valley Forge Patriots 39-14 on opening night to kickoff the 2016 high school football season.
One year later, the script was a repeat on all levels.
Led by a huge night for junior running back Darren Anders, the Eagles flew past the Patriots 40-13 at Byers Field to start the 2017 high school football campaign 1-0.
Anders was the driving force in the win for the Eagles, using the help of the Eagles offensive line to rush for 182 yards on 19 carries with three touchdowns.
He was also a threat in the passing game, pulling in a 67-yard catch and run from junior quarterback Sean Elbin for a score two plays into the third quarter to make it a 27-0 North Olmsted lead.
The Patriots scored twice to make it a game in the second half 27-13, but a key defensive stand for North Olmsted was followed by Anders putting the game away on the first play after Valley Forge was stopped on downs, as he raced 78 yards with 2:43 to play to make it a 34-13 Eagles lead.
"It was a very good clean first half, and I challenged our kids to come out and play hard in the second half and they did, but there was like a 4-5 minute lull we made a lot of mental mistakes, but there was a big stop towards the end there and stopped the bleeding," Eagles coach Tim Brediger said.
The Eagles scored first as senior fullback Ryan Connolly went in from 10 yards out to wrap up a 9-play Eagles drive that covered 73 yards.
Andres scored twice in the second quarter on runs of 11 and four yards to build a North Olmsted 21-0 lead at the half.
The Eagles compiled 200 yards of offense in the first half, with Andres going for 84 yards on 11 carries with two scores, and Connolly rushing for 32 yards on four carries.
The Patriots offense had their chances, with senior quarterback John Quinones going 2-for-6 in the first half for 24 yards with an interception.
Valley Forge managed 73 total yards of offense in the first half.
Finally late in the third quarter the Patriots broke though when Mike Pappas put on a nifty 16-yard run to find paydirt and make it a 27-7 game at the time.
The Patriots scored again two drives later in the fourth quarter when senior wide out Cameron Hager went 45 yards to bring Valley Forge within two scores at 27-13.
It was as close as Valley Forge would get, as the Eagles stopped the Patriots next drive on their own 22 when Quinones was pressured on fourth down and the ball fell harmlessly incomplete.
"Even when you win you can learn a lot of things from film and there was a lot of things in the second half that were a lot of teachable moments," Brediger said.
The Eagles will look to get to 2-0 next week when they take on Avon Lake, with the game being played at North Ridgeville.
The Patriots will look to get on track to take on John Marshall on Friday, September 1st.
| | | | | | |
| --- | --- | --- | --- | --- | --- |
| Team | 1 | 2 | 3 | 4 | Final |
| North Olmsted | 7 | 14 | 6 | 13 | 40 |
| Valley Forge | 0 | 0 | 7 | 6 | 13 |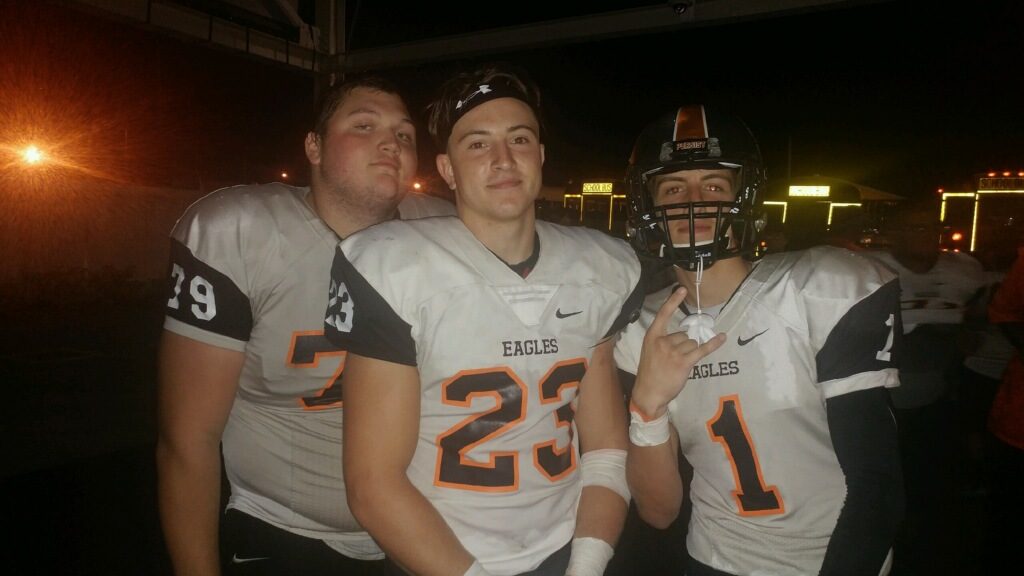 Player of the Game:
North Olmsted Running Back Darren Anders
After a 99-yard performance in the opener against the Patriots last season, running back Darren Anders dominated the opening night affair with Valley Forge, going for 182 yards on 19 carries with three scores.
Anders put on a clinic, but had a lot of help in the process as the Eagles offensive line opening holes so he could rush for big chunks of yards.
"I saw my line opening a bunch of holes for me, they did a great job," Anders said. "I think we have the best backfield in the SWC."
After Valley Forge had inched closer to 27-13, Anders put the game away in the fourth quarter with a 78-yard run with 2:42 to play.
"Darren is a pretty special athlete on both sides of the ball," Brediger said.
Darren Anders 4 yard TD run – @NOEagles 21-0 over @ForgeFootball with 2:03 left first half @NEOSportsInside @FOX8FNTD pic.twitter.com/kUyvwbOcxN

— Matt Loede (@MattLoede) August 25, 2017
Darren Anders 11 yard TD run @NOEagles lead @ForgeFootball 14-0 7:24 left first half @NEOSportsInside @FOX8FNTD pic.twitter.com/fRn6WXdDbW

— Matt Loede (@MattLoede) August 25, 2017

NEO Sports Insiders Newsletter
Sign up to receive our NEOSI newsletter, and keep up to date with all the latest Cleveland sports news.