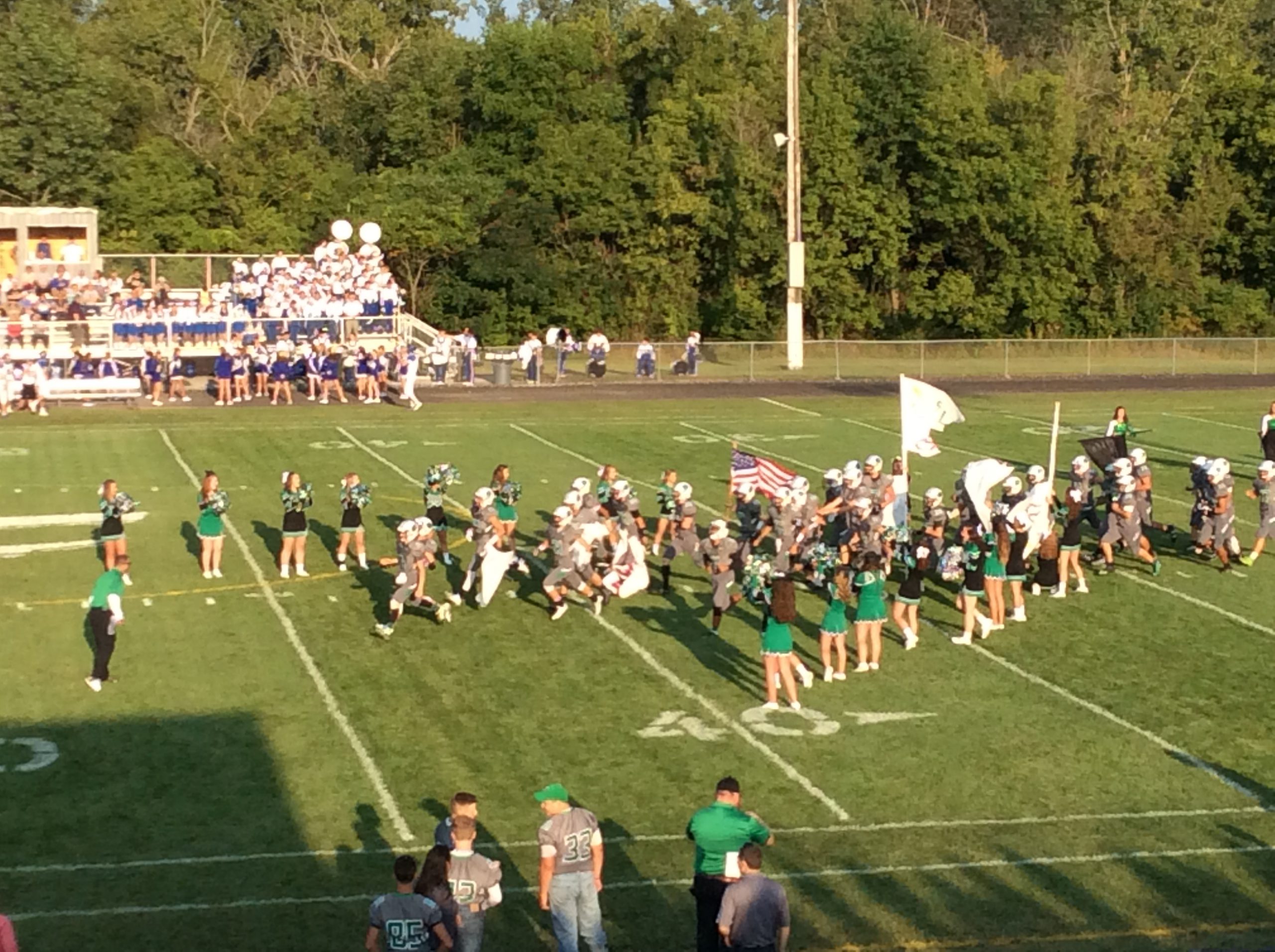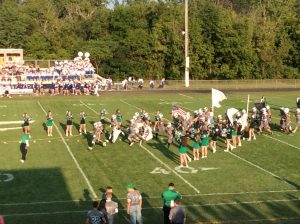 This game recap is brought to you by the B.A. Sweetie Candy Company, Inc., located at 6770 Brookpark Road, Cleveland, Ohio. The Largest candy store in America!
COLUMBIA STATION, OHIO – It only took Columbia's junior star running back Brandon Coleman 13 seconds to put a stamp on the season-opening victory over Independence, as he took the opening kickoff 86 yards to pay-dirt.
"As soon as I got the ball, I saw a huge hole," Coleman said. "My guys did a huge job blocking everyone to the sideline except the kicker, and then it was just there to the endzone."
He ended up leading the game in rushing, gaining 202 yards on 28 carries and scoring three rushing touchdowns on the night.
"Tonight was huge," Coleman said. "The offensive line came together last year and got a lot of experience, so now they are much better and that is great for the whole team."
Coleman also scored a 2-point conversion to get the extra cushion after a previous missed PAT.
"Brandon had a good game, but I thought it was our offensive line that helped us figure out some things, too," Columbia head coach Jason Ward said.
Independence fumbled the ensuing kickoff, giving the Raiders a short field. Columbia took the ball 24 yards on six plays, capped by an Adam Alten 2—yard touchdown.
Independence senior Nick Mroczynski then took the next kickoff 80 yards for a Blue Devils touchdown, making the score 13-7 with only 12 more seconds ticking off the clock. Then, it was a trade-off of Coleman and Mroczynski scores for the rest of the game.
Mroczynski rushed 19 times for 112 yards and four touchdowns, caught six passes, for 33 yards and also was pressed into the backup quarterback role as Stefanski was injured during the game.
"Nick did a great job," Independence head coach Rick Adams said. "We wanted to get him more reps. in practice, but the way our scrimmages played out, he didn't get many at all. This was really his first opportunity to shine, and he did a great job."
The passing game was almost forgotten Friday night as Columbia quarterback, Jared Bycznski went 9 for 13, for 75 yards, while Independence starting quarterback Kyle Stefanski went 11 for 23, for 139 yards.
As time was ticking off the clock late in the fourth quarter, Mroczynski scored his final touchdown of the night, and with 45 second remaining in regulation, the Blue Devils pulled off a successful onside kick, giving them a short field, while only down by a touchdown and extra point to tie the game.
The Blue Devils then could not get the much-needed first down and time expired.
"We just ran out of time," Adams said. "Kyle had that calf injury and couldn't escape pressure. Unfortunately, we just came up short."
Columbia 35, Independence 28
Columbia 20 0 8 7 – 35
Independence 7 7 7 7 – 28
Scoring
C – Brandon Coleman, 86 kickoff return (Ben Skowronski kick)
C – Adam Alten, 2 run (kick failed)
I – Nick Mroczynski, 80 kickoff return (Ian Smith kick)
C – Coleman, 32 run (Skowronski kick)
I – Mroczynski, 1 run (Smith kick)
C – Coleman, 2 run (Coleman run 2-pt. Conversion)
I – Mroczynski, 14 run (Smith kick)
C – Coleman, 7 run (Skowronski kick)
I – Mroczynski, 2 run (Smith kick)
Team statistics
C — I
First downs 12 — 13
by rushing 8 — 9
by passing 4 — 5
by penalty 0 — 0
Yards rushing 261 — 152
Yards passing 75 — 161
Total offense 336 — 313
Passes att./comp. 9/13 — 12/28
Intercepted by 0 — 0
Fumbles/lost 2/1 — 1/1
Penalties/yards 2/30 — 9/40
Individual statistics
RUSHING – (C) Brandon Coleman 28-202, Jared Bycznski 7-22, Mike Lovell 3-25, Adam Alten 2-12. (I) Nick Mroczynski 19-112, Kyle Stefanski 10-19, Owem Ramm 1-11, Robert Artrip 1-10.
PASSING – (C) Bycznski 9-13-75-0-0. (I) Stefanski 11-23-139-0-0, Mroczynski 2-5-21-0-0.
RECEIVING – ( C) Bailey Coleman 2-14, Brandon Coleman 2-1, Adam Ross 2-8, Jay DeLisle 1-36, Cole Schwartz 1-4, Ben Alten 1-10. (I) Mroczynski 6-33, Ramm 3-18, Braden Sears 2-22, Robert Artrip 2-34, Smith 1-28, Trevor Thompson 1-25, Alex Nelson 1-10.

NEO Sports Insiders Newsletter
Sign up to receive our NEOSI newsletter, and keep up to date with all the latest Cleveland sports news.