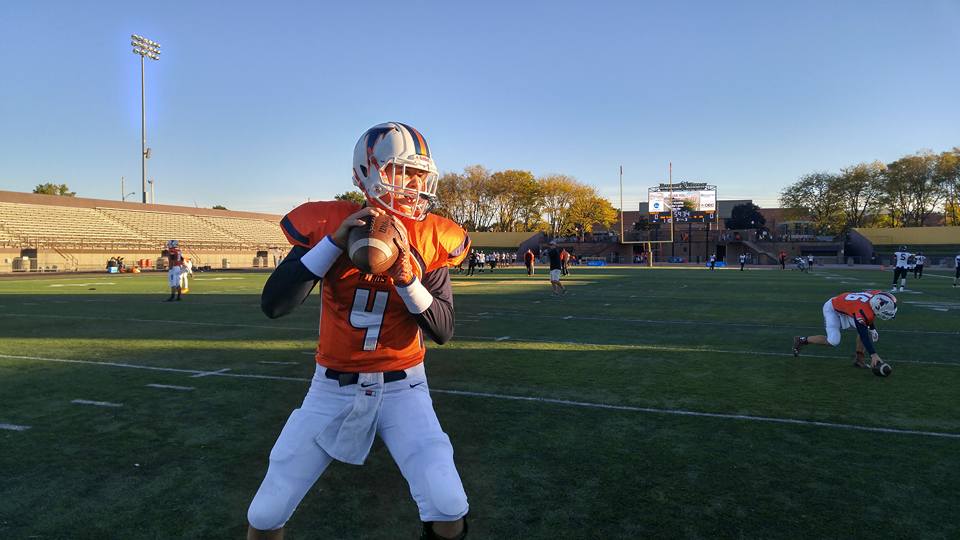 This article is brought to you by https://www.amazon.com/Vince-McKee/e/B009K5ZQ46/ref=sr_ntt_srch_lnk_1?qid=1505863325&sr=8-1
If you would like to hear how you can be a sponsor of the articles we write on Berea Midpark High School, contact Vince McKee at coachvin14@yahoo.com
BEREA, OHIO –
If you hear a loud explosion of immeasurable intensity, high octane and massive amounts of excitement each and every Friday night this fall, don't be alarmed, that is just Trevor "The Duke" Bycznski and his "Three Amigos" of the Berea Midpark Titans taking flight all over rival defenses in the SWC.
The vaunted Denver Broncos offense of the 1980's had their "Duke" (John Elway) and his Three Amigo's (Ricky Nattiel, Mark Jackson and Vance Johnson).  And now, the Berea Midpark Titans have their own Duke in the form of Trevor Bycznski and his "Three Amigos", (Luis Vega, Garrett Waite and Dwayne Holland).  Not only that, but to go along with his "Three Amigos", the Duke (Bycznski) also has a "Beast" lined up next to him in the shotgun, in the form of star tailback Bryce "The Beast" Agnew.
Junior quarterback Trevor Bycznski has taken full control of the fast-paced spread offense brought to the Titans by visionary head coach Jon Hunek.  After a few growing pains last year, this offense is now running on all cylinders and appears to be unstoppable.  Under the game planning of Hunek and the arm of Bycznski, the Titan offense is averaging a whopping 51 points a game and have jumped out to a 3-1 record this season.
The 6-foot 6-inch quarterback is a force to be reckoned with every time he drops back to pass.  It doesn't matter if he is throwing rockets down the field, or putting his head down and storming through defensive lines, he simply has not been stopped this season.
Through four games, Big Trev has thrown for 1,277 yards with 10 touchdowns and 0 interceptions on 85 of 133 passing.  His legs have also been a large weapon for the junior signal caller as he has rushed for 93 yards on 23 carries.  He has also scored 6 touchdowns on the ground as well.  That is a total of 16 touchdowns (96 points) from "The Duke".
After a week one that started off with the Titans trailing 35-0 in the first half against Strongsville, they have since gained their composure and have become nearly unstoppable.  It was in that game that Bycznski and his cast of weapons came back from 35-0, to make it 35-27 in the third quarter, and prove the heart and fight they bring into every game.  They could of gave up, they didn't, and they have been rolling ever since!
After the shaky start to the season, they have rebounded with a strong second half against Strongsville to make it close, then 3 straight blowout victories over the likes of Westlake, Lakewood and North Ridgeville.  All three of those wins coming on the road.
The numbers are staggering, and before we get to them, I'd be amiss not to mention that Trevor Bycznski also has a younger brother playing on the team, every bit as talented and massive as he is.  Sophomore linemen Jared Bycznski has the task of blocking for his brother every week.  How rare is this brother combo?  The answer, very rare!  The younger brother (Jared) stands at 6 feet Four inches and 285 pounds.
I spoke to their father before Friday night's game against North Ridgeville and he shared with me that they go through at least 6 gallons of milk a week at the Bycznski house.  Their father also re-assured me of the fact that respect is preached and expected regularly in their home.  A fact I firmly believe after spending just a few minutes around them.  A humble bunch that never lets the moment get too big.  How humble and much of a team player is Trevor?  Consider this, he is also the punter!
As mentioned however, he does not do it alone, he has one of the best supporting cast the SWC has ever boasted.  Need proof, check out these numbers.  First, we will start with "The Beast" Bryce Agnew who stands beside him in the backfield, just waiting to take off and plow through defensive lines.  Agnew has 365 rushing yards on 52 carries and 6 touchdowns on the ground.  Agnew has also been a true threat in the passing game with 16 receptions for 165 yards and two touchdowns.
Simply put, the Beast cannot be contained.  He is also a monster on defense where he lines up as a starting linebacker.  I spoke with head coach Jon Hunek who had this to say about the junior tailback who replaced a very talented Tyrese Holland in the backfield who graduated last year, "The big thing about Bryce is that he puts a lot of work in.  He never misses practice or a workout.  He is very well conditioned and plays on both sides of the ball for us.  He is a linebacker on defense.  He is a really good leader and is a product of the hard work he has put in.  He has a lot of energy and the kids respond to that.  He is just a hard worker and it pays off for him."
With "The Beast" running wild out of the backfield, it has forced teams to stack the box against Berea Midpark at times, which has allowed "The Three Amigos" to get wide open down field with their quick speed and elusiveness.
The numbers being put up, are almost video game like.
Luis Vega – 4 games – 18 Receptions – 338 Yards (Long of 65) – 84.5 YPG – 18.78 YPR – 5 TDS
Garrett Waite – 4 games – 17 Receptions – 190 Yards (Long of 22) – 47.5 YPG – 11.18 YPR – 1 TD
Dwayne Holland – 4 games – 10 Receptions – 265 Yards (Long of 71) – 66.25 YPG – 26.5 YPR – 2 TDS
While Vega is a senior, both Waite and Holland are only juniors, and will have the rest of the season and all of next season to continue to grow in this offense.  While those "Three Amigos" have been ultra-impressive, Bycznski has had several others threats to launch the ball to as well.  These threats include such speed demons as Reid Perry, Omar Siggers and David Browning who also have had no issues getting open down field.
As the legendary Bill Walsh always did with Joe Montana, and Bill Belichick does with Tom Brady, head coach Jon Hunek also has high praise for his own on field general and had these glowing words for Trevor, "It's the second year in our system which is a huge plus.  He took some strides last year and has a very good feel for what we are trying to accomplish.  It is nice to be on the same page with him and get that one on one time in our second year working together.  He is up with everything we are doing and is like another coach on the field, so that really helps.  The kids really respect him as a leader and that has really carried over in his play."
In closing, this Berea Midpark offense is for real, and they have put the rest of the SWC on notice.  With a defense that improves each time out, they could continue to turn a lot of heads in the SWC moving forward this season.  "The Duke, The Beast and The Three Amigos" will look to continue their run this Friday night as they return home to take on the 3-1 Amherst Comets.
Again, this article is brought to you by https://www.amazon.com/Vince-McKee/e/B009K5ZQ46/ref=sr_ntt_srch_lnk_1?qid=1505863325&sr=8-1