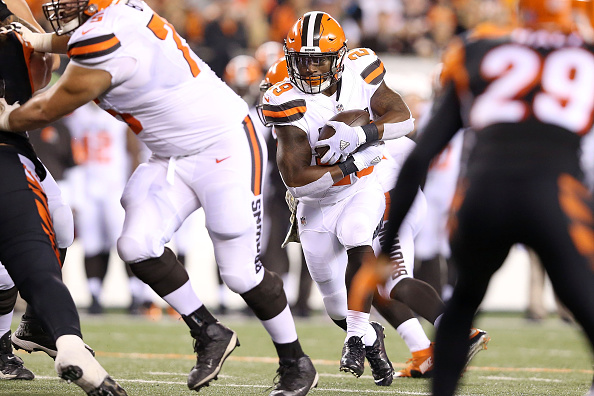 CLEVELAND – Josh Gordon's off the field struggles with substance abuse throughout his NFL career are well documented. Last year, before returning to the Browns for the final five games of the season, Gordon opened up to GQ magazine about his alcohol and drug addictions, even admitting to playing games under the influence.
Those issues have culminated in a handful of substance abuse suspensions over the last four seasons, forcing the embattled Browns receiver to miss more than 50 games over that span.
Now he's back, after taking the first few weeks of training camp to focus on his own mental health ahead of the 2018 season. As even he admitted in the emotional announcement of his return on Twitter over the weekend, that will remain his primary focus. Which means there is simply no guarantee that the 27-year-old won't step away from the team again, if needed.
As Browns running back Duke Johnson admitted in an interview with CBS Sports Radio hosts Tiki and Tierney on Wednesday, there is always concern for his troubled teammate.
"I'm kind of always worried about Josh," Johnson admitted. "I'm more worried for him on a personal level because mental illness is something we don't talk about enough. And it gets swept under the rug and no one wants to be diagnosed as mentally ill, regardless of how big or how small it may be."
There is certainly a lot of truth in Johnson's remarks. Mental health is often considered a very taboo topic in society, especially among professional athletes who are often viewed as gladiators unphased by emotional distress. But Johnson finds courageousness in Gordon's willingness to address his issues.
"Josh felt that he needed time away to get himself together and for me, I definitely appreciated that cause he's not doing it for someone else, no one is forcing him to do it, he wants to do it because he wants to be the best Josh Gordon he can be on and off the field," Johnson said. "But off the field to me is most important because you have to live with yourself every day. You have to look yourself in the mirror and you have to go home with yourself every day. So for me, it was a big moment for me to see him do that and stand up, to it and do whatever it is he needed to do to make sure that he's okay."
While no one really knows if Gordon will make it through the entire season, the pass-catching back did go on to say that he believes his troubled teammate can return to being the dominant receiver he was in 2013, when he made his lone Pro Bowl appearance.
"I definitely think he can," Johnson said. "I was watching him the other day when he was practicing with us; you can see the potential, you can see what he can be. Again, he wanted to make sure that he was right and make sure that his mind was right before coming back. Now he's back, so I'm looking forward to seeing what he can do."
Listen to Johnson's full interview with Tiki and Tierney here
Follow: @Spencito_

NEO Sports Insiders Newsletter
Sign up to receive our NEOSI newsletter, and keep up to date with all the latest Cleveland sports news.